Indian Butter Chicken

03/11/2020 The hearty and decadent flavor of Butter Chicken promises to provide pure comfort in the dark days. Check out the recipe below.
The hearty and decadent flavor of Butter Chicken (or Murgh Makhani) promises to provide pure comfort in the dark days. You can bang this together in under 45 minutes using an offensively quick food processor pizza dough. Butter Chicken is a recipe you'll find on the web, blindfolded.

The perfect recipe will yield sweet, tangy, heat, and vibrant aromatics that are so ballistic they'll rock your world! Skewer the chicken thighs and broil for 15-20 minutes. This lends the most gnarly char for serious attitude and depth of flavor. I took my butter chicken one step further and created an Indian inspired pizza substituting the usual tomato passata for the spiced gravy sauce. Best of all even after a hard broil, topping, and firing your pie, the spicy chicken morsels will remain juicy and tender. What a treat!

Gather your quarantine crew and enjoy this other-worldly Indian classic. If a native Indian sparkling is out of reach, find something equally as innovative and daring. A drop with some fruit forwardness is favorable, maybe a whisper of off-dry character or extra dosage to cool the hum of this mildly spiced curry. For a boundary-bending curbside selection of wines, discover Aaronap Cellars in New England, Massachusetts. (LINK:https://aaronapcellars.com/wines/) Yankee innovation meets wine, with these unapologetic and patriotic blends of indigenous New York State varietals that capture a taste of the east coast. When pairing with exotic spiced pizzas, Aaronap's bold aromas of tropical fruit, melon, and stone fruit definitely fit the Belichick (..I mean bill!).
About the Author: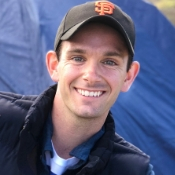 Timothy Neumann is an Australian Nutritionist, Chef, Culinary Consultant and Freelance Writer based in Napa, California. As a regular contributor of recipes and wine pairings for Sommeliers Choice Awards, Tim will be your resident food guru and bring you awesome recipes. Tim's approach to food is healthy, balanced and seasonal cooking to fuel a happy and productive mind! If you're visiting wine country, get a taste of Australia meets Californian cuisine.