Not So Classic Beef Tartare

05/11/2020 On this page, you will find the recipe for Not So Classic Beef Tartare.
If there was ever a way to shake up an iconic, beloved tradition then this is it. During a recent kitchen stage with talented southern-rooted chef Ryan Hatton of Oenotri Restaurant and Wine Bar in Napa, I couldn't help but go back for seconds of his Korean spiced Beef Tartare Crostini, okay maybe thirds. Free-spirited and boundary-pushing, this recipe for tartare scorches the filet over a smoking hot grill. While you might plead sacrilege, rest assured this quick sear is not enough to cook the filet through but add a depth of smokiness and umami.

Amplify that even further with a teaspoon of Korean Gochujang paste and a sweet onion zing with the addition of last year's pickled ramps. Now I can't dish you out the recipe but experiment for yourself, serving your creation with some blistered Shishito peppers. It's something you'd see in an episode of F* That's Delicious! In true Action Bronson style, pound this tasty hors d'oeuves with a glass of the finest Champagne that you could afford. Champagne (or sparkling) is a suitable accompaniment to cool the warmth of red pepper paste whilst keeping our palette refreshed, just before hunting down another one.
I wasn't kidding. If you're in the New York, Rheinbeck district, stop by one of our favorite modern Irish-meets-French bistros, Bia. Bia are accomodating curbside-pickup and delivery of your favorite bubbes from French Crémant to Cava as well as a wild assortment of signature cocktails. Visit Bia's site (LINK: https://bia-rbk.com) and socials for their carefully curated quarantine picnic "baskets" featuring weekly-changing bites and bath bombs to pamper you through the pandemic.
Baguette Crisps
2 egg yolks, raw
100g beef, tenderloin
20g Dijon mustard
2 dash Worchester sauce
2 T. Gochujang Korean Paste
1 t shallots
1 t cornichons
1 t capers
1 T chives, finely sliced
¼ t. sesame oil
¼ t salt
¼ t black pepper, freshly ground
About the Author: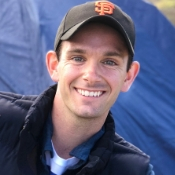 Timothy Neumann is an Australian Nutritionist, Chef, Culinary Consultant and Freelance Writer based in Napa, California. As a regular contributor of recipes and wine pairings for Sommeliers Choice Awards, Tim will be your resident food guru and bring you awesome recipes. Tim's approach to food is healthy, balanced and seasonal cooking to fuel a happy and productive mind! If you're visiting wine country, get a taste of Australia meets Californian cuisine.