Oyster & White Wine

01/01/2020 Freshly shucked oysters, a summer's day and a glass of crisp dry white wine - full disclosure, just simply perfect.
This article is obviously not going to be for everyone. Oysters would have to be one of the most distinct, acquired tastes (or food textures) in the world. Oysters hold a sharp briny, saltiness that gives way to a subtle sweetness and creaminess (depending on their size, species and origin). Lovers of these delicate crustaceans will agree there is nothing like freshly shucked oysters, a summer's day and a glass of crisp dry white wine - full disclosure, I love them.
Why oysters and white wine?
Oysters pair well with some (not all) white wines. Wines that pair particularly well with oysters are dry, acid driven wines and those that share similar characteristics with shellfish, or the condiments with which you serve them. Oysters have a rich creaminess to their body. A wine with bright acidity and mineral accents, give you the taste of the ocean, while simultaneously cleansing the fat from your palate to enjoy it all over again.
Take for example the most traditional pairing with oysters - Chablis, a Chardonnay based wine grown in the northernmost province of Burgundy. Run your hand through the vineyard soils of Chablis valley to effortlessly gather handfuls of fossilized shells and marine skeletons. This ocean deposit-rich limestone known as "Kimmeridigian" soil is what lends Chablis its hallmark chalky, briny minerality. Chablis' distinct crisp sea spray aroma, piquant green apple, lemon and white floral finesse make it a quintessential shellfish wine - beautiful with oysters but also shrimp, scallops and crab.
This doesn't always apply. People have different tastes, and as I always say, you should "pair" or enjoy food and wine together however you wish. Some alternatives include a slightly more fruit-forward style white, such as an Australian Hunter Valley Semillon which offers added flavor while still balanced with fresh citrus. Txakolina from Spain's Basque Country is a must try for an out-of-the-box varietal singing with high-toned (sometimes bordering sour) acidity and minerality. Finally, I would not do an article on oyster and wine pairing justice without making mention of the fabulous and life changing experience of oysters and champagne (the dryer the better). Champagne, Spanish Cava, Italian Franciacorta, Tasmanian Méthode Traditionnelle or any other premium sparkling all possess the sophisticated finesse of fine grain bubbles. I worked for the French sparkling wine house Domaine Chandon Australia for almost 8 years learning a thing of two about bubbles and oysters and one thing that I learned (from daily experience) is that the two together create a sensory pleasure. In particular Blanc de Blancs or done dry, high acid, Chardonnay dominant blends. Forget the recipes below and try a splash of aged, zero dosage sparkling on your oyster as a substitute for fresh lemon. Mm!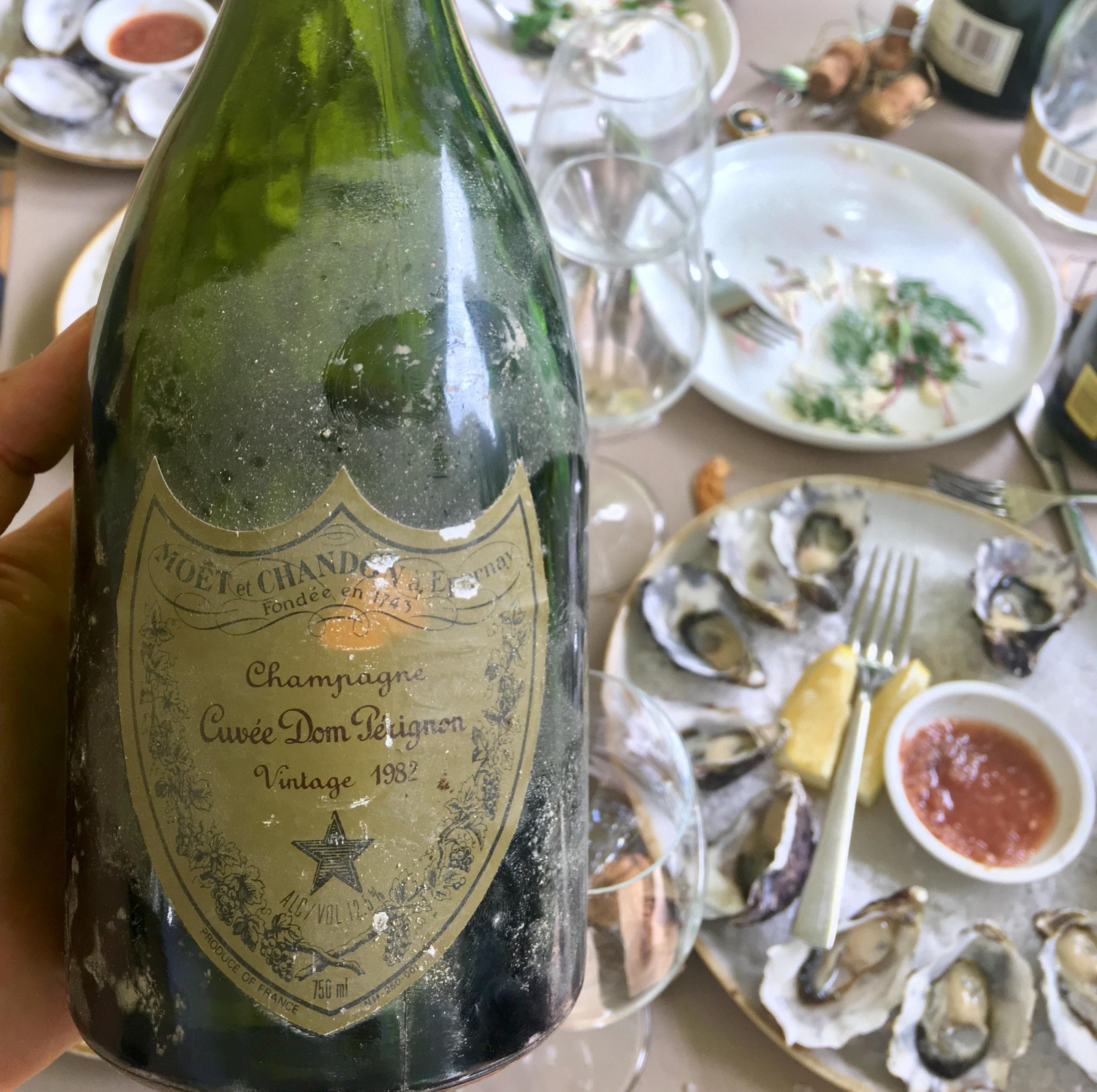 San Francisco based sommelier Matt Montrose, famous among his Bay Area colleagues for his 3 year residency as wine director at Michelin star restaurant Atelier Crenn and Bar Crenn shared with me a slightly left of field pairing "Well crafted French Sauternes displays balanced acid and sweetness. Its one of my favorite wines for pairing with oysters offering a very cool contrast to the brininess".
Serving Oysters
Below are a couple variations for creating the perfect oyster experience at home together with Matt's inspirational pairing of Sauternes (Left to Right)
Ginger, Soy, Cucumber and Australian Finger Lime (recipe for 2 dozen oysters)
1 tbsp tamari
¼ cup seasoned rice (sushi) vinegar
½ tsp ginger, finely grated
½ English cucumber, peeled, seeded, very finely diced
4 Australian Finger Limes (or substitute for grated lime rind)
½ stem dill, picked for garnish
• Combine tamari, sushi vinegar and grated ginger and allow to rest for 1 hour.
• With a peeler, remove the skin. With a mandolin, slice ¼ inch thick ribbons, stack ribbons and with a knife, slice ¼ wide strips lengthways. Finally, lay strips lengthways and cut ¼ inch diced cubes. Refrigerate to maintain crunch.
•Extract finger lime pearls from finger limes by slicing lengthways and remove 'caviar-like' pearls with a spoon or your finger.
• Assemble oysters with 1 teaspoon of soy and ginger syrup and garnish with cucumber, finger lime pearls and a small pinch of dill.
Pomegranate and Champagne Mignonette (recipe for 2 dozen oysters)
¼ cup red wine vinegar
2 tbsp pomegranate juice
¼ red shallot, finely minced.
1 scallion
• Beginners: do your culinary skills a favor and take 5 minutes to get up to speed with how to finely dice a shallot (or onion). Knowing how to finely dice or mince an onion is THE most fundamental skill in cooking. For this recipe, a super fine dice provides nicer presentation, a finer texture to complement the oyster and will not taste bitter and peppery. Find a 2 minute tutorial here ( https://youtu.be/riU3i06hvQM)
• Combine all ingredients and serve onto oysters with a teaspoon.
• For scallion garnish, slice very thin, long diagonal ribbons down the length of your scallion, place ribbons in iced water for 30 minutes to curl. Refridgerate for up to one week in a plastic container lined with wet paper towel.
Lemon
2 lemons, finely grated
Grate lemon fresh over the oyster just before serving to shower oyster in lemon rind and fragrant oils, do not grate ahead of time. You need loose delicious oils. Cheers!
About the Author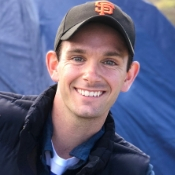 Timothy Neumann is an accredited nutritionist, globally inspired chef and culinary content creator. Tim strives to create dishes that inspire cultural curiosity. Find more of Tim's health driven recipes and wine pairings on his social media handle @tc_neumann or check back to discover more at Sommelier's Choice Awards.