Pairing Spring Cuisine with Wines of Northern Italy

15/11/2018 Pair up this beautiful Italian Agnolotti with a splendid wine of Northern Italy.
Whether I'm sourcing quality ingredients, preparing my pasta dough or sauce, gathering friends and co-workers or serving up to clients. I love everything about Italian fare and it is definitely a specialty of mine. I grew up in Melbourne, Australia where Italian migrants heavily populate the inner Northern suburbs. You would never struggle to find authentic flavor and inspiration. I served this Agnolotti ("an-yo-lot-tee") to a dear client and family from the northwest Italian region of Piedmont where this pasta shape originates. Each parcel bursts with a bright Spring English Pea, Mascarpone and Mint sauce, enlivened with a hint of Lemon Zest. For perfectly oozy Agnolotti, boil them just past al-dente and lightly toss through a simmering Fresh Pea, Vegetable Broth and Olive Oil emulsion to kiss each morsel.
I paired this fresh, yet moreish pasta dish with a Roero DOC from the southeast region of Piedmont region. This notable white wine is crafted from Arneis, an indigenous Italian white varietal. The sandy, clay-limestone soil famous in the Roero lends this wine a distinct floral and mineral aroma with playful bursts of peach and apricot. The dry, racy, lemon nuanced palate pleasantly complements this light vegetable pasta, with the acidity cutting through the richness of mascarpone filling. Seek out this variety if you enjoy light, acid driven wines with accents of fruit such pinot grigio, vermentino and soave. Winemakers from the region say these wines must be enjoyed with great food and the finest company.
Author: Timothy Neumann
- Sommeliers Choice Awards Multicultural Food and Wine Ambassador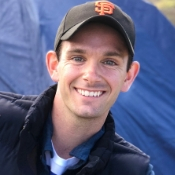 Tim is an Australian food and wine writer and accredited nutritionist. When cooking, Tim loves using healthy, local ingredients accented with bold multicultural flavors. Discover Tim's endless recipes and multicultural food ideas on Instagram @tc_neumann or through Beverage Trade Network articles.
Get your wines in front of Sommeliers, Wine Directors and On-Premise Buyers of USA. Here's How To Enter your wines.