Peruvian Halibut Ceviche

04/11/2020 A dish that celebrates the vibrant, natural flavors of Peru that will ignite your tastebuds.
Quench your appetite and for fresh, summer seafood with halibut ceviche. This dish celebrates the vibrant, natural flavors of Peru that will ignite your tastebuds. Typically prepared with fresh, raw fish cured in a bath of lime (or lemon) juice lemon, spiced with ají Amarillo (or yellow chili) paste. Add textural contrast with thin sliced red onions, diced red bell pepper, extra virgin olive oil, lime salt for extra zing, and a good handful of cilantro (don't forget to finely chop the cilantro stalks and throw them in too). I recommend adding diced ripe mango for a splash of summer sweetness.

Allow 30 minutes for fish to marinate and cure. It's time to open the tortilla chips or tostada shells, gather your favorite people, and huddle around the ceviche bowl. Blink and you'll miss out, it'll be gone in a flash. If you're feeling festive and really want to fuel the theme of Peruvian summer freshness, then shake together a round of lime-based pisco sours.
Check out CalCulture Distributors in San Diego to discover their carefully selected portfolio of wine and artisanal spirits including pure, small-batch Pisco. If you gravitate towards beer, then keep your eyes peeled for Brooklyn Brewery's "Sorachi Ace" Saison, accented with distinct notes of lemongrass, pepper and citrus. Hefeweizen is a light alternative with a hint of sweetness to complement the sweet, delicate halibut. Pennsylvania-based brew house Battlefield Brew Works craft a number of light German-style summer brews including their signature Schlachtdfeld Weissbier, which they're currently pulling, packing, and posting direct to your door.
Food safety warning: "Consuming raw or undercooked meats, poultry, seafood, shellfish or eggs may increase your risk of foodborne illness. Raw fish can be particularly dangerous for minors, elderly and pregnant women."
About the Author: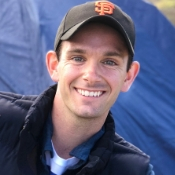 Timothy Neumann is an Australian Nutritionist, Chef, Culinary Consultant and Freelance Writer based in Napa, California. As a regular contributor of recipes and wine pairings for Sommeliers Choice Awards, Tim will be your resident food guru and bring you awesome recipes. Tim's approach to food is healthy, balanced and seasonal cooking to fuel a happy and productive mind! If you're visiting wine country, get a taste of Australia meets Californian cuisine.