Raddichio Salad

19/11/2020 On this page, you will find the recipe for Raddichio Salad.
Radicchio Lettuce can have a bit of a bitter bite. When serving bitter greens such as wild arugula, kale, mustard greens, and many more, acidity is your friend in softening any astringency. The sometimes drying mouth feel of not just radicchio, but many vegetables are often an indication of the plant's bioactive antioxidant properties. Many bitter greens are exploding with polyphenols, phytonutrients, flavonoids, and glucosinolates known to be cardio- and cancer-protective (aka. Keeps the heart healthy for longer and helps the body kick cancer to the curb).

This vibrant vegan "meat lover's" salad was a fun experiment to shake up the salad menu using some less celebrated, local ingredients. The Radicchio bulb from @joespremium is sliced into generous sized wedges and basted with a dressing of extra virgin olive oil, lemon, and whole grain mustard. It's blasted over hot flames on the open grill for 1-2 minutes on each side for a delicate char.
Served on a "swoosh" of smoky bell pepper romesco and topped with salsa verde, crisp Asian pear, chopped roasted marcona almonds, and baby cilantro. Now, I'm not a sommelier, but if I was uncorking to my nearest and dearest I'd be seeking a bright and cheerful Spanish red. Consulting my industry connects, a little birdy told me that Mencia is the new kid on the block but you didn't hear it from me. Mencia is a native Spanish varietal akin to a "Spanish Pinot". Peppered with crunchy red fruit, cranberry, pomegranate, and sour cherry, moderate tannin, and an airy floral lift. Keep your ear to the ground long enough and you'll hear whispers of Mencia. Ask your favorite retailer if they can help you add a couple of bottles to your bunker.
About the Author: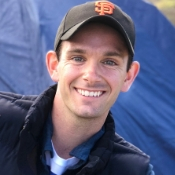 Timothy Neumann is an Australian Nutritionist, Chef, Culinary Consultant and Freelance Writer based in Napa, California. As a regular contributor of recipes and wine pairings for Sommeliers Choice Awards, Tim will be your resident food guru and bring you awesome recipes. Tim's approach to food is healthy, balanced and seasonal cooking to fuel a happy and productive mind! If you're visiting wine country, get a taste of Australia meets Californian cuisine.