Recipe for Chinese Steamed Buns

13/11/2018 One can stuff Chinese steamed buns with various types of filling. Here is how it is made with slow-cooked, tasty barbeque meat and crispy pork belly.
Quite simply, there's nothing in the culinary world more tender and satisfying to sink your teeth into that soft, pillowy Chinese steamed bun dough. These little cloud-like pockets are a Chinese street food often stuffed with the finger licking' tasty, slow-cooked barbeque meat, crispy pork belly or duck. One of my favourites is juicy, tender fried octopus with sriracha mayo. I spike my dough with a half teaspoon of jet-black squid ink for a dramatic hors-d'oeuvre. Stuff with hoisin and sesame glazed shiitake mushrooms, spiced pumpkin or sticky Chinese barbeque char siu pork. Garnish with fresh scallions, sesame seeds and thinly shaved cucumber. Homemade steamed buns are a rewarding labour of love so while you're at it, indulge your inner connoisseur with an adventurous beverage pairing. Traditionally nothing will suffice better with Asian street food than a cool, refreshing beer. For a more eloquent accompaniment, serve alongside a fruity, dry wine such an Italian Fiano, Chilean Carménère or an Austrian Grüner Veltliner.
Author: Timothy Neumann
- Sommeliers Choice Awards Multicultural Food and Wine Ambassador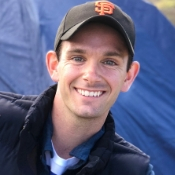 Tim is an Australian food and wine writer and accredited nutritionist. When cooking, Tim loves using healthy, local ingredients accented with bold multicultural flavors. Discover Tim's endless recipes and multicultural food ideas on Instagram @tc_neumann or through Beverage Trade Network articles.
Get your wines in front of Sommeliers, Wine Directors and On-Premise Buyers of USA. Here's How To Enter your wines.