Rigatoni with Rabbit Ragu

04/11/2020 On this page, you will find the recipe of Rigatoni with Rabbit Ragu.
First things first, don't be intimidated by rabbit. This is one seriously seductive sugo, hearty and succulent. The taste of rabbit meat almost resembles chicken thighs. Rabbit meat is easier to purchase than you might think, in the United States. Simply ask your local butcher about making a special order. This wickedly gamey ragu combines the sweetness of slow-cooked Italian soffrito, San Marzano plum tomatoes, and jammy Cabernet Sauvignon with the earthy fragrance of dried porcini mushroom, rosemary, thyme, sage, and extra virgin olive oil. Serve upon oozy polenta, hand-cut pappardelle or al dente rigatoni (seen above).

Choosing a suitable vino accompaniment is simple. What grows together, goes together, certainly holds true here. For an extra restaurant-y touch at home, slow simmer a pint of high-quality balsamic vinegar adding a tablespoon of honey to taper the bitterness and reduce to a sweet, sticky glaze. This somewhat uncommon central Italian-inspired sugo beckons for a drop with an as equally mysterious an aura.
Did I hear Super-Tuscan? Always seek out an older vintage of this "Tuscan Bordeaux" for velvet richness and mouth-watering, supple tannin. If you can't source or afford Super Tuscan, Get Drinks Delivered has a vendor near you who can recommend an alternative. Alternatively, if you're in the UK, inquire with Roving Sommelier Robert Giorgione who will tailor a customized case of wine to suit your taste and budget delivered to your door. Robert has hand-selected wines that over-deliver for the price. With a minimum spend of £60 and most bottles priced £10 or under, you can swoop a half case of high-value wines bundled with a curation of tasty epicurean treats and craft beer. The only thing he can't deliver is this Rabbit Ragu, that's up to you!
About the Author: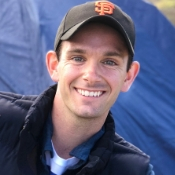 Timothy Neumann is an Australian Nutritionist, Chef, Culinary Consultant and Freelance Writer based in Napa, California. As a regular contributor of recipes and wine pairings for Sommeliers Choice Awards, Tim will be your resident food guru and bring you awesome recipes. Tim's approach to food is healthy, balanced and seasonal cooking to fuel a happy and productive mind! If you're visiting wine country, get a taste of Australia meets Californian cuisine.