Roasted Squash Ravioli

27/10/2020 On this page, you will find the recipe for Roasted Squash Ravioli
Squash is a year-round staple, whilst of course preferable and at its sweetest in fall, can nourish and delight a hungry crowd, no matter the season. We champion butternut squash here, roasted for a nutty depth, and liquified to a silken pureé with extra virgin olive oil. The remainder is mashed with a dash of cream and nutmeg, cooled, then enveloped in a basil pasta dough for an elevated ravioli that will have customers ordering an extra to-go, or one hungry family dying for seconds! Topped with fragrant Thai basil blossoms and kissed with herb oil. As pictured (6-7 parcels) this pasta is suitable for a second or adapted as an appetizer (3-5 raviolis).

My pairing suggestion is Arneis. The crisp, herbaceous, floral nature of Arneis accented with baking spice and honey notes is sure to complement. If you're in the south English countryside of Milford, Surrey, visit Hawkins Bros Fine English Wines (LINK:https://www.hawkinsbros.co.uk) online for an exquisite curation of premium English wine. Order a "Lockdown ½ Dozen" and don't forget to order a bunch of their family's fresh-picked English Asparagus to jazz up this herby plant-based pasta.. For the more adventurous among you visit Basket Press Wines online. Basket Press is a London-based distributor of sommelier curated wines produced by the unearthed and unsung avant-garde vintners of Central Europe including the Czech Republic, Slovakia, and Hungary. Basket Press Wines (LINK:https://www.basketpresswines.com) are keeping it real during quarantine with mixed six-bottle allocations of their finest contemporary, exotic and playful labels delivered to your door.
About the Author: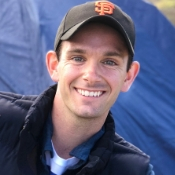 Timothy Neumann is an Australian Nutritionist, Chef, Culinary Consultant and Freelance Writer based in Napa, California. As a regular contributor of recipes and wine pairings for Sommeliers Choice Awards, Tim will be your resident food guru and bring you awesome recipes. Tim's approach to food is healthy, balanced and seasonal cooking to fuel a happy and productive mind! If you're visiting wine country, get a taste of Australia meets Californian cuisine.