Spiced Mushroom Shawarma 

20/11/2020 Taste the Fragrant spice and preserved lemon-rubbed slices of meat served on a fresh Lebanese flatbread with cucumber salsa and yogurt in this easy to make recipe.
The custom of Shawarma is deep-rooted in Middle Eastern street food culture. Fragrant spice and preserved lemon-rubbed slices of meat whether lamb, veal or turkey are layered in epic fashion on rotisserie rods that slowly rotate next to hot coals or a vertical broiler. The outermost surface develops a delicious char, which is sliced to order and served on a fresh Lebanese flatbread with cucumber salsa and yogurt.

I created a plant-based rendition with chunky layers of ginger, garlic, cumin and paprika rubbed portobello mushrooms separated by layers of red onion. You can simply blast this in your home oven at a smoldering 400º for the most epic smoky mushies. Shaved from the rotisserie in traditional street-food fashion and loaded into a flatbread with tangy sumac yogurt, a radish and cucumber salsa, and earthy chickpea hummus. This shawarma could only be described as Mezze platter burrito. Lebanese communities celebrate an indigenous distilled beverage known as Arak. Arak belongs to a family of unsweetened, aniseed-flavored spirits consumed widely throughout the Mediterranean and Middle East. Compared to its more common cousins Ouzo, Sambuca and Pastis, Arak is far more superior in quality, generally distilled a minimum of three times for purity, and aged for 1-5 years in amphora-like concrete tanks.
While generally produced from grape juice, our partner Cave Des Ours crafts a first of its kind Apple Arak accented with Green Anise. The Lebanon-based distillery is offering free delivery and customer pickup. If by chance you don't find yourself in the neighborhood, you can support this culture and it's artisan producers by discovering more about this time-honored beverage and asking your favorite online liquor boutique about a custom order.
About the Author: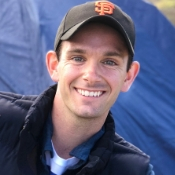 Timothy Neumann is an Australian Nutritionist, Chef, Culinary Consultant and Freelance Writer based in Napa, California. As a regular contributor of recipes and wine pairings for Sommeliers Choice Awards, Tim will be your resident food guru and bring you awesome recipes. Tim's approach to food is healthy, balanced and seasonal cooking to fuel a happy and productive mind! If you're visiting wine country, get a taste of Australia meets Californian cuisine.
Get Feedback From On-Premise Buyers, Wine Directors, and Master Sommeliers. Enter Your Wines Before January 31, 2024, To Save.