Sticky Medjool Date Bundt Cake

15/11/2018 Pair up this mouthwatering cake with a perfect dessert wine this evening.
Sweet tooth, dessert lovers rejoice. Removing my dietitian hat for just 5 minutes to share with you all possibly the most devilishly decadent mouthful you're ever going to enjoy. I oftentimes daydream of this mouthwatering Medjool date Bundt cake generously coated in a warm, sticky, salted-caramel glaze (not to be applied sparingly). This European inspired toffee pound cake is spiked with a cheeky lashing of French cognac welcoming bursting hints of nutty toasted vanilla, orange and warm baking spice. No good caramelized pudding is complete without a whisker of dessert wine to wind down the evening. Source out an alluring style such as Italian Vin Santo, a Noble Rot sweetened Sauternes or Tokaji, a Muscat-based fortified or a spot of rich, brooding vintage Port or Pedro Ximénez.
Author: Timothy Neumann
- Sommeliers Choice Awards Multicultural Food and Wine Ambassador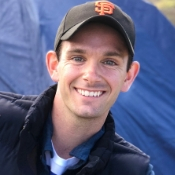 Tim is an Australian food and wine writer and accredited nutritionist. When cooking, Tim loves using healthy, local ingredients accented with bold multicultural flavors. Discover Tim's endless recipes and multicultural food ideas on Instagram @tc_neumann or through Beverage Trade Network articles.
Get your wines in front of Sommeliers, Wine Directors and On-Premise Buyers of USA. Here's How To Enter your wines.