Sushi and Champagne

04/12/2018 Pair up this divine Sushi with a perfect bottle of Champagne
If there was ever a better combination I haven't heard of it. Once in a while I love getting friends together, sourcing some incredibly fresh yellowfin tuna, salmon, Maine crab or prawns and preparing an enormous spread of sushi and enjoy one hell of a night in or date night.
Back in Australia, I'd throw the shrimp on the barbie but sushi can only really be done justice served clean and pure. This makes it such a divine pairing with Champagne's high-toned acidity, crisp minerality, and delicate fruit character. If you're not an admirer of bubbles, then source a bone-dry white from nearby cool climate Chablis. Chardonnay from the northernmost region of Burgundy welcomes unsurpassed sophistication. The unique Kimmeridigian and limestone soil influenced Chablis is famous for its endlessly layered floral, green apple and briny crustacean-like minerality that pairs considerably well fresh sushi and sashimi. Find your nearest Japanese store for authentic condiments and spices like Shichimi Togarashi (pictured).
Author: Timothy Neumann
- Sommeliers Choice Awards Multicultural Food and Wine Ambassador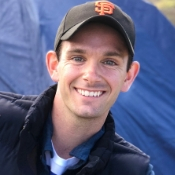 Tim is an Australian food and wine writer and accredited nutritionist. When cooking, Tim loves using healthy, local ingredients accented with bold multicultural flavors. Discover Tim's endless recipes and multicultural food ideas on Instagram @tc_neumann or through Beverage Trade Network articles.
Get Feedback From On-Premise Buyers, Wine Directors, and Master Sommeliers. Enter Your Wines Before January 31, 2024, To Save.