Szechuan Pepper Crab

22/05/2019 The idea of cooking crab may sound intimidating, but is actually deceptively easy. Try this easy-to-cook Szechuan Pepper Crab recipe and know yourself.
Crab is in season and today I'm spicing up the menu with a crab preparation that you need in your culinary repertoire.
Glorious Crabs
The idea of cooking crab may sound intimidating, but believe me is actually deceptively easy. Growing up in Australia, I've always been spoiled with excellent seafood. Australian seafood is some of the highest quality in the world. The best crab in the United States, however, can be found on the Pacific Northwest from Alaska down to California and peak season is in the dead of winter. Just in time for seafood-centric, holiday time feasts.
At its freshest, crab should not smell fishy but a smell of fresh briny, sea spray. In Australia, I ask my seafood store for the small, sweet female Blue Swimmer Crabs. Female crabmeat is succulent and sweet as candy. In the US, Dungeness crab is hailed "the Master crab". Use whichever you can find.
Preparation
How to use crab and choosing which cuisine to include it in is limited by your imagination. A classic Dungeness supper includes fresh steamed crab with little to no condiments. If you're enjoying it just as a protein, you may consider a Citrus, Garlic and Herb Butter, Spicy Mayonnaise or Thousand Island dressing.
In Australia, Christmas time falls during the height of summer. There's nothing better than grilling out with a glass of Blanc de Blancs Champagne. The sweet and smoky taste of grilled garlic butter crab together with crisp citrus and floral forward chardonnay is pretty hard to beat. Just remember you never want to cook crabmeat for too long or it will develop the texture of rubber.
Szechuan Peppercorns
If you like to spice things up then the following Chinese style pepper crab is a must try. The use of Szechuan pepper truly excites the flavour of this crab dish to another level. In Mandarin Chinese, Szechuan pepper is called "Hua Jiao" (花椒) or literally Floral Chili. In fact, Szechuan peppercorns aren't actually spicy, but beautifully aromatic. As a sommelier or foodie, you could the hallmark fragrance of capsaicin (or bell pepper), accented with perfumed red fruit and wood with a citrus tingle.
Most of China's Szechuan Peppercorns are grown in the rural mountainous province of Gansu, 5 hours from Yinchuan, Ningxia province home to the LVMH's China branch of Domaine Chandon. Here, the high altitude climate lends refined, aromatic and balanced Chardonnay and Pinot Noir and these are exactly the qualities you can admire in Szechuan Peppercorns.
Black and Szechuan Peppercorn Crab
1 large Dungeness crab (or 2 small to medium blue swimmer crabs)
½ cup vegetable oil for frying
1 tbsp black peppercorns
1 tbsp Szechuan (or Sichuan) peppercorns
4 clove garlic, thinly sliced
1 red chilli, thinly sliced
4 tbsp soy sauce
2 tbsp oyster sauce
1 tsp castor sugar
50g butter, diced
300ml water
2 stems scallions, diagonal slice
1 bunch cilantro, leaves picked
Firstly, remove the crab's hard exterior shell and reserve all parts. A quick YouTube search will bring you up to speed with visual instructions on how to remove the crab's shell, cartilage type gills and the "mustard". Cut the body in half or quarters leaving the legs and claws intact for an exciting presentation.
Note: The mustards is not fat or feces but the crab's multifunction organ known as the hepatopancreas responsible for digestion, uptake, filtering and storage of nutrients. Traditional Asian preparations will leave mustard for added flavour but marine research shows depending on the location or waters where the crabs are sourced, the mustard may contain high levels of toxins and heavy metals. If you're unsure, rinse the crab body to remove the mustard entirely.
Prepare, slice and measure all ingredients, this dish comes together in minutes!
Heat vegetable oil in a wok on high heat until lightly smoking. Add crab and flash fry for 2-3 minutes, tossing regularly. Remove crab from the wok, draining most of the oil.
Return wok to the heat. Add black peppercorns, chilli and garlic and cook for 1 minute until fragrant. Add soy sauce, oyster sauce, sugar, butter and water. Return the crab to the wok. Bring to the boil then reduce to simmer for 5-7 minutes or until the sauce thickens and coats the crab shells.
Remove crab and stack on a large serving plate. Garnish with scallion and cilantro to serve.
About the Author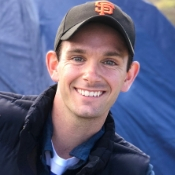 Tim is an Australian food and wine writer and accredited nutritionist. When cooking, Tim loves using healthy, local ingredients accented with bold multicultural flavors. Discover Tim's endless recipes and multicultural food ideas on Instagram @tc_neumann or through Beverage Trade Network articles.