Taco Bowls and South American Sparkling

13/11/2018 Taco bowls are the newest thing in the town. These delicious and healthy taco bowls are good for brunch times and even weeknight dinners with South American Sparkling wines.
Breakfast time is an opportunity to get a jumpstart on the day and wake up your creative side. In Melbourne, Australia brunch is king! It's the biggest thing why I miss moving to California. America, spice up your morning with my avocado, black bean and paprika and polenta crusted chicken taco pocket. A bright, nutritious flavour-packed combo. Heat tortillas to crispy, golden perfection then immediately remove from heat and stuff into a large coffee mug. Allow cooling and the tortilla will form a crisp shell ready to begin stuffing with goodness. I love making these for serving huevos rancheros. No delicious brunch is complete without a sparkling wine mimosa. Quench your appetite for South American produce with a world-class traditional method sparkling wine from the growing list of bubbles from Brazil, Uruguay and Chile.
Author: Timothy Neumann
- Sommeliers Choice Awards Multicultural Food and Wine Ambassador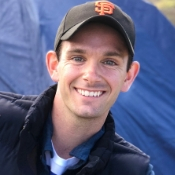 Tim is an Australian food and wine writer and accredited nutritionist. When cooking, Tim loves using healthy, local ingredients accented with bold multicultural flavors. Discover Tim's endless recipes and multicultural food ideas on Instagram @tc_neumann or through Beverage Trade Network articles.
Get your wines in front of Sommeliers, Wine Directors and On-Premise Buyers of USA. Here's How To Enter your wines.