Tijuana Hotdogs

28/10/2020 On this page, you will find the recipe of Tijuana Hotdogs.
If a boozy night on the beer is on the horizon, then this epic meal idea has you covered. From San Diego to the San Francisco Mission district, late-night party-goers may have stumbled across this cult status, street food favorite. The Tijuana dog is everything that is good. An all-beef sausage (or meat-free if you so choose) wrapped in a smoky bacon blanket and topped with a festive array of Mexican inspired condiments. My 'el completo' boasts pineapple and jalapeño pico de gallo, lime avocado crema, pickled red onions, and mayo.

Filled with so many juicy toppings, this midnight munch might be a nightmare to keep off the floor, but after dark, no one judging. No hard or fast recommendations for a brew pairing. For an apt accompaniment, seek an artisan-crafted English-style ale, which tends toward a light, juicy drinking pale, that finishes clean and crisp. American brewers have also taken to this style, giving it their own spin, with a more unctuous, hoppy kick.
For a well-established West Coast label who are Making American Juicy Again, seek out Heretic Brewing (LINK: http://hereticbrewing.com/beers), heros of NorCal brewing in our opinion. While their Vacaville taproom is currently closed for sit in confession hour, they're offering To-Go and shipping their endless list of devilish brews direct to you at a very enticing price. I can't get enough of their Mandarin IPA, my preferred partner in crime. Eat well and always drink responsibly. If you're across the pond and looking to tickle your tastebuds visit Real Ale in Greater London (LINK: https://www.realale.com) and take advantage of their free delivery.
About the Author: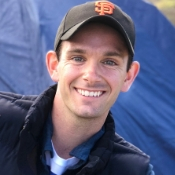 Timothy Neumann is an Australian Nutritionist, Chef, Culinary Consultant and Freelance Writer based in Napa, California. As a regular contributor of recipes and wine pairings for Sommeliers Choice Awards, Tim will be your resident food guru and bring you awesome recipes. Tim's approach to food is healthy, balanced and seasonal cooking to fuel a happy and productive mind! If you're visiting wine country, get a taste of Australia meets Californian cuisine.