Woodfire Shrimp

20/11/2020 On this page, you will find the recipe for Woodfire Shrimp .
Now is the time to support our invaluable small businesses. You may be lucky enough to have a superb seafood supplier within distance. For me it's Osprey Seafood Market and they're the best in the business. With so many supermarkets running low on everyone's favorites, it may be worth your while checking. If there's one thing I've been preaching during the pandemic it's that we should be using this time to add some new and exciting flavors to our weekly repertoire. Why not throw some shrimp on the barbie with the weekend!

Butterfly some jumbo prawns, smother with chili, garlic butter and place the crustaceans over a fiery hot grill. Better yet, if you've got access to the smoking coals of a woodfire oven you'll soon be eating the most delicious prawns you've ever experienced. Place butterflied prawns over a wire rack and position directly over the glowing embers. If that's starting to sound like a Sunday session well spent then ring your local fishmonger, ask them what they've got and jump onto Get Drinks Delivered to find your nearest curbside beverage pickup. It's early May and the mercury is peaking in California.
The pandemic has us posted up on the home patio and I'm pretty happy with that. If you're in the area, jump on over to Jam Cellars online, who are currently delivering everyone's favorite porch pounders direct to your door. Watch me fire this recipe during an interactive woodfire oven demonstration on YouTube.
About the Author: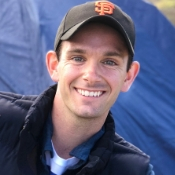 Timothy Neumann is an Australian Nutritionist, Chef, Culinary Consultant and Freelance Writer based in Napa, California. As a regular contributor of recipes and wine pairings for Sommeliers Choice Awards, Tim will be your resident food guru and bring you awesome recipes. Tim's approach to food is healthy, balanced and seasonal cooking to fuel a happy and productive mind! If you're visiting wine country, get a taste of Australia meets Californian cuisine.
Get your wines in front of Sommeliers, Wine Directors and On-Premise Buyers of USA. Here's How To Enter your wines.