20 Restaurants In USA You Must Checkout This Holiday Season

22/10/2020 Looking out for the best food and wine restaurants? Here is a brief description of 20 wine restaurant in the USA to check out this holiday season.
Wine & food has become an essential part of America's culture. We tend to dine out more often & embrace wine as a beverage to complement food. We travel all over the world to look out for the best wines & restaurants.

Here are some of the top wine restaurants which you can visit during your next trip to the States.
Cúrate, Asheville, NC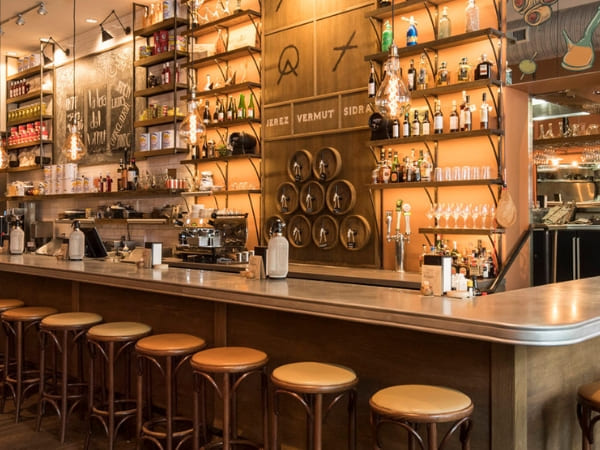 Cúrate means 'cure yourself' in Spanish, reflecting the belief held by chef Katie Button and her husband, Sommelier Félix Meana, that there are curative effects in sharing good food and wine with family and friends. The restaurant serves authentic Spanish food & their wine incorporates the taste of several wine regions that brings back the memory of Spanish Culture. Some of their traditional classic pairings is octopus or gambas al ajillo with Albariño and oloroso with tortilla española.
Cote, New York, NY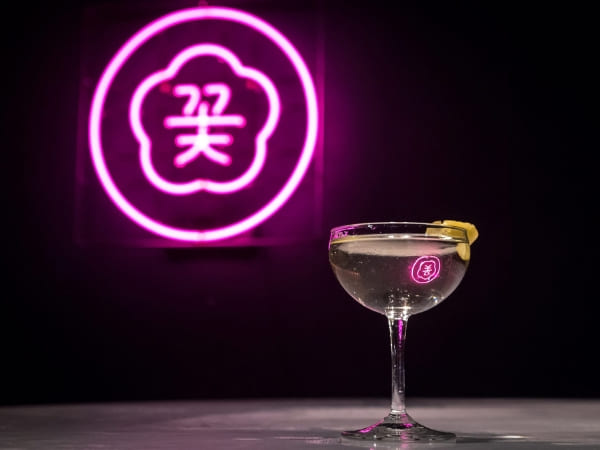 Cote is New York City's first Korean Steakhouse. It gives the dining experience of Korean Barbeque & American Steakhouse. Its head sommelier, Victoria James pairs different wines with quality Korean cuisines. Cote has an impeccable 1200+ label wine list and a suite of classic-but-creative cocktails that takes a non-traditional approach for a steak joint. Their wine list focuses on growers and small producers who are committed to organic, biodynamic, sustainable, or la lutte raisonée practices.
COI, San Francisco, CA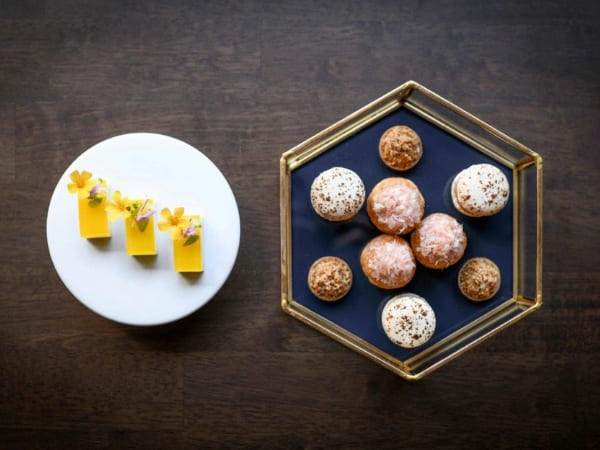 COI is located in the North Beach neighbourhood of San Francisco. It received its third Michelin star in 2017. The restaurant is moving towards contemporary French cuisine and the wine list at COI features distinctive fine wines with a special attention to California and France that best complement the modern tasting menu of Chef Erik Anderson.
The Charter Oak, St. Helena, CA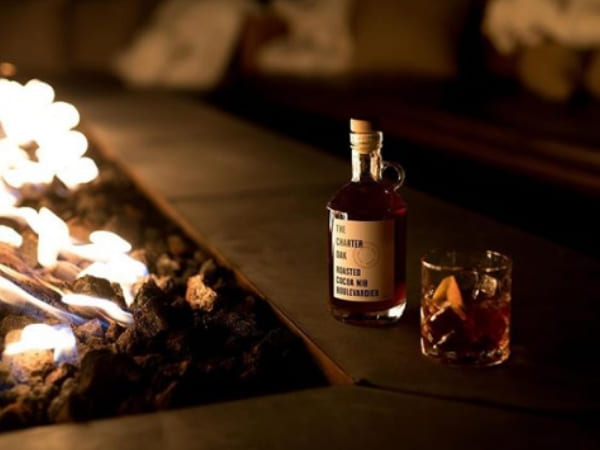 The Charter Oak is centered on a glorious, family-style dining experience, with simple and seasonal food – grilled meats, beautiful vegetables from their farm, local wines, and unparalleled cocktails. Their menu reflects the products of the Napa Valley through an elemental cooking style, featuring few if no garnishes, and highlighting one or two ingredients at a time. They also serve classically-focused cocktails ranging from bottled cocktails to reserve cocktails crafted with rare spirits.
Castagna, Portland, OR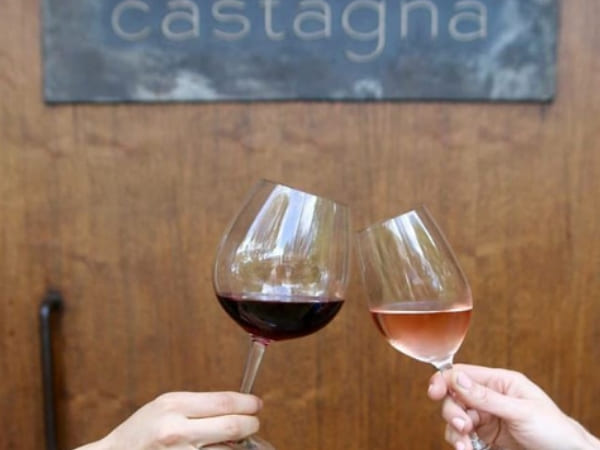 Castagna is a fine-dining restaurant in Portland, Oregon. It is a two-time winner of The Oregonian's Restaurant of the Year honors. Specializing in Italian & French cuisine, it offers three different dining options: A Chef's tasting menu, a seven-course menu, and a four-course weekday menu. The delightful menu is created by Chef Justin Woodward.
Californios, San Francisco, CA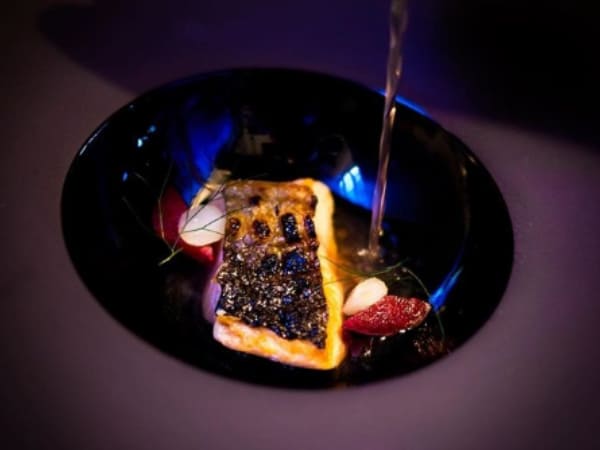 Californios is a family owned and operated modern Mexican restaurant which is hidden inside a dark black building in San Francisco's Mission district. The cuisine is rooted in a contemporary expression of Mexican flavors & Californian influence. In an immaculate open kitchen, Chef Val M. Cantu and his team offer an evolving collection of around 16-course menu that highlights one or two ingredients. The wine and service team, led by Charlotte Randolph, pair and complement the cuisine at moment.
Cabernet Grill, Fredericksburg, TX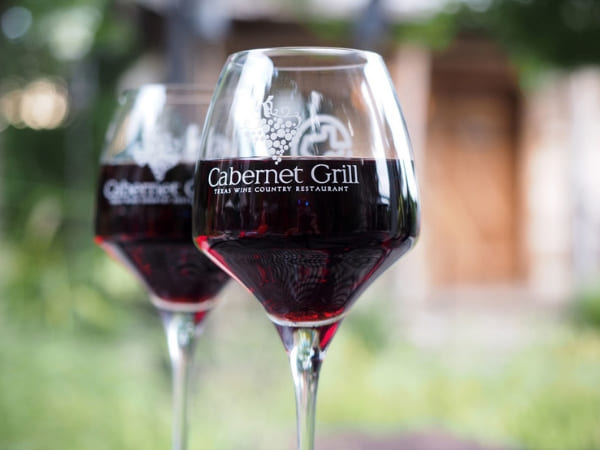 Cabernet Grill— Texas, about 90 minutes west of Austin, serves great Hill Country cuisine along with an all-Texas wine list, featuring more than 100 labels. From fresh seafood to Certified Angus Steaks, there is something to entice every taste bud. At Cabernet Grill, you will discover an unparalleled Texas Hill Country dining experience.
Bullion, Dallas, TX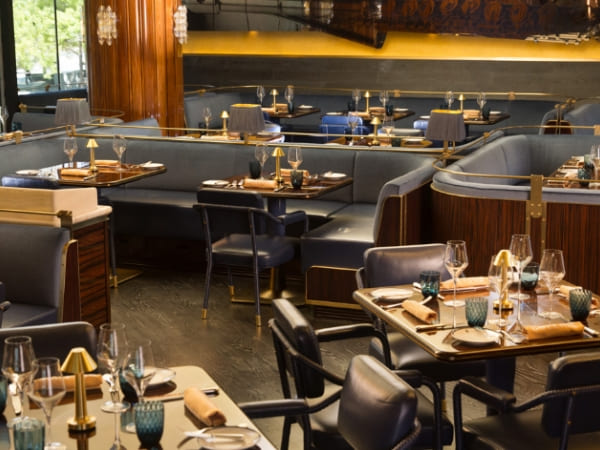 Unlike other French restaurants, Bullion in Texas feels modern and personal. It is the latest culinary expedition of Michelin Star-awarded Chef Bruno Davaillon. His menu incorporates classic and contemporary French dishes in which the ingredient stands-out. The wine list also comprises an all- French especially strong in selections from Burgundy and Davaillon's native Loire.
The Boiler Room Restaurant, Omaha, NE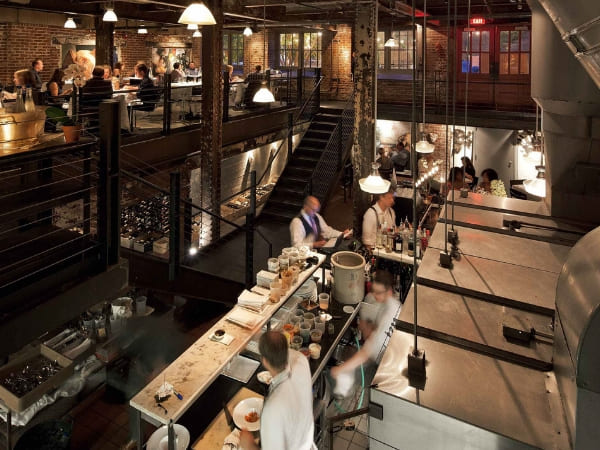 The Boiler Room Restaurant, located in the heart of Omaha, was once the boiler room which provided heat for the 120-year-old Bemis Bag Building. It is a Rustic-chic loft eatery featuring Omaha's culinary future and having a list of more than 500 bottles of Old World wines. They offer an array of craft, custom, and classic cocktails utilizing artisan spirits, fresh seasonal juices, house-made ingredients, and expert technique.
Bellemore, Chicago, IL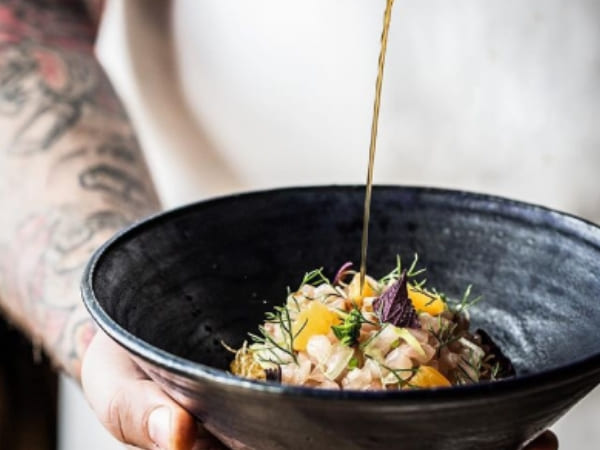 Bellemore, started in 2018 itself aims to define the category of "Artistic American" in both cuisine and decor. Its American cuisine & desserts are paired perfectly with wines & craft cocktails. In fact, Chef/Partner Jimmy Papadopoulos often includes wine as an ingredient in his dishes. The caviar-topped oyster pie which comes with two Champagne pours is already very popular in Chicago.
Barolo Grill, Denver, CO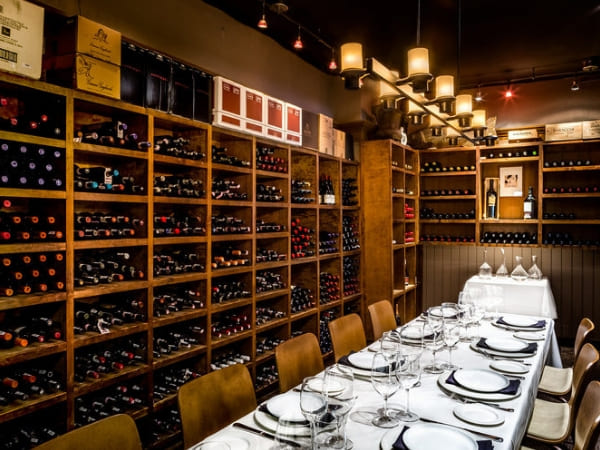 Having an elegant ambiance, Barolo Grill is known for handcrafted modern Piemontese cuisine and a spectacular wine cellar which is a perfect choice for a special occasion. It serves authentic northern Italian cuisine focusing on the provinces of Piedmont and Tuscany. Owner and wine director Ryan Fletter is proud to feature small wineries that are dedicated to Eco-friendly farming and winemaking philosophies.
Ava Gene's, Portland, OR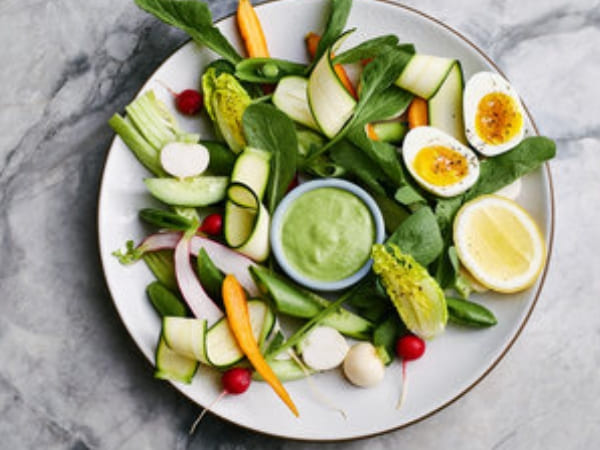 The menu is simple & rustic inspired by the Roman culture. The wine list from the west coast & local Italian flavors complements the spirit of the cuisine. Ava Gene's main focus is on the list of wines which are made in harmony with nature abandoning unnecessary chemicals & additives.
Aureole, Las Vegas, NV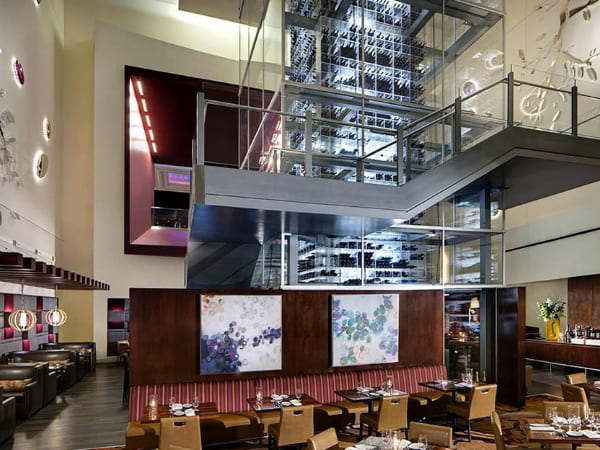 Aureole presents an image of a modern tasting table experience having a menu focused around food's three natural foundations: Root, Surf, and Ranch having eight dishes in each category. The restaurant has a spectacular 50-foot, 10,000-bottle wine tower featuring more than 3,000-selection of wines. Harley Carbery, Mandalay Bay Director of Wine crafts a rotating, by-the-glass list of 48 wines that features two suggested pairings for each of the 24 dishes on the restaurant's menu.
Bar Crenn, San Francisco, CA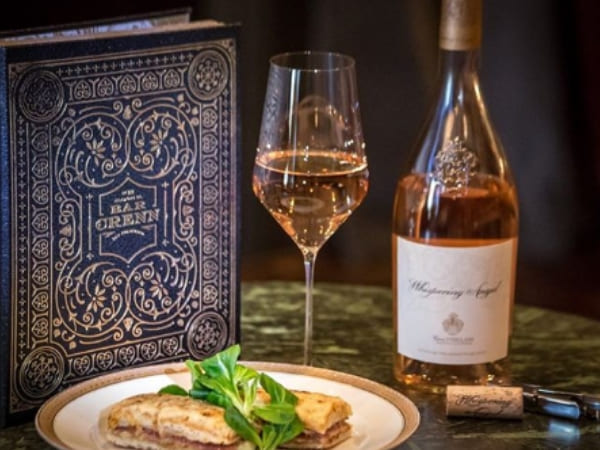 At Bar Crenn, Chef Dominique Crenn reflects the sensory experience of an antique French wine bar inspired by the lounges of the 1930's in Paris. The décor is meant to reminisce of an old-style, high-class establishment. The wine team has gathered a list of great wines of France that prioritize traditional methods of viticulture.
Anxo, Washington, DC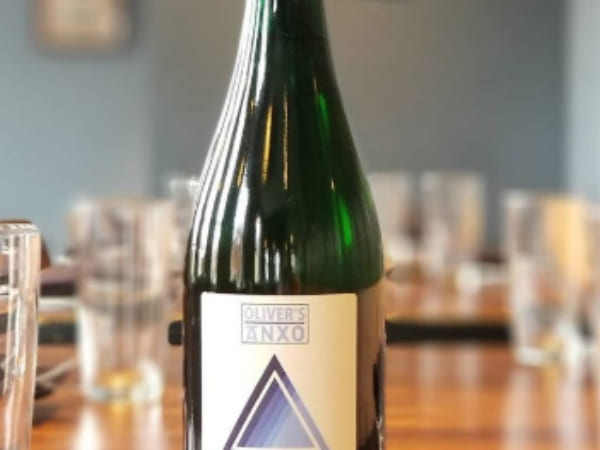 ANXO is DC's first licensed winery since prohibition. It is famous for international ciders. Anxo's focus is on curating the largest selection of ciders and Perry (cider from pears) from all around the world. They divide 22 drafts and have at least two dozen of them by the glass and a handful of bottles available to go. Anxo's menu focuses on The Basque-style food which is updated daily but the description helps the customers find what they like.
Alter, Miami, FL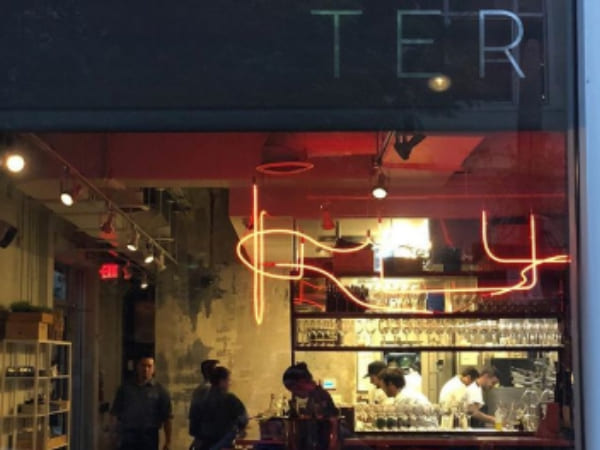 Alter is a casual restaurant located in Miami's Wynwood neighbourhood. Chef Bradley Kilgore's menu is focused on ingredients highlighting the rich seafood, fruits, vegetables and meats of Florida. Alter has an informative wine list that spans from top well-known producers to small artisanal growers from around the world.
Alinea, Chicago, IL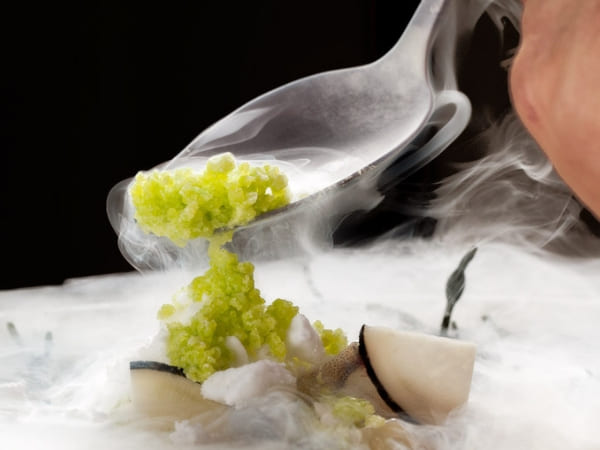 Alinea offers a distinct experience by offering a three-tier levels: The Kitchen Table, The Gallery Menu, and The Salon Menu. It features seasonally driven tasting menu of between 18 and 22 courses. The wine list consists of 800-plus bottles offering glass pour, half bottles & ciders.
Agern, New York, NY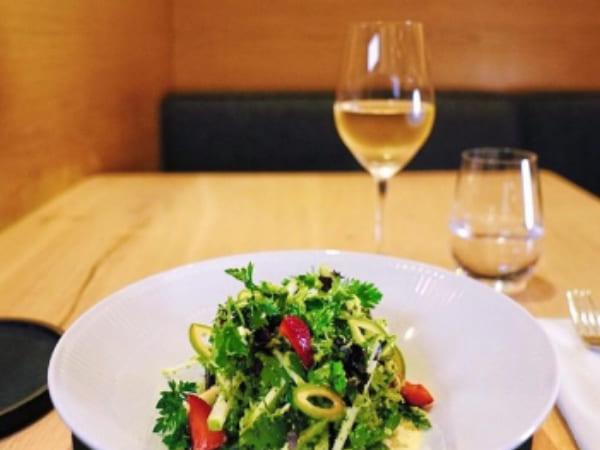 Agern is a season-driven restaurant and bar located at Grand Central Terminal of New York. Head Chef Gunnar Gíslason menu offers impeccable Nordic dishes made from wild ingredients from the New York State. Their beverage program focuses on American flavors with an emphasis on sustainable and low-intervention producers.
Adega, San José, CA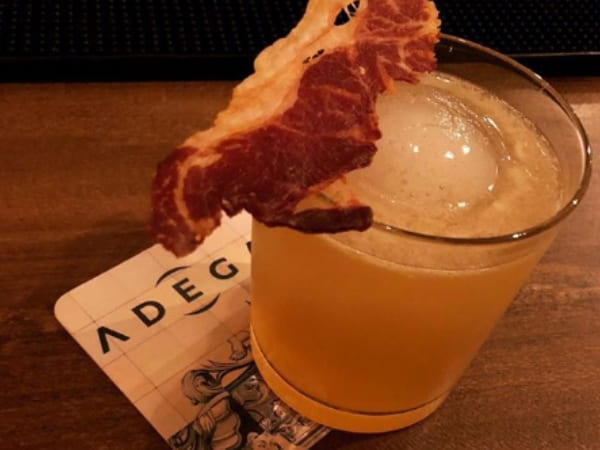 ADEGA is the first Michelin-starred restaurant in San José. It offers authentic Portuguese cuisine having a five-course "Classico" menu, a seven-course "Adega" menu and a nine-course "Chef's" menu. Adega's wine room offers more than 500 wines from Portugal. They also offer a full bar with many designed and classic cocktails.
610 Magnolia, Louisville, KY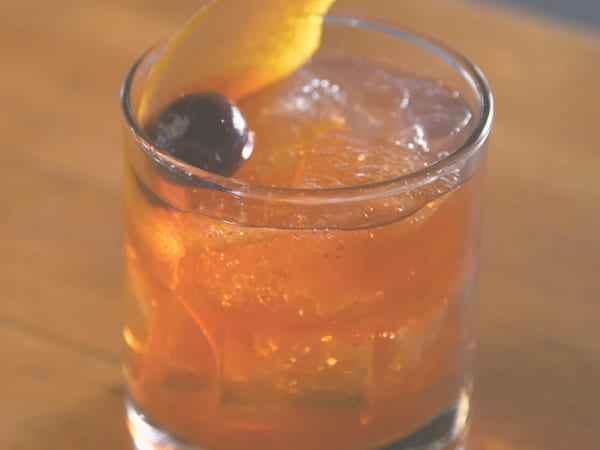 610 Magnolia, a fine-dining restaurant located in the heart of Old Louisville, incorporates different cultures & history of Louisville. It offers a 4-course and 6-course tasting menu featuring traditional Southern ingredients and global influences. The beverage program celebrates emerging trends & unusual pairing that includes boutique wine pairings and original cocktails that focus on their extensive Kentucky bourbon list.
Want to create your own on-premise restaurant? Here are a few tips.