How are sommeliers and restaurant wine directors purchasing during lockdowns and Covid?

08/03/2021 Today, sommeliers are tasked with reinventing their beverage programs to accommodate new opportunities and may start selling beverages with a clean slate and revitalized vision.
The way sommeliers and restaurant wine directors currently go about buying wine during the pandemic has changed dramatically in a way that could not have been perceivable only a year ago. Before the outbreak of Covid-19, wine buyers went about their business the way they had for years. We relied on a conventional approach taken by beverage professionals the world over and did not foresee a reason to change tactics. Bestsellers and BTG placements were replenished on a fairly predictable basis and slow-moving products were hand-sold to the restaurant's diners. It's a tale as old as time.
Prior to the pandemic forcing restaurants worldwide to shutter their on-premise dining accommodations, a sommelier could easily schedule a meeting with a wine rep and taste through new wines they were considering for their wine lists. As the severity of the virus wore on, restaurants adapted to increased spacing between tables and limited indoor dining.
Diners were asked to enjoy their meals at a table sat only with guests stemming from the same household. Dining establishments were suddenly only able to accommodate a fraction of the guest counts they had been seeing regularly only weeks before. Diners unexpectedly seemed to spend less money and time while dining at restaurants and almost overnight all business dinners and private dining events ground to a halt. Sommeliers had to become more imaginative than ever and found themselves forced to rethink their approach when it came to selling wine to their guests.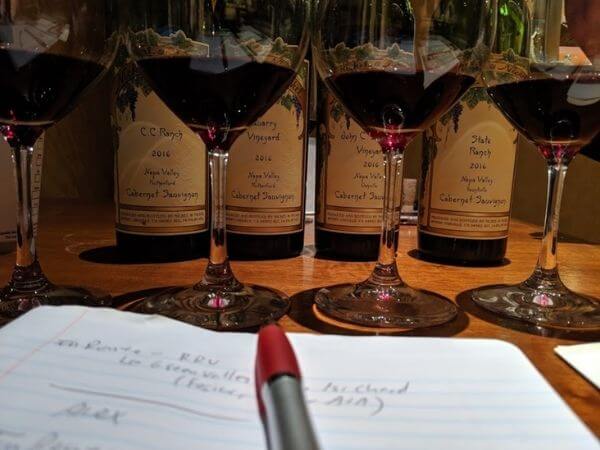 Wine buying considerations during a tasting with a rep - Source: TB
As time went on, a restaurant's greatly reduced dining capacity and diminished sales only intensified as new mandates around the world suddenly forced closures of any and all indoor dining. Sommeliers again had to rethink their sales strategies and cater to even smaller cover counts due to diners being relegated to only outdoor dining if on-site dining was allowed at all. Slowly but surely restaurant workers saw even outdoor dining become prohibited, no matter how compliant the dining establishment's safety protocols were.
Owing in large part to crippling on-premise dining restrictions, many restaurants were forced to adapt their most profitable sales vehicle (the beverage program) or shut their doors for good. Wine buyers were left to make painful choices in order to generate even a fraction of the sales seen during pre-Covid times. Coveted library wines and rare allocations had to be offered up for retail sales. To-go beverages that were previously restricted were unexpectedly finding a home on wine lists and online pairing programs were becoming the norm for the beverage industry.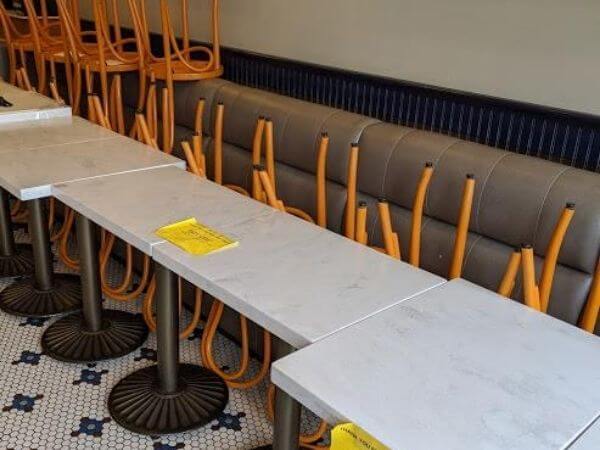 Empty banquettes inside a Campbell, CA dining establishment - Source: TB
Initially, wine buyers and their wine reps would meet for just the most attractive and promising tastings while donning masks, seated 6 feet apart, while dutifully sanitizing everything that was touched. Currently, it seems that most in-person meetings and tastings are to be avoided and business is now conducted via telephone, email, and courier. This having been said, a wine buyer has been forced to focus their purchases only on the SKUs that are guaranteed to move. Luckily, we have finally gained a year's worth of experience in buying wine during a stifling pandemic and sommeliers have quickly learned which approach has proven to be most successful.
As it turns out, predominately attractively priced crowd-pleasers have become the mainstays for a sommelier to have on offer for their guests. This effort to showcase only fast-moving placements has led to wines being resold in small flasks for pairings or half bottle formats. Many of us were forced to select countless top-tier wines from our cellars and sell them at a fraction of the price formerly offered for new retail sales programs. Coveted treasures of many a wine list had to be consigned and the secondary market became flooded with high-end wines, effectively changing the market structure entirely. Sommeliers began to offer their guests weekly selections of wine bottles to be paired with curbside pick-up food orders, most of which never exceeded a $50 per bottle pricing.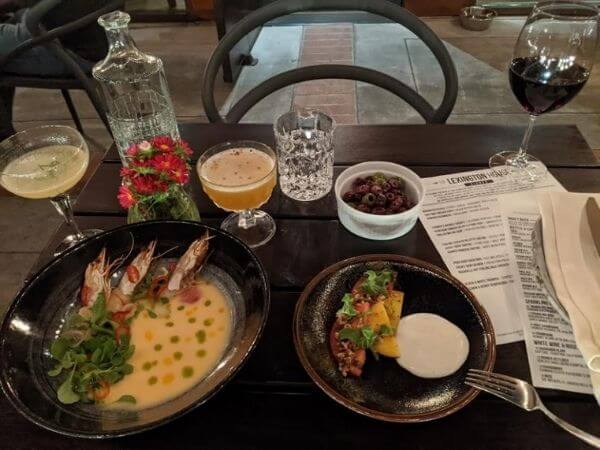 Outdoor dining for one at The Lexington House, Los Gatos, CA Source: TB
Taking all of the current hardships into account, a successful wine program currently consists of fast-selling bottles that the astute wine buyer has come to rely on. Guests have learned to depend on the expertise of a knowledgeable sommelier and prefer to frequent dining establishments where value and quality can be found in the beverages that a restaurant features. A selection of a single white wine and a single bottle of red wine is the most common placement for diners to purchase and enjoy their meals at home.
This harsh fact has forced wine buyers to stick with wines made by well-known producers, only the most popular grape varietals and those available at the best possible price. QPR has never been as important to wine buyers and their clients as today. Still, smaller, lesser-known producers and obscure wine regions have also become more attractive for a wine buyer, as their value and enjoyability can translate to robust sales if a beverage program enjoys a reputation for sourcing the best wines for the price.
Sommeliers and on-premise wine buyers have certainly not become obsolete during these challenging times. On the contrary, careful selection must be made by professionals that know their client base in addition to possessing the keen ability to source only the best selections for their respective dining establishments. An ideal world for sommeliers going forward would see a balance being struck between minimizing inventory while catering to the splurge in demand that diners have showcased during the reemergence of dining out at restaurants. Today, sommeliers are tasked with reinventing their beverage programs to accommodate new opportunities and may start selling beverages with a clean slate and revitalized vision.
Now sommeliers currently share the same objective as their guests more than ever before: Get the best bang for the buck!
About the author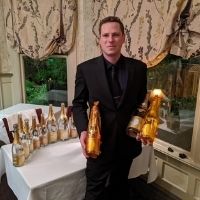 Thomas Brenner is a sommelier, beverage consultant, wine buyer, and wine writer based in the San Francisco Bay Area. A native to Germany, Thomas has lived for the most part in Germany, the Washington D.C. area, and California. When he is not researching material for his wine writing or working as a sommelier, he enjoys traveling to winegrowing regions near and far.
Thomas has been interested in geography, history, and culture from an early age, setting himself up seamlessly for a career in wine.
He has performed as a sommelier in fine dining establishments encompassing all tiers of coveted Wine Spectator awards and acted as MOD and sommelier at several Michelin-starred restaurants. He has also been a wine buyer for a popular hotel fine dining outlet and enjoys coming up with unique pairings for his guests. Thomas constantly adapts to an ever-evolving set of clientele and dining environments while lending his expertise to online forums, social media, and fundraisers such as Auction Napa Valley, Pebble Beach Food and Wine, and charity dining events at smaller boutique restaurants.
When he is not actively engaged in wine-related work, he spends his time with his eight-year-old daughter in and around his residence in San Jose, CA, eagerly planning his next trip to distant wine-growing regions.