Sommelier Insights: How to thrive while your tasting room is shut

02/04/2021 Even if potential customers can't visit you in person, you can still reach them thanks to the reach and potency of the internet.
Tastings rooms are crucial for wineries. They allow you to interact with your customers, to introduce them to your culture in a friendly and intimate way. They're places of education and enjoyment. At their best, tasting rooms facilitate a sort of gentle seduction, where customers learn what is special about your wines and go away enthused, acting as unpaid salespeople in the process.
As we all know, that hasn't really been possible in the past year. Covid-19 has made this crucial interaction largely impossible, either through government restrictions or customer hesitance. How then, is it possible to reach your customers in the same way? Well, there is a very good alternative: online.
In a sense, this is a good time for businesses to have to endure a Pandemic. Had it happened 20 years ago, it would have been much harder for wineries to reach customers. But in a world where people live out their existence online - chatting to friends, getting the news, shopping - it's increasingly easy to reach your potential customers. The key is to send the right messages to the right people.
Luckily, plenty of companies have been this way before. There's a lot of wisdom available about how to reach those people who are most likely to want to buy your wines. You can build a strong, welcoming online community around your winery that will outlast this current Pandemic and continue to benefit you for years to come. Here's how:
Create a customer journey
Social media platforms like Instagram and Facebook allow for excellently targeted advertising, so you can reach the customers most likely to want to buy your wines. Once you have their attention, you need a call to action - something exciting and intriguing that will get them to sign up to your mailing list. Once there, it's up to you to enthuse and engage them.
A good example of how that might be done is provided by the Angeleno Wine Company, whose emails are a blend of news about the winery and personal reflections from the founders and co-owners, all written in a friendly, warm, engaging way. It makes you want to find out more about their products and to support their company.
Collect as much information as you can
Yes, it sounds a little creepy - but if you want to make sure you're targeting the right people, you need to know who the right people are. Once you have that information, you can offer customers tailored offers - some people might prefer red to white wine, for example, while others might spend $300 rather than $600. All of this information is valuable for you in terms of selling wine, so you should be collecting it.
One useful tool for ensuring you reach the people who are really interested in your product is Facebook Pixel, which allows you to advertise to those who have visited your website, perhaps browsed your wines, but decided not to buy. With this tool, you can remind them of what it was they found so appealing.
Make it Interesting!
This might seem obvious, but judging by some marketing efforts it isn't. If you're trying to get customers to buy your wine, you have to be engaging and human. It doesn't matter how good your wine is; they can't taste it like at your winery. What matters is if you can express in an eloquent and easy-going way what makes you special.
A good example is Gallica, based in the Napa Valley. Simple, descriptive language paints an enticing picture; there's plenty of useful information, particularly in the descriptions of wines, for the company's engaged customers. The web copy brings you in without overwhelming you with detail; the pen-pix of the small Gallicia team is informative and interesting without gushing. All told once you've spent ten minutes on the website you want to try the wine.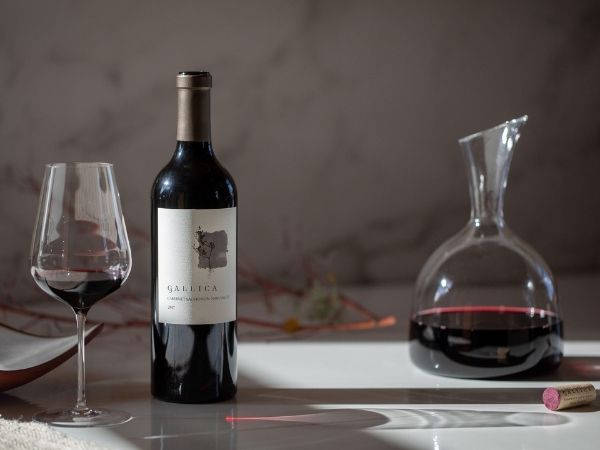 Gallica Wine, Source: Gallica
What are the experts in other areas doing?
It's easy to look at how other wineries are doing things and think - I'll do that, but a little bit different. You can see that happening in real-time; wine, like any industry, has a tendency to groupthink that can be comforting but is rarely good for the producer or the customer. Why not take a look at best practices in other spheres? A good example is Schweppes Canada's website, which takes their products' most distinctive aspect - the bubbles - and makes it a joyous theme for the entire website. What you can achieve is obviously based on budget and time constraints, but Schweppes' efforts are a reminder that the safe, easy option is rarely the best one.
Think about how people are living now
Life has changed and, as much as many of us would like things to go back to how they were before, there's no guarantee that they will. You have to be engaged with how people are living now, rather than how they did in 2019. One thing to think about is this: how are people engaging with each other at the moment when human contact is more difficult? Lots are sending gifts in lieu of human contact - take a look at how Argyle Winery in Dundee, Oregon, has put together gift packs as an example of how it can be done.
Header image - Gallica Wine, Source: Gallica