Your Guide To Investing In Wine - Learn Where To Start from!

11/01/2022 Investing in wine has grown enormously over the years. Here are some tips and methods that can help you invest in wine.
We discussed in our last article, Investment in Wine: Now A Serious Business, the growing potential of wine, how the market is booming, what the future looks like, and a lot more. From using various platforms to consulting wine experts, there are various options to help you get started. To start off with, it is important to know how much are you willing to invest, what kind of portfolio you want to build and how do you want to store your wines.
To begin with, it is important to know how much you are willing to invest in wine. You can start with even $1000 and you can eventually grow your portfolio. For this, you need to know if you are investing just for your love for wine or you are investing to make some serious money out of it. Investopedia recommends treating your investment like a collection of baseball cards where you pick up wines that interest you. If you are someone who is a connoisseur of fine wines, buy wines that you enjoy and hope for them to increase in value along the way.
How To Know Which Wines To Invest In?
Before you build your portfolio, you need to understand what kind of wines are the ones you should be investing your money in. The main purpose of investing in the right wines is to gain returns and for their value to increase in the coming years or even months.
These wines are called Investment Grade Wines. They have certain characteristics and cannot be found in your grocery stores. The characteristics that set them apart from the basic wines are: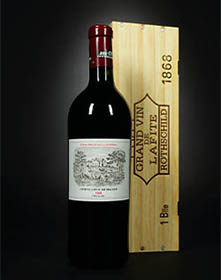 1. They are worthy of Ageing
Wines that have the potential to develop and age over the years are investment-grade wines. They have the right acidity, sugar, tannins, and alcohol level which develop over time.
Château Lafite-Rothschild 1868, Pauillac, Premier Cru Classé.
Image Source: Galerie Magazine

---

2. There is a Scarcity of these wines
Wines that have a higher demand in the market will have a low supply and thus there would be a scarcity of them in the market. Running on the same lines of 'Higher Demand leads to Low Supply'. Wines that are finite and limited editions usually are produced in low quantities and their demand increases leading to these wines becoming more expensive and valuable.
Dom Perignon 2002
Image Source: The Finest Bubble

---
3. The wine has a Strong-Critic Score
A very important criterion to decide whether it is an investment-grade wine is by checking the scores that it has gotten from the critics. These wines tend to earn an average score of 95% or higher from the wine critics. You can easily find a list of such wines at the Sommelier Choice Awards website in the Winners section.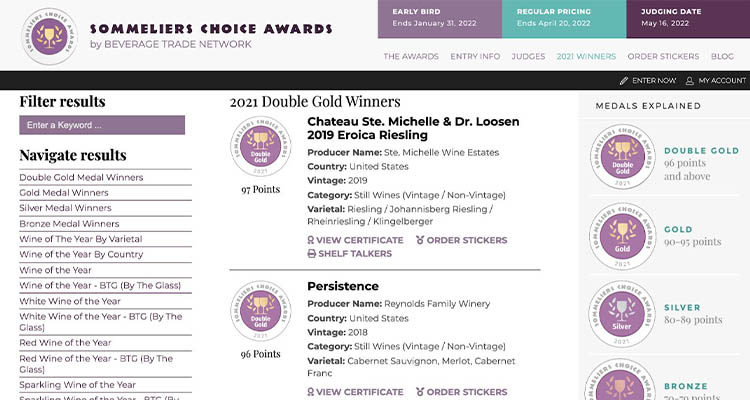 Winners of Sommelier Choice Awards 2021
4. The wine's producer has a Strong Brand Equity
Wine producers like Château d'Yquem and Château Haut-Brion have a prestigious reputation in the market. This persuades the investors to pay a hefty price for these wines or urges them to invest in wines that are produced by them.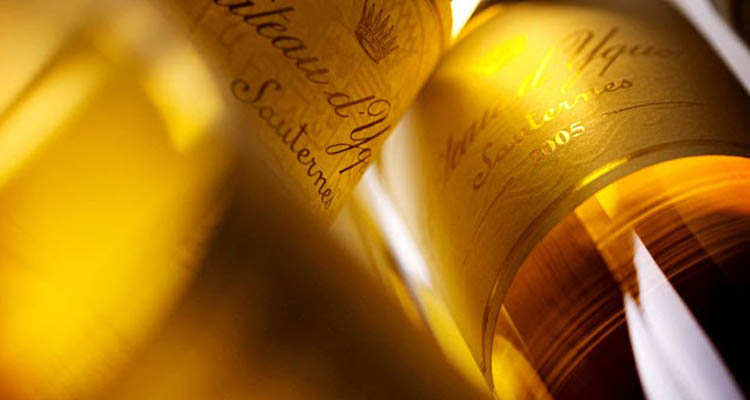 Château d'Yquem 2005. Image Source: yquem.fr
5. The wine has a Favorable Vintage
Every producer has a particular year on their list which produced a great vintage and thus great wines. A good vintage comes from a great terroir where the weather, soil, and the environment cooperate to give a great growing season to produce wines that are high in quality. Wines that are produced from some of the best vintages of that particular region will always be priced higher in value.
6. The Price of the wine has Appreciated over time
Last but not least is the very important factor that helps you in deciding if it is an investment-grade wine. The price of the wine should have increased over 10 years or more.
Although, these criteria can be subjective and every investment comes with a certain risk or uncertainty attached to it. It is also important to rely on the global wine market and keep track of the trends which may help you in understanding which wines to invest in.
What Are The Different Ways Of Investing In Wine?
Investing in wine may seem like a complex process but these 3 simple ways can help you get started and make it look like a cakewalk. All you have to do is select the method which is most suitable for you.
1. Wine Investment Platform
Several wine investment platforms in the market can help you in building your portfolio, tracking the value of the wines you have invested in, and providing you with a monthly report of your investments and returns. These companies offer plans starting from £10 where they offer the storage facility for your wines, insurance, buying and selling at a 0% fee, and a lot more. A few platforms which are currently big players in the wine investment market are Cult Wine Investment and Vinovest.
These platforms help you in analyzing the secondary market pricing of the wines you have invested in, critic scores, the risk to return ratio of different vintages, etc. They even help you in sourcing wines directly from wineries, global wine exchanges, and merchants at the best prices.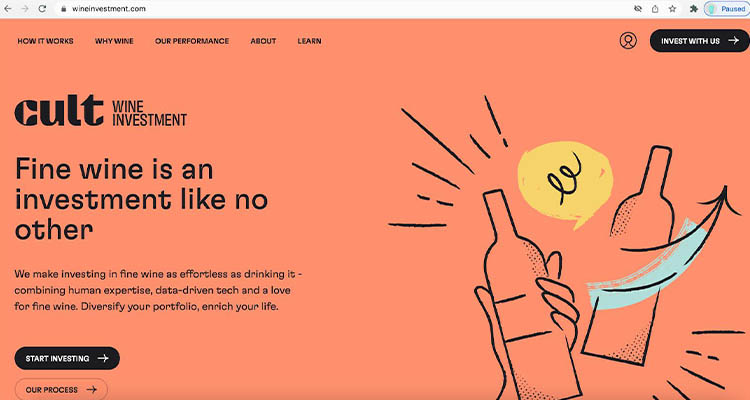 Cult Wine Investment Website. Image Source: WineInvestment.com
2. Wine Stocks
Another way of investing in wine is by buying individual wine stocks or putting your money in wine funds. These are wine and spirits companies that are performing well in the market and you can invest in their stocks. However, you would not be investing in individual wine bottles in this case. A few examples of these are Diageo, Brown-Forman and Constellation Brands.
3. Buying Bottles By Yourself
One of the tedious ways of investing in wines is by buying bottles of wine yourself. If you are a wine connoisseur, this may seem like an easy process for you as you might be aware of all the know-how of wine. But someone new to this industry may have a little hard time when it comes to investing by themselves. Don't worry, we still got you covered. These are some of the important things to keep in mind and understand before you are starting to invest in wine by yourself.
1. Research and study wines as much as you can. Get to know where wines are sold, learn more about investment-grade wines and keep a track of the online wine exchanges. Websites like Liv-ex (London International Vintners Exchange) can be a good source.
2. Decide how much you can invest. You can start with $10,000 and build a diverse portfolio of investment-grade wines. Planning a good mix of wines is important. The mix can include Bordeaux Grand Cru wines, Super Tuscans and Barolos from Italy, the best wines from the Napa Valley in the USA, and a lot more that is trending.
3. Now that you have done your research and know how much money you are willing to invest, it is time to decide where you want to purchase the wine from? There are various sources from where you can purchase your wines. A few examples of these are:
Wine Auctions: Sotheby's wine auction and Christie's are some of the places where you can bid in-person on the wines that are up for sale.
Broker: - a broker can help you in building a personalized portfolio for you and trade and transact on your behalf. It is something like a wine investment platform but with the presence of a fully dedicated person who will help you source the wines you want to buy.
Wine Stock Exchange: Stock exchanges like Liv-ex and Berrys' Broking Exchange are a few examples that can also help you in buying wines internationally.
Wineries: The most authentic source of buying wines is from the château itself. They can be shipped to your address too. Although, while buying wines internationally, you might face certain regulations in terms of shipping.
Specialty Stores: The last and the most convenient option is buying wines from specialty boutique stores like The Wine House in LA and K&L Wine Merchants in San Francisco.
4. Once you know where you want to buy your wine, it is important to determine the storage of your wines. It is crucial to store your wines well or they might get damaged and lose their value over time. You can either build a cellar at your home with the right temperature and humidity to store your wines or you can store them with a professional storage facility. A professional storage facility not only provides the optimum storage conditions to store your wines but also insurance on them.
5. Finally, once you have invested in wines, it is time to sell them as well to make some profit out of them. You can do the same through auctions and wine stock exchanges. You can even sell them to another private collector.
Now that you know what all is required to become a wine investor, you are all set to become one. Various sources can help you to understand and study the wine market. You must keep a track of what is happening in the fine wine market, the trends in this industry, and the right time to buy or sell wine.
Till then Cheers and Happy Investing!
Article by Shreya Kohli, Beverage Trade Network
Header Image Source: NewBondStreetPawnbrokers.com