Rolling Blog: Daily Updates of The USA Wine Industry

01/06/2021 Get the latest news & updates on the USA wine industry with this rolling blog.
Sommeliers Choice Awards will be gathering the latest news about the ins and outs of the wine industry. We'll be updating this blog regularly with important news and stories.
1 June
For Folktale Winery's David Baird, Organic Grapes Make for Better Wine
In the course of a person's life, there are moments that leave such a powerful impression they can foretell the future. David Baird, head winemaker at Folktale Winery and Vineyards, located in California's Carmel Valley, recalls such a moment in his own life with exquisite clarity.
"Winemaking is just as romantic as it is hard work. It takes a ton of effort to make a bottle of wine, and countless decisions to make it taste like it does. But the motivation for me lies in creativity and being able to produce something I'm passionate about."
---
1 June
'Busiest in two years:' Napa Valley sees record numbers of visitors for Memorial Day Weekend
Many of us were taking a big step this Memorial Day weekend - stepping out, hitting the road and having some fun after a difficult year.
Napa Valley was a big destination. In fact, some wineries report record-breaking sales.
---
1 June
Sonoma Collection Wines Releases 'Thinnings'
The family behind La Prenda Vineyards and Sonoma Collection wines has released an early harvest wine just in time for summer called 'Thinnings'. The name 'Thinnings' refers to the practice of selectively removing grape clusters from the vines early in the season to manage quality and crop levels.
---
1 June
How vineyard soils affect the taste of your wine
Here's a fun exercise that will help you explore one of the great mysteries of wine. Two white wines from northern Portugal - the popular light, refreshing vinho verde - made by the same producer, from the same grape variety and in the same manner.
The difference? One is made from grapes grown on granite soil, the other from grapes grown on schist. And they taste different. Not a lot, but noticeably so.
---
31 May
Paso Robles Wine Country's First Virtual Auction Raises Over $70,000 Paso Wine Fan's Go Above and Beyond
"The popularity of the Paso Robles wine region has been on the rise with wine lovers and critics alike," said Joel Peterson, Executive Director of the Paso Robles Wine Country Alliance. "This acclaim coupled with the newfound ease and familiarity of virtual experiences created a perfect opportunity for this inaugural auction, which supports our local community."
---
31 May
Local winery uses robot to combat the problem in the vineyard
The founder of Willamette Valley Vineyards tells that they are the first farmers in the world to use an autonomous robot to apply UV-C light in a commercial setting. Last year the vineyard installed the special band of ultraviolet light in its HVAC systems to kill the coronavirus.
That led the winery's Founder and CEO, Jim Bernau, to the research Cornell University was doing along with the U.S. Department of Agriculture, Oregon State and Washington State universities with this same technology except for the protection of grapevines.
---
31 May
7 Oregon Wineries To Try Outside Of The Willamette Valley
The Willamette Valley is the most renowned wine region in Oregon and is famed for its Pinot Noir. Its recognition is well deserved, but Southern Oregon is my favorite place to taste wine in the state.
You will find small boutique wineries, many family-owned while traversing the country lanes and small towns. It's the type of area where people know their neighbors and help each other out. The wine is good but not pretentious.
---
28 May
How California Wineries Are Preparing for the 2021 Wildfire Season
A rare August lightning storm sparked blazes all across the state, including the CZU Lightning Complex in the Santa Cruz Mountains, the LNU Lightning Complex in Napa, Sonoma, and other counties; and the massive August Complex in the Mendocino and Lake County regions. To make matters worse, the Glass fire hit Napa and Sonoma in late September, in the heat of harvest, damaging or destroying nearly 30 wineries and blanketing vineyards with thick, acrid smoke.
---
28 May
The Acumen Napa Valley Wine Gallery Unveils New Peakeasy Champagne Room
Located in a private room of the Acumen Wine Gallery at 1315 First Street in downtown Napa, the new PEAKeasy holds a type 42 license that allows guests to enjoy both by-the-glass and bottle service in the stylish new venue. The PEAKeasy will feature a rotating lineup of top Champagnes, as well as rare small-production and allocation-only Champagnes sourced by Acumen.
---
27 May
Introducing New Single-Serve Myx Light Chardonnay & Myx Light Rosé
After many years of success with MYX Fusions Moscato and Sangria, MYX Beverage LLC will build on that accomplishment and enter the leading growth category of lower-calorie and low alcohol wines.
Today's consumers are more educated, health-conscious, and constantly seeking "better-for-you" options, and MYX is excited to offer consumers what they are demanding—two new high-quality wines with great flavor, fewer calories, and less guilt, all packaged in convenient 4-packs of cans.
---
27 May
Top wine company pledges 'net-zero' emissions
Treasury Wine Estates has joined other corporate businesses in taking their own steps, ahead of the Federal Government, at setting their own ambitious targets to reduce carbon and greenhouse emissions, as reported by the Herald Sun.
---
24 May
Eat, Drink, Savor: The classic pinot noirs and chardonnays of Eden Rift
It's easy to see the pride Christian Pillsbury takes in the history and tradition of his Eden Rift vineyard—he has a photo on his cellphone of an 1879 land survey that measures his valley in archaic units of chains and degrees.
Eden Rift sits in a perfect spot for growing grapes. Sitting atop the San Andreas Fault, the rift cuts through to the limestone that winemakers cherish. The unique climate and geology of the Cienega Valley seem almost designed for the wines Pillsbury wants to craft.
---
24 May
National Wine Day In Wisconsin: Pop A Cork At These Wineries
May 25 is National Wine Day in Wisconsin, which means there's no better time to break out that bottle of Cabernet you've been saving for a special occasion.
Through its 80 wineries, Wisconsin produced about 285,355 gallons of wine in December 2020, according to data available through the Alcohol and Tobacco Tax and Trade Bureau. On average, the economic impact of wine production and sales in Wisconsin come to about $3.6 billion.
---
24 May
Jordan Vineyard & Winery Acquires Cabernet Sauvignon Vineyard
Jordan Vineyard & Winery announces the purchase of Meola Vineyard in Alexander Valley, just north of the town of Geyserville. This marks the first time that Jordan has purchased land since the acquisition of the 1,200-acre Jordan Estate in 1974. The property totals almost 45 acres with nearly 29 acres planted to cabernet sauvignon.
---
21 May
Five Reasons to Love California Wine Country This Summer
The summer season in the Golden State's diverse wine regions is a special time with its beautiful weather and fun activities. Winery patios await, al fresco activities abound and scenic views of vines and grape clusters are all part of the experience.
Wineries have started to reopen and are looking forward to welcoming guests. To assure you have a spot, plan your visit ahead of time with a reservation.
---
21 May
Weekend At A Winery: Add Big White House To Must-Visit List
No fancy fountains or manicured lawns at this boutique winery in Livermore - just a laid-back atmosphere and really great "wine nerds."
---
21 May
A Vegan Guide to Napa and California's Wine Country
Like anyone else, vegans deserve a little taste of the good life. Whether you're a self-professed wine aficionado or plant-based foodie, a visit to California wine country should be on your bucket list. The soil from this region results in more than just world-class wine, it is also responsible for the area's incredible produce.
Here are the top eight vegan picks in Napa and the greater California wine country.
---
19 May
Avaline Sparkling Rosé Launches in Time for Rosé Season
Today, the clean and transparent wine brand Avaline, co-founded by Cameron Diaz and Katherine Power, released Sparkling Rosé, a limited edition wine exclusively available on drinkavaline.com.
Like all of Avaline's wines, the Sparkling Rosé is made with organic grapes, vegan friendly and free of unwanted extras like colors and concentrates. The new wine is sold in easy-to-carry (and even easier to drink), 375ml bottles that you can pour, sip and enjoy all summer long. A must-have for any afternoon picnic, lazy pool day or garden party, the Sparkling Rosé is the perfect complement to fresh-cut blooms.
---
19 May
Casa Luigi Cans Are the Perfect Post-Pandemic Socializing and Entertaining Partners
Whether you are ready to celebrate with a hundred friends or you are still wary of socializing in groups, Casa Luigi Sparkling cocktails and Rosé in a can offer the perfect post-pandemic solution to your entertaining and summer socializing needs.
Check out why Casa Luigi Sparkling Rose and Prosecco Cocktails fit the post-pandemic checklist this summer
---
19 May
Famed Snohomish winery celebrates 40th vintage
Quilceda Creek is marking the 40th vintage of the winery's award-winning cabernet this year.
Quilceda Creek's 2018 vintage of its Columbia Valley Cabernet Sauvignon is hitting the market soon.
---
19 May
Wine and Spirit Education Trust classes offered in Paso Robles this summer
Wine and Spirit Education Trust (WSET) classes levels 1, 2, and 3 will be offered in-person in Paso Robles this summer at Broken Earth Winery through The Wine House, a WSET-approved program provider.
All WSET courses include wine tasting. Students can earn official WSET credentials: Level 1 Award, Level 2 Award, and Level 3 Award, including a WSET certificate and lapel pin for that level, and the associated WSET certified logo.
---
19 May
Sonoma County Planning Commission to hear draft winery events ordinance
Permit Sonoma has published Sonoma County's first draft Winery Events Ordinance, which would set new standards for winery events like parking requirements, food service, event coordination, traffic management, and noise standards to address the impact of winery visitor-serving uses on agricultural land.
"The wine industry plays a critical role in Sonoma's economy," said Tennis Wick, Director of Permit Sonoma. "We are proud to work with the industry and neighbors to develop regulations which balance winery needs while protecting our rural communities and agriculture."
---
18 May
Napa Valley Wine Train rolls again: Guests board for ride after 14-month closure
More than a year since rail rides were shut down due to the COVID-19 pandemic, the Wine Train is rolling again.
"I can't express how amazing it feels to see a staple of the Napa Valley back on track, pun intended," said Steven Lampkin, area director of finance for Noble House Hotels & Resorts. "Hearing that train whistle again after so long was music to my ears."
"It feels like the first day of school," added Larry Dougherty, a wine educator at the Wine Train.
---
18 May
Riunite Expands Line of Portable Drinks with the Launch of Lambrusco Cans
Lambrusco, the varietal many associate with the heritage brand, is a semi-sweet and slightly bubbly wine that has been given new life in its on-the-go format. Lambrusco joins the existing line of Riunite wines in a can, including both Red and White Sangria. The newest addition will be available across the U.S. in June.
With the canned category up 61 percent and preference for semi-sweet wines on the rise, this new launch gives consumers exactly what they are looking for.
---
18 May
BottleRock Napa Valley returns in September with headliners Foo Fighters, Guns N' Roses
BottleRock Napa Valley is back, with headliners Guns N' Roses, Stevie Nicks, Foo Fighters, Miley Cyrus and Megan Thee Stallion among the more than 80 acts booked in September to revive the North Bay's largest music festival after a 27-month hiatus brought on by the coronavirus pandemic.
For host city Napa and surrounding Wine Country, the three-day live music, food and drink extravaganza is the biggest summer entertainment event so far scheduled as the region begins to reopen.
---
17 May
The Vice Wine Unveils Their First Luxury Canned Wines
Spring is here, and the demand for luxury canned wines has never been greater. The Vice Wine is pleased to announce their first two Napa Valley canned wines, the Bubbly Rosé "Vices" Can and the Casablanca Mojito "Vices" Can. Both of these wines are limited edition 2020 vintages that are available to purchase as 4pks, 8pks, 12pks and 24pks from TheViceWine.com.
---
17 May
Do old vines really make the best wines?
Vine age is not a guarantee of quality in wine: many very bad wines are made from very old vines, and many good ones are made from relatively youthful plants. Nonetheless, the overwhelming majority of winemakers agree: an unusually high proportion of the world's most beautiful wines are the product of vines between 50 and 100 plus years old.
---
13 May
Piquitos from Valencia
Light, crisp and refreshing with a touch of sweetness, Piquitos means "little kisses" in Spanish and is designed in every way to share the love. Made by the team from Hammeken Cellars in Spain, Piquitos is a frizzante Moscato made in sunny Valencia on the Mediterranean Coast. The wine bursts with mandarin peel, honeysuckle and sweet orange blossom.
---
13 May
Drought emergency declared in Central Valley, Klamath region
The declaration comes amid mounting pressure from lawmakers and growers in the Central Valley, who this year are receiving only 5% of their expected water allocations from the state. Growers say the sharp cutbacks in state and federal water supplies will mean they will suffer huge economic losses and be forced to fallow fields and sell off cattle.
---
13 May
Online Sales Robust Even as Tasting Room Sales Resume
At about this time last year, WineDirect - which serves more than 500 fulfillment customers and more than 2,000 wine brands through its ecommerce platform – saw tasting room sales go down to about zero while online wine sales quadrupled. Now that tasting rooms are open a year later, the ecommerce boom shows no sign-up letting up.
---
12 May
Paso Robles Wine County virtual auction begins this week
–The first Paso Robles Wine Country Alliance virtual auction begins Monday, May 10 at 8 a.m. Unique lots celebrate the diversity of experiences available in Paso Robles Wine Country. There are 23 total lots available.
The auction runs until May 16 at 7 p.m. Proceeds benefit the Paso Robles Wine Country Alliance Foundation, a 501c3 organization, raising funds for an annual scholarship program for local high school graduates moving on to college or trade schools.
---
12 May
Big Basin Vineyards to Open Santa Cruz Tasting Room
The Tasting Room will feature a craftsman-style curly redwood bar, indoor and patio seating, and a more private area for small group tastings. Big Basin will offer a variety of specially curated food pairings to complement the wines. The food offerings will include artisan cheeses and charcuterie, specially curated chocolates, red wine beef stews, and Coq au Vin along with other organically sourced nibbles and small plates.
---
12 May
Much of Oregon Is Already in Drought. Does That Mean the State Is Headed for Another Massive Wildfire Season?
Prolonged drought contributed to last year's megafires. The state hasn't recovered from last year's dry spell, and has already seen fire weather this spring.
"At this point, we're actually drier than we were last year," says Larry O'Niell, an associate professor at Oregon State University and the state climatologist with Oregon Climate Science. "That will play into a potentially higher fire risk."
---
12 May
San Antonio wine festival hosted by Tower of the Americas in June
The Tower of the Americas is hosting its third annual Wine Fest on June 5.
Wine enthusiasts in San Antonio will have a chance to sample 72 different wines from 24 wineries in the Sonoma Coast region of California.
The festival will take place from 2-5 p.m. with chef-inspired appetizers and live music from Joe Posada.
---
11 May
In focus: How the US tariffs have influenced fine wine trading
It says much about the world in which we live that a transatlantic dispute about aerospace subsidies ends up influencing trends in the trading of fine wines. But the imposition of tariffs by the US on EU imports has had quite an impact on short-term buying trends – and may continue to influence the market for some time to come.
---
11 May
Sonoma-Cutrer Introduces Winemaker's Release: 40th Anniversary Chardonnay
California pioneer Sonoma-Cutrer, located in the heart of the Russian River Valley, releases an outstanding label – the 40th Anniversary Chardonnay – as part of its highly-anticipated annual Winemaker's Release. Arriving in market beginning in May, this commemorative bottling celebrates the winery's 40-year milestone in winemaking and represents a final collaboration between its founding and current winemakers.
---
11 May
Ten design-led wineries and tasting pavilions from across the United States and Canada
From a cave-like wine tasting room dug into a Texan hillside to a British Columbia winery clad in weathering steel, here are ten wineries with impressive architecture from across the US and Canada.
---
15 March
Submission for the 2021 Sommeliers Choice Awards closes on April 20, 2021
Sommeliers Choice Awards is back after the successful second edition of the event in 2020. Final call to wineries and wine importers to enter their wines. Submission closes on April 20, 2021 Check out the Key Deadline and Pricing. Here's how you can enter your wines.
8 February
Sojourn Cellars Welcomes Patrick Seymour as National Sales Manager
"We are thrilled to welcome Patrick to our team," said Erich Bradley, Sojourn Cellars Co-Founder and Director of Winemaking. "His background in production and as a sommelier combined with his extensive sales experience makes him a fantastic fit for Sojourn."
Prior to joining Sojourn Cellars, Seymour was the Senior Brand Manager as a consultant for Boich Family Cellar, a luxury Napa Valley property, where he oversaw and managed their wholesale partners.
Continue reading here
-----------------------------------
8 February
Santa Rosa's Vintage Wine Estates to go public in $690M deal
The deal between London-based Bespoke Capital Acquisition Corp. and the Santa Rosa-based porfolio that includes brands such as Viansa Sonoma and Napa Valley's Girard is valued at $690 million plus $50 million in future potential consideration, according to the announcement Thursday.
And just before the merger agreement was signed, Wasatch Global Investors acquired a $28 million stake in Vintage.
"At some point, it takes a lot of capital to be in the wine business, and we needed more capital to continue our growth," Vintage CEO Pat Roney told.
Continue reading here
-----------------------------------
8 February
These are the San Francisco restaurants that closed permanently in January
Continue reading here
-----------------------------------
12 January
Vara Winery & Distillery: International family of Spanish and American wines and spirits
A panel of high-profile sommeliers and wine directors awarded Vara Winery & Distillery a total of six medals at the 2020 Sommeliers Choice Awards, including a gold medal for their Silverhead Brut Cava.
Read more HERE
-----------------------------------
12 January
Gallo Set to Dominate the Bargain Basement
Already the world's largest wine company, Gallo will go from producing 26.9 percent of all US wines to 30.3 percent after absorbing Clos du Bois, Ravenswood, Franciscan, Manischewitz and several other brands.
Read more HERE
-----------------------------------
12 January
Partnership provides new wines and a new home for iconic Montinore Estate
The project began with Montinore Estate partnering with the Ackley Beverage Group (ABG) in 2016. The move allowed the Seattle-based investment company entry to the Oregon wine industry while Montinore Estate acquired the resources they needed to expand.
Read more HERE
-----------------------------------
12 January
Michael Coats elected President of Sonoma Valley Cannabis Enthusiasts
Sonoma, CA – Reinvigorated for the New Year, the Sonoma Valley Cannabis Enthusiasts (SVCE) today announced the result of new officer elections. SVCE is an advocacy group devoted to ensuring that Sonoma Valley cannabis receives the notice and recognition it deserves.
Upon tallying email votes, SVCE is pleased to confirm that long-time Sonoma cannabis promotor Michael Coats has been elevated to the role of President for the coming two-year term, 2021-202
Read more HERE
-----------------------------------
12 January
Watch NFL Playoffs Games at One of These 21 Sports Bars with Great Food in Las Vegas
On the Strip, find places such as Tap Sports Bar at the MGM Grand or Clique at the Cosmopolitan of Las Vegas. Off the Strip, head to Aces & Ales, Born & Raised, or Pub 365 at the Tuscany Suites. Place your bets then head out to one of these sports bars with great food.
Read more HERE
-----------------------------------
11 January
Demand for vineyard real estate on Central Coast is strong
–With all the challenges of 2020, one sector in the Central Coast saw an upswing – the demand for vineyard acres and wineries, says Jenny Heinzen, a Paso Robles broker for vineyard and winery properties.
"While 2020 proved to be even more stressful than imagined, I saw encouraging signs in wine consumption and active grape buying during harvest," says Heinzen. "As with past difficult vintages and economic environments, the wine industry sees growth through innovation and renewal – and this is especially evident with the current robust vineyard sales activity."
Read more HERE
-----------------------------------
11 January
Southern Glazer's Wine & Spirits Appoints Tim Anderson to Senior Vice President of Kansas & Iowa
The world's preeminent distributor of beverage alcohol—on January 08 announced it has appointed Tim Anderson to the role of Senior Vice President and General Manager of Kansas & Iowa, effective immediately. Anderson, who will continue to report directly to Scott Westerman, the Executive Vice President of the North Central Sub Region, will be responsible for the Company's performance in both states. Anderson adds Iowa to his current responsibility and replaces John D'Attoma, who has recently retired.
Read more HERE
-----------------------------------
11 January
Lévrier Wines by Jo Irvine now looking to expand in USA
Her wines are vegan friendly and all reds have extended aging in the bottle for at least 2 years before release. Jo Irvine's 2014 Anubis Cabernet Sauvignon scored 94 points and won Gold Medal at Sommeliers Choice Awards USA.
Read more HERE
-----------------------------------
11 January
10 Ridiculous Ways To Open A Wine Bottle Without A Corkscrew
Here are a range of borderline absurd methods to get that wine open, no corkscrew required. Who doesn't like a challenge anyway?
Read more HERE
-----------------------------------
11 January
Ramen Pop-Ups Are Suddenly All the Rage in Charleston
Now that the weather is cold-ish in Charleston, the ramen pop-ups are multiplying across the city. It seems every January, broth-seekers can count on a few newcomers, and this year is no different. In 2021, we've spotted five to follow.
Read more HERE
-----------------------------------
05 January
Andrew Perroy Appointed General Manager of the Americas for Vivino
Vivino, the world's largest online wine marketplace and most downloaded wine app, adds a critical leader to its Americas team amid record growth. Andrew Perroy is the company's new General Manager for the Americas. He will be based in San Francisco and collaborate with the Americas leadership team to focus on continued growth and profitability. According to Statista, the Americas wine marketplace is valued at nearly $100 billion by industry analysts, with the US and Canada making up the largest share.
Read more HERE
-----------------------------------
05 January
French wine exporters say U.S. wine taxes a "sledgehammer" to sector
The U.S. decision to impose additional tariffs on French wines and cognac, which come in addition to a first set of tariffs late last year, will cost the sector a total of over 1 billion euros ($1.23 billion), the French wine exporters' federation said on Thursday.
The U.S. government on Wednesday said it would raise tariffs on certain European Union products, including wines from France, the latest twist in a 16-year battle over aircraft subsidies between Washington and Brussels.
Read more HERE
-----------------------------------
05 January
Conquer Dry January in Style with H2O
Just in time for New Year's resolutions and Dry January, these naturally delicious, premium beverages promise to define a new category with 0.0% alcohol lifestyle drinks that combine the refreshment of sparkling water and the taste and spirit of premium California wines.
H2O is pure water infused with the juice of 100% California varietal winegrapes, premium dealcoholized wine and natural flavor extracts. H2O is the first of its kind and will allow drinkers to sail through Dry January in delicious style.
Read more HERE
-----------------------------------
05 January
12 Noteworthy South Beach Restaurants
From swanky hotel restaurants, to a family-owned reservation recommended Italian spot, a late night taco joint, and everything in between — there's always a delicious meal to be found on along the two mile stretch from South Pointe Park to 23rd Street. Here are 12 restaurants on South Beach that are worth the visit.
Read more HERE
-----------------------------------
04 January
Eight Ways Wine Will Change in 2021
Expect many of 2020's trends to evolve in 2021—the health and wellness alcohol-free drinks boom, the canned and boxed wine movement, vino from extreme regions—helped along by new digital and AI technology innovations, even if everyone really dreams of returning to sharing wine with others outside their homes.
Read more HERE
-----------------------------------
04 January
Exclusive: Heitz Cellar Owner and CEO Buy Stony Hill Vineyard
Heitz Cellar owner Gaylon Lawrence Jr. and CEO Carlton McCoy Jr. are not slowing down in their quest to acquire and preserve some of Napa's most treasured wine estates. Three months after purchasing Burgess Cellars, the duo announced today the acquisition of Stony Hill Vineyard, located in Napa's Spring Mountain District. The purchase price was not disclosed. The sale includes the Stony Hill brand and inventory and its 30 acres of vineyards. Lawrence and McCoy have appointed Jaimee Motley, founder and winemaker of her namesake brand, as winemaker.
Read more HERE
-----------------------------------
04 January
Napa Valley Grapegrowers & Napa Valley Farmworker Foundation Reach Millions Through COVID-19 Response
In the face of this year's challenges, Napa Valley Grapegrowers (NVG) and the Napa Valley Farmworker Foundation (FWF) have maintained a steady focus and commitment to supporting the community through challenging times.
In 2020, the organizations provided vital information and resources to grape growers, vineyard managers, vineyard workers, and their families. Together, NVG and the FWF.
Read more HERE
-----------------------------------
04 January
Bay Area Food Insiders Hope These Pandemic-Related Changes Continue After the Pandemic Ends
Read more HERE
-----------------------------------
23 November
Napa County Farm Bureau Hosts Wildfire Recovery & Prevention Townhall Series
The two-part town hall series on January 12 and January 27 is focused on business & agricultural recovery funding solutions for Napa Valley's businesses affected by the recent wildfires, and wildfire prevention policy and long-term solutions for Napa County to mitigate the impact of future wildfire events.
Topics will include insurance coverage, wildfire management practices, fire prevention and resiliency, among other important issues affecting Napa Valley.
Read more HERE
-----------------------------------
23 November
Does biodynamic winegrowing produce better quality wines?
Read more HERE
-----------------------------------
23 November
Tastry Announces Immediate Availability of Enhanced Panels for Smoke Taint Detection
TastryTM, industry leader in sensory science, is announcing immediate availability of new rapid panels for detection of smoke taint. To complement its existing offerings, Tastry has developed and released its Rapid Smoke Panel-B for in-depth analysis of additional compounds contributing to smoke taint in this year's wines. Rapid Smoke Panel-B includes 3 indicators essential to smoke taint detection: phenol, o-Creosol, m-Creosol, and p-Creosol.
Due to extensive damage from wildfire smoke in wine-growing regions, volume and quality of 2020 vintages is dramatically reduced. Identification of these compounds provides vintners with an understanding of the extent of smoke taint present in their wines, allowing wineries to maximize the fruit that they have.
Read more HERE
-----------------------------------
23 November
Wine Tourism Takes an Optimistic Outlook
About 80 percent of wineries believe that wine tourism in their region will increase in the next 10 years, according to an international survey by Winetourism.com.
The survey, conducted in mid-November, got responses from 1203 wineries in 34 countries; 38.7 percent in Italy, 14.5 percent in France and 10.5 percent in Spain.
Read more HERE
-----------------------------------
23 November
Navigating the pandemic and what's next: Suzaan Hauptfleisch, New York
Suzaan Hauptfleisch, who runs one of New York's best places to drink South African wine, has battled through Covid-19 - so far.
"I didn't lay anybody off. Kaia is not a revolving door; I feel responsible for them and for their livelihoods. We figured it out!"
Read more HERE
-----------------------------------
22 November
WineFuture 2021 Promises to be The Most Important Summit Of The Wine Industry
As Wine Future 2021 will be held virtually, taking into account the serious economic situation in which Earth finds itself, the organizers have established a moderate price of €65 to participate for the full complement of the conference's presentations.
"Thanks to the virtual format we expect to reach a large number of wine professionals from around the world who wouldn't have been able to afford the cost of plane flights, hotel, auxiliary expenses, and registration fees to attend a professional congress of this type," declared Pancho Campo, founder and co-organizer of Wine Future 2021.
Read more HERE
-----------------------------------
22 November
Coalition call for "urgent action" on wildfires
A new coalition of forestry, agricultural, business and environmental groups called on Governor Gavin Newsom and the Legislature to provide stable and sustainable financial resources of more than $1.5 billion in the Governor's upcoming budget designed to thwart wildfires that will provide multiple benefits to wildlife, water quality and security, as well as climate mitigation and resilience.
The renewed push for action comes after California experienced more than 9,600 fires in 2020, with more than 4.1 million total acres burned, 31 fatalities, and over 10,400 structures damaged or destroyed.
Read more HERE
-----------------------------------
22 November
Labeling Survey Finds Consumers More Interested in Ingredients Than Nutrition
A survey on nutrition and ingredient labelling in wine, conducted by Wine Opinions and co-sponsored by Colangelo & Partners, found that more wine drinkers are interested in knowing the ingredients in the wine they drink than the nutritional values. Pointedly, neither ingredient nor nutritional labeling would affect purchase decisions for the majority of respondents.
Read more HERE
-----------------------------------
22 November
We asked 14 top Sommeliers: How do they buy wine?
Here are their responses that will help wine brands and producers tailor their offerings and serve the needs of sommeliers in a better way.
Read more HERE
-----------------------------------
22 November

Eight Filling Breakfast and Brunch Finds in Dorchester
Dinner gets so much love, but how about breakfast and brunch? Whether you're looking to dive into stacks of pancakes or shrimp and grits with a beermosa on the side, Boston's largest neighborhood of Dorchester has lots to offer when it comes to the first meal of the day. Here are eight favorite spots to kickstart a delicious day.
Read more HERE
-----------------------------------
21 November
Tinte Cellars Georgetown Comes to Life with the Opening of Its New Tasting Room and Event Space
Housed in a historic building dating back to 1912, Tinte Cellars Georgetown restored the landmark structure's integrity to deliver an authentic experience that respects the storied past and traditional winemaking and facilitates collaboration with the robust Georgetown creative culture.
Read more HERE
-----------------------------------
21 November
Walla Walla Community College to receive $15 million gift from MacKenzie Scott
News of philanthropist MacKenzie Scott's gift to the Walla Walla Community College Foundation reverberated throughout the region on Tuesday night.
On Wednesday, the magnitude of that donation became clear when the foundation announced that Scott — who describes herself modestly as "mom, writer, advocate" after divorcing Amazon.com founder Jeff Bezos — pledged $15 million to the two-year college.
It is the largest individual donation in the 53-year history of the school, says Jessica Cook, executive director of the WWCC Foundation.
Read more HERE
-----------------------------------
21 November
Smoke Taint Reduces California Wine Crop
California lost roughly 8 percent of its 2020 wine grape crop to fears of smoke taint, according to an estimate this week by Jeff Bitter, president of Allied Grape Growers.
Bitter said that, combined with weather conditions that would have made a smaller crop anyway, California will probably have its smallest grape crush since 2011. That estimate comes with some good news for the wine industry, though not for consumers.
Read more HERE
-----------------------------------
21 November
How to Celebrate New Year's 2020 in San Francisco
This is the one year that no one will blame you for going to bed before midnight, so while this guide includes some New Year's Eve options that seem to good not to mention, what we're really excited about is New Year's Day, 2021 — a day of fresh starts, new beginnings, and a special takeout meal you and your household can enjoy together.
Read more HERE
-----------------------------------
18 November
Napa County orders strict shutdown
The order, which runs for at least three weeks through the holidays, was implemented Wednesday because the capacity for hospital ICU beds fell below the 15% threshold, county officials said. The 11-county Bay Area region dropped to 12.9%, reflecting a shocking surge in COVID-19 cases.
"We've been watching this closely. No, we're frankly not surprised," Napa County spokeswoman Janet Upton.
Read more HERE
-----------------------------------
18 November
Know Your Sommeliers: Meet Mia Van de Water, Master Sommelier, New York
"If you cannot captain a table - read the guests, build a relationship, guide them through the menu, make thoughtful suggestions to enhance what they are interested in - you have no business of trying to sell wine to them." - Mia Van de Water, Master Sommelier
Read more HERE
-----------------------------------
18 November
Enoforum, Europe's Largest Scientific-Technical Wine Congress, Coming to America
Produced by Vinidea, ENOFORUM takes place every two years in Italy, Spain, and Portugal, bringing together over 1,900 technicians with 70 research groups and 40 leading companies. In Europe, it is the only conference that combines producers, technicians, oenologists and agronomists, researchers, and technology suppliers to stimulate the development of innovation across the wine sector.
Read more HERE
-----------------------------------
18 November
U.S. Buyers Turn to Champagne and Italian Wines Amid Tariff Dispute
The U.S.'s decision to impose trade tariffs of 25% on still wines from France, Germany, Spain, and the U.K. in response to a longstanding aircraft subsidy dispute is changing the tastes of U.S. collectors.
Instead of buying pricey bottles of Bordeaux and Burgundy, collectors are searching out tariff-free top wines from Italy—including the Super Tuscans, as well as Barolo, Barbaresco, and Brunello di Montalcino—and from Champagne, according to data from Liv-ex, a London-based global marketplace for wine.
Read more HERE
-----------------------------------
18 November
Is Now the Time to Invest in Wine?
It might be hard to think about the long term amid a global pandemic, a grape glut in California and tariffs on certain European wines. And yet, people are buying more wine than ever. So, is this a good time to invest?
Read more HERE
-----------------------------------
15 December
Riondo Rose Prosecco DOC Arrives On New Year's Day
Let the countdown begin! Wine lovers will no longer have to choose between Prosecco's effervescent bubbles and the charming pink hues and fruity flavors of Rosé. The best of both worlds will beautifully co-exist in one bottle when Prosecco Rosé DOC makes its official debut on January 1, 2021. Esteemed Prosecco producer Riondo will usher in this new era of "Pink Prosecco" with Riondo Prosecco Rosé 2020 DOC.
Read more HERE
-----------------------------------
15 December
Looming shutdown leaves Napa Valley's hospitality sector in unpleasant limbo
The threat of such a shutdown has loomed large over much of the Bay Area since Gov. Gavin Newsom on Dec. 3 announced regions of the state with less than 15% capacity left in intensive care units would have to regress even further in their reopenings.
Read more HERE
-----------------------------------
15 December
Cupcake Vineyards Announces Arrival of Prosecco Rosé
From the makers of America's #1 premium wine brand comes a delightful, pink sparkling wine with fine bubbles and crisp flavors of citrus, light berry, and peach. Following approval from the Prosecco D.O.C. Consortium, Cupcake Prosecco Rosé will be among the first of the all-new varietal to hit U.S. shelves nationwide in January 2021. Crafted in northern Italy, Cupcake Prosecco Rosé offers a taste of the familiar in a new, exciting experience.
Read more HERE
-----------------------------------
15 December
A Sparkling First for California's Angels & Cowboys
Angels & Cowboys has released their first entry into the sparkling wine category – Angels & Cowboys Brut Rosé. Employing the traditional method of secondary fermentation, the sparkling wine also uses traditional Champagne grapes – 73% Pinot Noir, 25% Chardonnay, 2% Pinot Meunier. Bearing the California Appellation, with fruit sourced mostly from Mendocino and Sonoma counties, it is non vintage with a $24 SRP.
Read more HERE
-----------------------------------
15 December
Quintessential Wines Welcomes Champagne Palmer & Co. to Its Family Winery Portfolio on January 1st
Quintessential, recently named 2020 "Importer of the Year", will welcome Champagne Palmer & Co. to its portfolio effective January 1, 2021. The esteemed Champagne House, regarded for its highly acclaimed wines and prestigious vineyard holdings will enter into an exclusive U.S. market import partnership with Quintessential at the start of the new year.
Read more HERE
-----------------------------------
11 December
Find Your Farm in John Elway's New Wine Line, the Farm Collection, by 7Cellars in Partnership with Rob Mondavi Jr.
The Farm Collection is sourced from 3 major prominent AVA's, including Paso Robles for their Cabernet Sauvignon, Monterey (Santa Lucia Highlands) for their Pinot Noir, and Arroyo Seco for their Chardonnay.
The new collection consists of 3 varietals. Their full-bodied Cabernet Sauvignon, with hints of rich, dark fruit was rated 92 Points by The Tasting Panel / Somm Journal, and is their most popular varietal to date. Their Chardonnay has also gained some valuable notoriety, receiving a "Best Buy" award in Wine & Spirits Magazine's "Year's Best Chardonnay" in August 2020. Its hints of lemon, pineapple, and vanilla create a creamy finish and a light, crisp, refreshing taste. Their Pinot Noir, with hints of cherry, cola, and dried herbs has gone on to receive 89 points on Wine.com.
Read more HERE
-----------------------------------
11 December
Mariah Carey's New Delivery-Only Cookie Kitchen Has Landed in Seattle
Plus, anticipated White Center restaurant Phorale Way sets an opening date, and the Dick's Drive-In food truck heads to West Seattle.
Read more HERE
-----------------------------------
10 December
Josh Cellars Launches Prosecco Rosé
Stamford, CT – Josh Cellars, America's number one premium wine brand, is helping Americans celebrate everyday moments of gratitude with its new Prosecco Rosé, which begins a staged launch this December in NY, MA, MD and CT, followed by a national launch in March.
"Josh Cellars Prosecco Rosé builds on the popularity of Rosé Sparkling Wine," said Tom Steffanci, president of Deutsch Family Wine & Spirits, which has owned and marketed Josh Cellars since 2011. "The Prosecco segment is up 33% versus a year ago and Rosé sparkling is up 34% in dollar sales."
Read more HERE
-----------------------------------
10 December
Kuhlman Cellars Releases Five Holiday Bundles
Kuhlman Cellars today releases five festive holiday bundles perfect for gifting or enjoying this Christmas season. An extraordinary 12 Days of Christmas Gift Pack is available, which includes a full case of some of Kuhlman's best wines including three library wines, two award-winning wines, and the buzzed-about 2017 Ignis for just $27 per bottle on average.
Read more HERE
-----------------------------------
10 December
13 counties in California moving into strict virus category
Thirteen counties in Northern California will be placed under the state's most restrictive coronavirus rules this week because capacity in intensive care units has fallen below 15%, and officials warned Wednesday that hospitals across the state are filling up with COVID-19 patients.
The greater Sacramento region, encompassing the state capital, has an ICU capacity of 14.3% and will face a regional stay-at-home order starting at 11:59 p.m. Thursday, according to the state Department of Public Health.
Read more HERE
-----------------------------------
10 December
These Restaurants Are All Open for Christmas Day Dining in Nashville This Year
With darkness at 4:30 p.m. and Christmas lights providing some much needed 2020 cheer, it's that time of year — thought it looks very different than Christmases past in Nashville and beyond. The Green Hills traffic is a little lighter, and the Amazon boxes are a little heavier, with more people staying at home. Plenty of restaurants have adapted to takeout-only holiday feasts (more on that to come), but for those who feel comfortable dining out, these Nashville restaurants are open for either lunch or dinner (or drinks) on Christmas Day.
Read more HERE
-----------------------------------
9 December
Sonoma County supervisors eye changes to rules governing vineyard development
Changes sought by grape growers to Sonoma County's ordinance governing vineyard development are set to come before the Board of Supervisors on Tuesday, with proposed revisions that county leaders say will streamline permitting and encourage more environmentally friendly farming practices.
The changes are meant to update the county's Vineyard Erosion and Sediment Control Ordinance, established in 2000. The rules have long been a source of friction between the county's dominant industry and environmental interests.
Read more HERE
-----------------------------------
9 December
Are people really drinking more during the pandemic?
In the early days of Covid-19 lockdown, reports of consumers panic buying beverage alcohol led to the impression that people were drinking more than usual during the pandemic. Although pantry loading behaviour soon tapered off, many industry watchers were asking themselves, "are consumers drinking more during Covid-19?"
Read more HERE
-----------------------------------
9 December
Just Enough Wines Premium Canned Wines & New Brut Bubbles Now Available in Oregon
Launched in California in late September, Oregon consumers will no longer have to choose between quality and convenience with the availability of Just Enough Wines. Reinventing canned wine, founder, Jessica Hershfield, wanted to end the trend of unenjoyable portable libations. Leaving a successful career in big tech, she set out to make a canned wine that surpassed the poor quality expectation.
Read more HERE
-----------------------------------
7 December
DAVID M. WULF Appointed TTB Deputy Administrator
David M. Wulf has been appointed Deputy Administrator of the Alcohol and Tobacco Tax and Trade Bureau (TTB). Mr. Wulf is a seasoned senior executive who comes to us from the Department of Homeland Security, where he served as Associate Director of the Cybersecurity and Infrastructure Security Agency and as the acting Deputy Assistant Secretary for Infrastructure Protection.
Read more HERE
-----------------------------------
7 December
Gov. Newsom announces new, regional stay-at-home order in California
Gov. Gavin Newsom announced a new, regional stay-at-home order Thursday as an "emergency brake" to curb the rampant spread of COVID-19 in California.
The state is being broken into five regions: Northern California, Greater Sacramento, Bay Area, San Joaquin Valley and Southern California. When the region's ICU hospital capacity falls below 15% capacity, the new stay-at-home order is triggered for a period of at least three weeks.
Read more HERE
-----------------------------------
7 December
Prices of red Burgundy boosted by a surge in white wine production
Over the past few weeks, prices of Pinot noir labelled under the regional Burgundy appellation have soared by 30%. "A distinction should be made between the generic Burgundy appellation which has gone from 900 to 1,200 euros a cask and AOC Burgundy Côte d'Or, which is doing very well, and has risen from 1,100 to 1,200 euros a cask", reports Jérôme Prince, chairman of the greater Burgundy wine and spirit brokers' association.
Read more HERE
-----------------------------------
7 December
The Bay Area Will Fully Lock Down on December 6
Outdoor dining must cease, gatherings are forbidden, and nonessential trips are not allowed until at least January 4
Read more HERE
-----------------------------------
4 December
Prowein 2021 Cancelled
Erhard Wienkamp, managing director at Messe Düsseldorf, said: "We have not taken this decision lightly – instead we have very carefully weighed the arguments for and against a trade fair during these dynamic pandemic times in close and in-depth consultation with our partners and exhibitors. The decisive factor for us was our exhibitors' and visitors' interests.
Read more HERE
-----------------------------------
4 December
Prosecco Doc Rosé Promotion Kicks off Worldwide with Style
The event held at the picturesque "Del Monaco" Theatre in Treviso, Italy, marked a historic milestone for the Prosecco DOC Consortium and the beginning of a new adventure for the Rosé category. The decision to host the launch event in a theatre with opera performances highlighted the nature of the Italian Genio – a concept that encloses the culture and the excellence made in Italy – and the love the Prosecco DOC Consortium has for the arts, culture, and Italian history.
Read more HERE
-----------------------------------
23 November
This Holiday Season, the Oregon Wine Board Invites Oregonians to Shop Local and Support Oregon Businesses
In the new Executive Order, referred to as a "two-week freeze," tasting rooms around Oregon may not offer onsite tasting from November 18 through December 2, and possibly longer in some counties.
Read more HERE
-----------------------------------
23 November
Naked Wines testing Californian wines for smoke-damaged grapes
Nick Devlin, the chief executive of the online wine retailer, said it was taking the extra step owing to the increased "frequency and intensity" of wildfires, which have affected growers in the US and Australia this year.
The company could not take the risk of buying "compromised fruit", Devlin said. "It is not good for us and it's not good for our winemakers in the long term." Smoke damage, or smoke taint as it is referred to in the industry, resulted in wines that tasted "incredibly unpleasant". The smokiness was at the "cigarette-ashtray end of the spectrum, rather than an enjoyable campfire", Devlin said.
Read more HERE
-----------------------------------
23 November
Champagne house Moët & Chandon has teamed up with comedian Katherine Ryan on a new festive digital campaign
Read more HERE
-----------------------------------
23 November
Austin Health Officials Urge Restaurants to Slash Indoor Dining Capacities
Austin is escalating into Stage 4 of its risk-based guidelines today, in response to the increasing number of COVID-19 cases and hospitalizations in Travis County. Open businesses, including restaurant dining rooms and bars, are asked to reduce their indoor capacity limits from 75 percent to 25 to 50 percent. This was announced during a press conference this morning with Austin Public Health (APH) and Austin officials.
Read more HERE
-----------------------------------
20 November
As Shutdowns Return, Restaurants Grapple with the New, New Normal
Local governments are reinstituting measures—including a halt on indoor dining—in an effort to help control the spread of the virus. Chicago banned indoor dining Oct. 30 and San Francisco followed suit Nov. 14. Today, new shutdown rules went into effect for indoor dining at restaurants and bars in Michigan and Oregon. New York, New Jersey and Minnesota have implemented 10 p.m. curfews for restaurants.
Read more HERE
-----------------------------------
20 November
Yamhill-Carlton Winegrowers Launch Holiday Fundraising Initiative Supporting Local Children and Families
Due to the COVID-19 pandemic, the organization's fundraising events were seriously altered. In an effort to help fill the void, the Yamhill-Carlton AVA wine program aims to raise $5,000 for YCTC. This contribution will help fund programs developed by the non-profit, providing local youth with useful community roles, safe and healthy activities and good role models.
Read more HERE
-----------------------------------
20 November
Printer's Alley's Newest Watering Hole Comforts Nashville With Food, Live Music, and the Season's First Holiday Pop-up
Jane's Hideaway is a new bar that recently opened in historic Printer's Alley — with plenty of not-your-basic-downtown live music alongside a small but might food and drink menu (including a weekend bluegrass brunch). And even better for holiday diehards in 2020 — there's a pop-up Christmas cocktail bar upstairs, named Candy Cane Jane's.
Read more HERE
-----------------------------------
19 November
Indoor dining at City Winery will require $50 on-site COVID test
The Pier 57 establishment, which just opened its new flagship location last month, will require all patrons and staff to take a rapid COVID-19 test before entering on Tuesday and Wednesday evenings only. Those visiting City Winery on those two days will make a reservation via Resy online and make a payment of $50 per person for the test. It's the first restaurant to create a COVID testing program for indoor dining, according to City Winery.
Read more HERE
-----------------------------------
19 November
Welcome raises $12 million to be the 'Ritz-Carlton for event platforms'
Read more HERE
-----------------------------------
19 November
Dwyane Wade Wants More People to Drink Wine
In 2015, Wade teamed up with Jayson Pahlmeyer of Napa Valley's esteemed Pahlmeyer winery, known for his 100-point Cabernets and other bucket-list reds, to create Wade Cellars, his own highly regarded, top-shelf Napa Cabernet Sauvignon. Ever since, he's worked to change what people think about wine — and who drinks it.
Read more HERE
-----------------------------------
18 November
Napa Valley Vintners to Continue Legacy of Caring for Community Through New Platform for Giving
In the spirit of innovation, the Napa Valley Vintners and Auction Napa Valley Boards of Directors have unanimously determined that is it time wrap up Auction Napa Valley in its current format and redefine how a world-class wine region fundraises for the good of its community
"Pausing our Auction due to the global pandemic allowed us time to reflect on all we have achieved and gave us the space to envision what our future might look like." said Robin Baggett, Chairman of the NVV Board of Directors.
Read more HERE
-----------------------------------
18 November
These Five Producers are Redefining Washington Wine
Recently, some winemakers have begun to chart a different path. They craft unique wines that focus on vineyard designates, with fruit picked earlier and low-intervention winemaking methods. In doing so, they are redefining not just what Washington is, but also what it can be.
Read more HERE
-----------------------------------
18 November
Jancis Robinson on Why Americans Lead on Sustainability
According to the British wine author and critic, it's U.S. producers—not European—who are truly progressive when it comes to sustainable viticulture
Read more HERE
-----------------------------------
18 November
What's New at the 2021 Sommeliers Choice Awards
Sommeliers Choice Awards in its third edition brings these benefits to the winners.
Read more HERE
-----------------------------------
18 November
Safriel House: Award-Winning South African wines for your wine bars
Safriel House wines are part of the new wave of South African wineries; honoring the winemaking heritage of the Cape and at the same time, incorporating modern and innovative winemaking techniques.
Read more HERE
-----------------------------------
17 November
Sparkman Cellars' new destination winery in Woodinville Opens
"We feel privileged to be part of the group that is bringing this historic place back to life for our Woodinville community," said Kelly Sparkman. "We are very excited about this next chapter in the Sparkman Cellars story."
Its winemaking operations, tasting room and event spaces are now housed in 30,000 square feet on the newly remodeled Hollywood Station campus, joining esteemed neighbors DeLille Cellars. Sparkman Cellars recently closed its tasting room in the Hollywood Hills Tourist District and late last year it closed its Woodinville Warehouse District location to focus on the new destination.
Read more HERE
-----------------------------------
17 November
U.S. Wine Imports Hit by Tariffs, Pandemic, But Retail Growth Stays Strong
While American wines were spared further retaliation from the European Union when the bloc raised levies on spirits in recent days, tariffs and pandemic-related disruptions caused imported table wine shipments in the U.S. to fall nearly 6% during the first three quarters of 2020, down to 69.4 million 9-liter cases, according to recent data from the U.S.
Commerce Department. Import volumes from top-ranked Italy were up almost 2% year-to-date, while French imports—laboring under a 25% tariff—fell 37% by volume. New Zealand shipments continued to build on their strong U.S. momentum, rising nearly 5% year-to-date, while Portugal enjoyed a 19.5% gain, building on a run of 16 consecutive annual gains.
Read more HERE
-----------------------------------
17 November
USDA may adopt new drinking guidelines unsupported by science
The USDA Dietary Guideline Advisory Committee, which is responsible for reviewing and updating the USDA's dietary guidelines every five years, has proposed altering the definition of moderate drinking. Whereas that is now defined as two drinks per day for men and one for women, the committee is proposing to change the guidelines to recommend instead that both men and women consume no more than one adult beverage per day.
Read more HERE
-----------------------------------
17 November
Gov. Newsom Places SoCal Counties Into Most Restrictive Tier as COVID-19 Cases Swell in November
California Gov. Gavin Newsom announced on Monday, November 16, that 94 percent of California will be placed into the state's most restrictive coronavirus reopening tier, a designation that includes Los Angeles, Orange, Riverside, Ventura, Santa Barbara, and San Bernardino counties. Orange and Ventura Counties will slide back to the most restrictive purple tier after moving to red tier back in September and October, respectively.
Read more HERE
-----------------------------------
17 November
One of LA's Best Fish Taco Spots Has Reopened After a Two-Year Hiatus
After well more than two years of ceasing operations, one of the top Ensenada-style fish taco vendors has returned. With a new location in East LA, you can now enjoy the flavors of Baja California, all while getting some work done on your old Chevy Impala.
Read more HERE
-----------------------------------
13 November
Q&A with Nicole Carter: On Overseeing Two Iconic Estates
Nicole Carter has what she essentially describes as her dream job, overseeing two very different but equally historic and successful wineries in Napa and Sonoma counties. Carter is president of Merry Edwards Winery in Sebastopol, Calif., and Napa Valley's Diamond Creek Vineyards.
Read more HERE
-----------------------------------
13 November
Researchers study ashy aromas, tastes in wine affected by wildfires
Grapes exposed to smoke from wildfires can develop ashy aromas and tastes in wine, said Tom Collins, WSU viticulture and enology assistant professor.
Researchers are placing particle counters in commercial vineyards in different parts of the Columbia Basin to measure the smoke density and composition, Collins said. They are analyzing the chemical composition of the smoke from the Wine Science Center on the Tri-Cities campus.
Read more HERE
-----------------------------------
13 November
Where to Order a Thanksgiving Feast This Year in Atlanta
Restaurants and bakeries across Atlanta are stepping up in a major way this year offering fully prepared turkey dinners with all the trimmings, fresh-baked breads, plenty of holiday side dishes, and pumpkin, pecan, and apple pies for dessert. Below is a guide to Thanksgiving foods and feasts to order from Atlanta restaurants and bakeries.
Read more HERE
-----------------------------------
13 November
Seattle Area Restaurants That Opened (or Reopened) Recently
Macarons in Central District, Vietnamese coffee in the International District, and a bubble tea spot with street food arrives on Aurora Ave
Read more HERE
-----------------------------------
12 November
Stoller Family Estate Opens Pop-up Tasting Room in Bend for the Winter
"Bend is on fire right now with its vibrant, hip energy, countless year-round outdoor activities, and thriving culinary scene," said Gary Mortensen, president of Stoller Family Estate. "Coffee and wine have so many similarities; it was a natural fit to partner with Riff for the Taproom takeover and explore the concept of a second tasting room in the cosmopolitan-esque mountain town."
Located at The Box Factory, guests can enjoy a 90-minute tasting, wines by the glass or bottle Wednesday – Saturday from 11 am – 8 pm, and Sunday from 2 – 6 pm at the Riff Taproom. Additionally, Zydeco Kitchen & Cocktails will offer a small food menu that complements both Stoller's wines and Riff's beverages.
Read more HERE
-----------------------------------
12 November
Finding and Buying Napa's Rarest Wines
You've undoubtedly heard of Napa's so-called "cult" wines—expensive, limited-production wines that are only sold to mailing-list customers, some of whom wait years for the chance to get off a waiting list and become buyers.
But what if I told you that there was a class of Napa wines even rarer than these cult wines? Wines that represented the pinnacle of Napa winemaking—so unique that they sometimes are made once and never again?
These are the wines of Premiere Napa Valley.
Read more HERE
-----------------------------------
12 November
Quintessential Named Wine Enthusiast's Importer of the Year
Wine Enthusiast has named family owned-and-operated fine wine importer Quintessential as Importer of the Year in their 2020 Wine Star Awards. The announcement was made by the magazine, which produces the annual awards ceremony to honor exceptional contributions to the wine industry.
Read more HERE
-----------------------------------
12 November
With Indoor Dining Canceled, Bay Area Restaurants Face a Tough Thanksgiving
What happens when SF restaurants lose the biggest food holiday of the year
Read more HERE
-----------------------------------
12 November
Dining in Downtown Miami: 12 Great Spots
Macklemore was right when he sang, "ain't seen nothing yet until you're downtown." Some of Miami's most interesting dishes and unparalleled city views are located in the heart of Downtown — just north of the bridge that connects Brickell and Downtown. Here are 12 that have stolen the hearts of locals and visitors alike.
Read more HERE
-----------------------------------
9 November
How wine2wine is going online to share digital expertise to the world- By Richard Siddle
If there is one wine event best suited to going online in 2020 it's wine2wine, the annual show dedicated to sharing best practice around digital marketing, communications and how producers, distributors and operators alike can collectively raise their game when it comes to how they create and promote content online. So rather than head to Verona in north Italy later in November anyone interested in online marketing can go online and join what is expected to be a global audience.
Read more HERE
-----------------------------------
9 November
Gracianna Winery and Superior Farms Team to Offer Savings for Special Meals
Recognizing that families are reinventing how they will celebrate together, two of America's foremost food & drink brands will offer special savings for those planning special gatherings for the holidays.
"One of the great food and wine pairings is lamb and pinot noir," states Anders Hemphill, Vice President of Marketing for Superior Farms. "The best lamb deserves to be paired with the very best pinot noir. Gracianna's wines are beautifully crafted and match the nuances of flavors with our American lamb. We're proud to partner with Gracianna in this effort and believe that our customers will find that the result is meal that they'll remember for many years."
Read more HERE
-----------------------------------
9 November
Winebow Donates to California Wildfire Relief Efforts
Winebow, a leading national importer and distributor of fine wine and spirits, today announced that it is donating $50,000 to support the wildfire relief efforts in Northern California. The donation will be divided between the Napa Valley Community Foundation and the Sonoma County Resilience Fund to help provide much-needed aid to residents in the region.
"Our hearts go out to all those who have been impacted by these fires," said Dean Ferrell, President and CEO of Winebow. "As a member of the wine and spirits community, it is our responsibility to do what we can to support recovery efforts. We hope our donation will help the Napa Valley Community Foundation and the Sonoma County Resilience Fund continue their important work during this time of great need."
Read more HERE
-----------------------------------
5 November
How Napa Valley winery Faust Haus opened its tasting room amid coronavirus, wildfires
"We are grateful that despite COVID-19 and closures from the Glass Fire we have seen close to 1,000 visitors since our opening," said Jennifer Beloz, estate director. "Our goal was to bring the 142-year old Victorian to life, but no one dreamed that a virus and wildfires would intervene."
When the shelter-in-place order closed most businesses, including tasting rooms, the company spent six months assessing its options and modifying its hospitality strategy in keeping with public health protocols, according to Beloz.
Read more HERE
-----------------------------------
5 November
VineSpring Creates Simple Gifting Solution for Wineries to Partner with Corporations this Holiday Season
The gifting solution allows corporations to alleviate compliance challenges surrounding direct-to-consumer shipping licensure, and ensure on-time delivery to employees and business associates, circumventing privacy issues using third-party addresses.
VineSpring is well-regarded in the wine industry for providing easy-to-implement and navigable direct-to-consumer technologies for subscription models. Using the allocation feature built in winery's ecommerce platform via VineSpring, businesses select the wines they wish to gift and giftees choose among them.
Read more HERE
-----------------------------------
5 November
How Wine Clubs Are Helping U.S. Wineries Stay Afloat
Now, nearly eight months into the pandemic, most wineries have found a new rhythm in the ways they sell wine and conduct virtual or on-premise tastings. Many say survival wouldn't have possible without one thing: their wine clubs.
"Ours certainly helped keep the lights on during the early days of the pandemic," says Mike Beneduce of Beneduce Vineyards in Pittstown, New Jersey. Wine club members, he says, are "our best evangelists, collecting our wines and going out to spread the word about them."
Read more HERE
-----------------------------------
5 November
Auction of Washington Wines to Host First-Ever "Bid for Bottles – Holiday Edition" Online Auction
The event allows wine lovers the opportunity to purchase unique Washington wines, including some pulled straight from the AWW cellar's exclusive reserves. By joining this online fundraiser, participants can give the gift of Washington wines and support AWW's beneficiaries, Seattle Children's and Washington State University Viticulture & Enology Research. Let the bids flow!
Read more HERE
-----------------------------------
5 November
19 Feast-Worthy Los Angeles Restaurants for Thanksgiving
With unavoidable crowds at grocery stores and cooking fatigue setting in, dining out on Thanksgiving or ordering a feast to-go might be the convenience we all need this year. For those looking to stay out of the kitchen, here now are 19 restaurants serving turkey dinners with all the fixings in Los Angeles.
Read more HERE
-----------------------------------
5 November
Where to Order the Best Local Pizzas, Better Than National Chains
Nothing comforts like pizza, and during the pandemic, it's a vital food group. All across the metro are neighborhood pizza shops that are staying afloat and continuing to serve cheese-covered pizzas during the stay at home order.
Whether looking for something fancy via a curbside pick up or a red sauced classic delivered to your doorstep, these are just a few of the Twin Cities fantastic, locally owned pizza shops still serving up the good stuff.
Read more HERE
-----------------------------------
4 November
Trefethen Family Vineyards Launches New Taste the Estate & Twilight Experiences for the Holidays
Just in time to plan for November and December excursions to the Napa Valley and kick off the holiday season, Trefethen Family Vineyards launches two new private holiday-focused Taste the Estate experiences this month. Winery Chef Chris Kennedy shows off his creativity and culinary acumen with these menus meant to both celebrate the holidays and inspire home cooks.
Read more HERE
-----------------------------------
4 November
Elin Miller, OWC board co-chair, appointed to Oregon Board of Agriculture
"We are thrilled that Elin has been recognized by Governor Brown as one of the leading voices on agriculture in the state of Oregon," Fawn Barrie, OWC Executive Director, said. "Since she helped form the Oregon Wine Council in October 2019, Elin has provided invaluable leadership and guidance to Oregon's wine industry, advocating on behalf of wineries and winegrowers across the state. I have no doubt that she will provide that same level of leadership to the state through her role on the Board of Agriculture.
Read more HERE
-----------------------------------
4 November
Texas Lyceum's November Conference to Explore History, Taste and Future of Texas Beer, Wine and Spirits
Some of the topics covered in discussions with well-known industry pioneers and government officials will include: the history of making and distributing alcohol in Texas, the industry's roughly $25 billion annual economic impact on the state, the roles of governmental bodies and laws regulating the industry, changing consumer trends and preferences amid COVID-19, and current issues and policies affecting manufacturers, distributors and retailers.
Read more HERE
-----------------------------------
4 November
Best Cabernet Sauvignon In the world, According to Sommeliers
Read more HERE
-----------------------------------
4 November
Prince's Hot Chicken Lands in South Carolina
The legendary home to Nashville's most famous dish, Prince's Hot Chicken, has decided to expand to Greenville, South Carolina. According to the press release, Prince's will open in November in the Yee-Haw Brewing Company location at 307 East McBee Avenue.
Read more HERE
-----------------------------------
4 November
15 Essential Phoenix Pizzerias
Read more HERE
-----------------------------------
3 November
Dream Big Darling Goes Virtual with Annual Auction Starting on Nov. 6
Proceeds from the auction will benefit Dream Big Darling—a Paso Robles-based nonprofit whose mission is to foster the success of women in the wine and spirits industry through mentorship, education, life enhancement and professional retreats.
"Our investment in the next generation is still happening in big ways, and our annual auction is a pivotal part of that," said Amanda Wittstrom-Higgins, founder of Dream Big Darling.
Read more HERE
-----------------------------------
3 November
Holidays in Yountville the Brightest Town in Napa Valley
An annual tradition, Holidays in Yountville offers the best and brightest cheer in Northern California's Wine Country and 2020 will bring much of the same, with additional opportunities to grab the Holiday spirit virtually from anywhere in the world.
Read more HERE
-----------------------------------
3 November
Where to Eat Near 21 of the Most Prominent Voting Centers in Los Angeles County
There are hundreds of voting places around the county, and in the state of California, you can actually register to vote on Election Day. Here now, 21 prominent polling places in Los Angeles County coupled with restaurant recommendations listed right after.
Read more HERE
-----------------------------------
28 October
Gaderian Wines: Women-led boutique winery in Napa Valley making award-winning wines
Gaderian is the Old English verb meaning "to gather." Gathering with friends and family while enjoying great food and wine is what we are all about.
Gaderian wines is a women-owned wine brand based in the heart of the Napa Valley started by two friends Nat & Shaina. Their wines 2019 Rose of Pinot Noir and 2019 Chenin Blanc both won 92 points and a gold medal at the 2020 Sommeliers Choice Awards.
Read more HERE
-----------------------------------
28 October
Oregon Micro Fund Launches Second Fund Serving Oregon-Based Wineries
"There is a gap in conventional financing for many small business owners compounded by the fact that what they really need is a strategic partner, not simply a lender," Quinton Jay, managing director of Oregon Micro Fund said. "Oregon Micro Fund aims to provide financial assistance to as many craft beverage businesses in rural Oregon as possible. We don't just make a loan—we invest time and resources into the long-term success of entrepreneurs to help strengthen the regional economy."
Read more HERE
-----------------------------------
28 October
Registration for the 2021 Virtual Unified Wine & Grape Symposium Opens November 3
"After the year we have had, the Unified Symposium is more important than ever. The 2021 Unified will feature leading experts and convene people from all parts of the industry to deliver outstanding, insightful program sessions. Anyone who wants to understand how to successfully navigate the challenges and opportunities confronting our industry should register for the Unified," said John Aguirre, president of the California Association of Winegrape Growers (CAWG), which co-sponsors the Unified.
Read more HERE
-----------------------------------
28 October
How to Celebrate Halloween in San Francisco
Trick-or-treating is canceled this year! So please keep your distance and stay safe out there. The city has officially banned any gatherings of more than 12 people, and the SFPD will be keeping watch this All Hallows Eve. But that doesn't mean the party is totally dead, because restaurants, bakeries, and bars are still serving sweet treats, and there are a few fresh activities to get out of the house. So if you are looking for fun things to do, here's how to make Halloween feel festive this year — even if you're screaming at home.
Read more HERE
-----------------------------------
28 October
19 New Restaurants to Try in Philly
Surprising as it may seem given the current state of the world, several notable new restaurants have managed to open their doors in Philadelphia during the pandemic, offering a mix of takeout, sidewalk and patio dining, and indoor dining.
Here's where you can get fried chicken, bibimbap, pizza, and breakfast banh mi now.
Read more HERE
-----------------------------------
27 October
Can California's top wine region survive the era of megafire?
Devastating wildfires have pummeled Napa and Sonoma over the last five years, most recently this summer's Glass fire, which torched close to 67,500 acres and destroyed 1,555 structures, including damage to numerous wineries.
Annual evacuations, smoke-filled skies and the existential threat posed by higher and drier temperatures have taken a toll. This year Covid-19 has compounded the impact on tourism, restaurants and labor, with losses from the crisis expected to total close to half a billion dollars.
Read more HERE
-----------------------------------
27 October
Napa Valley Vintners Supports Community with $8.3 Million in Giving
"It's times like this that the strength of our community demonstrates our collective grit. All around us we see evidence of neighbors helping neighbors, and we're thankful to be able to contribute to that effort. Napa Valley is truly an extraordinary place and we are proud to be able to invest deeply in the well-being of those who live and work here," said Linda Reiff, President and CEO of the Napa Valley Vintners.
Read more HERE
-----------------------------------
27 October
Maria Sinskey of Robert Sinskey Vineyards in Napa says the estate will only bottle 600 cases of wine this year due to drought conditions and smoke taint
Read more HERE
-----------------------------------
27 October
Get Award-Winning Napa Cabernet Sauvignon delivered in Los Angeles
Hertelendy Vineyards won gold medal at the 2020 Sommeliers Choice Awards. Here are the tasting notes
Read more HERE
-----------------------------------
27 October
These Top New Orleans Restaurants Are Open for Dine-In Service
Restaurants in New Orleans are now permitted to offer table service outside and reopen their dining rooms at 75 percent occupancy. In the immediate aftermath of the announcement that restaurant dining rooms would be allowed to reopen, many were unable or unwilling to do so. Now, more of New Orleans's notable restaurants are welcoming diners, some simply unable to wait any longer.
Below is a list of top restaurants that have reopened their dining rooms and their hours for dine-in service.
Read more HERE
-----------------------------------
27 October
12 Exceptional Filipino Restaurants in SF and the East Bay
Today's Filipino food scene in San Francisco and the East Bay is an exciting mix of old and new: you'll find everything from classic "turo turo" steam table spots to new-school fine-dining pop-ups pushing the boundaries of laing and sisig.
These 12 Filipino restaurants in SF and the East Bay are a good starting point toward showing the breadth and depth of the area's Filipino restaurant scene.
Read more HERE
-----------------------------------
26 October
Napa Valley's Lang & Reed Launches the Monograph Collection of Seven New Cabernet Franc Wines, Two to be Released in 2020
Inspired by the world's finest Cabernet Franc and passionate about its home in the Napa Valley, Lang & Reed unveils this storied varietal through the lens of its vinification, vineyard and vintage.
Each wine is made from 100% Cabernet Franc, expressing the winegrowing and winemaking process and providing a palpable sense of place along with its personal narrative. With much to look forward to in 2021, the wines that will be released in October 2020 and on December 4, 2020 are as follows:
Read more HERE
-----------------------------------
26 October
Napa County Farm Bureau Releases Fire Prevention Policy And Legislative Recommendations
As noted in the Farm Bureau's recommendations, one of the overarching recommendations and the policy most often cited as a hindrance to wildfire prevention is the strict state air quality enforcement that severely limits prescribed burning for vegetation management and bans the burning of brush or pruning piles. Members and residents have felt that the risks to life, health, and property presented by uncontrolled wildfires are much greater to society than risks presented by prescribed burns that responsibly reduce wildfire incidences and severity.
Read more HERE
-----------------------------------
26 October
Cannonball Unveils New Packaging
The packaging refresh celebrates the 15th vintage of Cannonball and gives it range to continue to evolve in the minds of consumers and trade. Working with global design firm Denomination, the goal was to focus on fine-tuning the label's secondary elements – small things that actually make a big difference to the look and feel of a wine label.
The change in font and kerning creates added refinement, a textural element gives dimension in the form of embossing on certain elements, including the freewheeling boy tucked into a cannonball dive as he falls into the waves of the Pacific Ocean below.
Read more HERE
-----------------------------------
26 October
As the Californian wine industry assesses the damage of the Glass Fire, as many as 80% of Napa Valley's wineries are pushing forward with the 2020 vintage
"Everyone's harvest was interrupted to some extent. But winemakers take all of this in their stride. It's their job to take what mother nature gives and turn it into wine, and in some cases make critical decisions about whether that wine meets the quality standards of their brand and our region," Connor Best, NVV's head of international marketing
Read more HERE
-----------------------------------
26 October
Montreal-Style Courage Bagels Comes to Life in Virgil Village
It's been a long road for Ari Skye and the Courage Bagels crew. What started out as an underground home baking operation back in 2017, with Skye selling bagels on the sly from a retro bicycle that she rode between Silver Lake and Echo Park, has blossomed into a full-fledged Virgil Village restaurant. Check out their Instagram for more updates.
Read more HERE
-----------------------------------
26 October
See the Menu for Jasper's — Deb Paquette's New Casual American Restaurant
Jasper's Restaurant and the Market at Jasper's are opening on Monday, October 26 at 11 a.m.
The new casual American restaurant and market replaces 4Top's former seafood concept, Saltine. Located at 1918 West End Avenue, Jasper's will be Paquette's third Nashville restaurant in partnership with with 4Top, and it's a much more casual spot. Paquette has served up fine dining meals at downtown's Etch since 2012 and Green Hills' etc. since 2016.
Read more HERE
-----------------------------------
22 October
COVID 19 restrictions eased as Napa County moves to orange tier
Napa County is in the orange on the state's COVID-19 rating chart and can further ease restrictions on businesses and activities.
That news came on Tuesday. The rating change means restaurants, fitness centers, worship services and movie theaters starting Wednesday Oct. 21 can allow more people inside. Wineries can serve customers inside, with restrictions. There are other restriction easements as well.
Restaurants can double indoor seating capacity to 50% or 200 people, whichever is fewer. Mustafa Kara, manager of Tarla Mediterranean Bar + Grill in downtown Napa, welcomed the news.
Read more HERE
-----------------------------------
22 October
Crescere Wines, a Boutique Luxury Sonoma Winery, Releases Wines From Their 2017 Vintage
The 2017 vintage boasts seven wines, all made from grapes sourced from some of the most iconic vineyards in Sonoma – including the Reynoso Estate Vineyard, and the "Grand Cru" sites, Platt and Ritchie Vineyards.
Every Crescere wine is created using techniques, both old and new, that highlight their sites of origin and pure varietal expression. Each wine offers those seeking both authenticity and discovery an opportunity to enjoy some of the best expressions of Sonoma's diverse terroir.
Read more HERE
-----------------------------------
22 October
Browne Family Vineyards Opens Its Doors in Tacoma
Browne Family Vineyards is bringing the best of Walla Walla wine country right to the heart of Tacoma with the grand opening of its new tasting room in the Proctor District at 11 a.m. Friday, October 30, 2020.
"The excitement and vitality of the Proctor District along with its charming neighborhood feel is what really attracted us to this fantastic location," Proprietor and South Sound resident Andrew Browne said. "We are proud to be opening of our new tasting room and hope to add to the community's vibrant culture."
Read more HERE
-----------------------------------
22 October
Austin Chinese Restaurant Lin Asian Bar Opens New Downtown Spot
Qi is debuting at 835 West Sixth Street with only walk-in dine-in service for now, starting on Friday, October 23. Takeout and curbside pickup services will be available at a later date.
Qi will serve a slightly more higher-end menu, when compared to Lin Asian Bar's offerings. This means scallop shumai with caviar, lobster dumplings, Sichuan peppercorn alligator, fried rice with truffles and eggs, among other dishes. But, yes, her popular soup dumplings will be available too. The restaurant will serve lunch, dinner, and weekend dim sum.
Read more HERE
-----------------------------------
22 October
Seattle Extends Free Outdoor Seating Permits for Restaurants Until Next October
On Wednesday, the city announced that free, expedited permits to expand sidewalk seating and close off streets for outdoor plazas will be available through October 31, 2021 — a full year after the initiative was set to expire.
In addition, the city will now be issuing free tent and heater permits for restaurants who wish to winterize their patios, and outdoor dining equipment can remain outside 24/7.
Read more HERE
-----------------------------------
21 October
Wineries now open for tastings
After almost three weeks of not being reachable due to the Glass Fire, wineries on Spring Mountain are re-opening. Check out the list below.
Read more HERE
-----------------------------------
21 October
Washington, local winemakers hopeful grape crops remain undamaged by wildfire smoke
Now with harvest underway in Washington – the nation's second-largest wine producer – it's a wait-and-see situation for vintners who are sending grape samples to labs for analysis and hoping potential smoke exposure will have minimal impact on this year's vintage.
"So far, it's really too soon to tell from what I've been hearing," said Steve Warner, president of the Washington Wine Commission, referring to evaluations of the impact of smoke exposure on this year's crop while many winemakers still await test results.
Read more HERE
-----------------------------------
21 October
Sonoma County Winegrowers Look to Reset After Unimaginable 2020 Season
"No one could have predicted how the external events of 2020 would impact the entire community in Sonoma County including growers, vintners, workers, local hotels, restaurants, stores, suppliers and, ultimately, local residents," said Karissa Kruse, president of the Sonoma County Winegrowers.
"One of the bright spots in a dismal year has been the recent efforts of our winegrowers to transform their businesses to prepare for an ever-changing future," said Kruse.
Read more HERE
-----------------------------------
21 October
Subscriptions Now Available to SommGo, the New on-Demand Education Platform by SommCon
"With SommGo, we give subscribers access to sommelier-level training and education designed for industry professionals, similar to the featured educational content at SommCon's live conference and events, " says Michelle Metter, Executive Director of SommCon and Founder of SommGo.
"SommGo creates the opportunity for industry professionals to consistently receive premier education at their own convenience from our community's best palates."
Read more HERE
-----------------------------------
21 October
8 New Restaurants and Bars to Check Out in Ann Arbor
While the coronavirus pandemic continues to drastically impact lives and businesses, restaurants have had to find new ways to adapt like expanding carryout menus, reconfiguring dining rooms while expanding patios, and providing cocktails to-go. Despite all the uncertainty of ever-evolving conditions, several Ann Arbor restaurants have opened and even found ways to thrive.
Read more HERE
-----------------------------------
21 October
19 New Nashville Restaurants to Try
From fantastic fast-casual banh mis with local beef to perfectly packaged to-go fine dining from a familiar face
Read more HERE
-----------------------------------
19 October
Wine of England Launch Their New Website Promoting English Vineyards
There are over 400 commercial vineyards and wineries in England, and Wine of England has been founded to support them.
Seb Elia, Co-founder of Wine of England, said "We aspire to be an important source of information for English wine enthusiasts and connoisseurs and a link between them and English wine producers."
Read more HERE
-----------------------------------
19 October
Napa's Fire Response Overwhelmed and Underfunded
For the first time since August, California's wine country is beginning to get some relief, as the Glass and Zogg Fires approach complete containment, and the August, Creek and SQF Complex Fires surge past the half-contained point.
Read more HERE
-----------------------------------
19 October
Wineries and Chefs Gear Up Charity Efforts for California Wildfire Relief
-> Within 24 hours of the Glass fire outbreak, meal-making squads from chef José Andrés' World Central Kitchen had set up an outpost at the Sonoma County Fairgrounds to get fresh, hot food to evacuees and first responders.
-> Constellation Brands, the wine and spirits giant, announced last week that it would be donating more than $100,000 toward initiatives to bring relief to wildfire victims in the Golden State. Beneficiaries will include the Napa Valley Community Foundation, Sonoma County Resilience Fund and the American Red Cross.
Read more HERE
-----------------------------------
19 October
Despite pandemic, Quebec's wineries report fruitful summer
The limitations on travel abroad spurred many Quebecers to explore different regions of the province, and more than a few flocked to local wineries looking to taste and bring home products.
Charles-Henri De Coussergues, co-owner of the Vignoble de l'Orpailleur in the Eastern Townships, said that new buyers may have initially come because of the pandemic, but they stayed for the quality of the product.
Read more HERE
-----------------------------------
19 October
Enrique Olvera's Modern Mexican Restaurant Damian Is Ready to Open in LA
Chef Enrique Olvera's much anticipated modern Mexican restaurant, Damian, opens on October 21 for dinner service after several years of development. Olvera's team will eventually open the taqueria, Ditroit, when they can safely expand dining, but for now they're excited to finally begin their journey in Los Angeles, a wild ride that's already taken nearly two years.
Read more HERE
-----------------------------------
19 October
How One Las Vegas Bar Owner Managed to Open Three New Businesses During the Pandemic
Ryan Doherty's Corner Bar Management debuted Lucky Day, Discopussy, and Oddwood, with three more bars on the way
Read more HERE
-----------------------------------
16 October
Ram's Gate Winery Introduces Two New Private Outdoor Tasting Experiences to Ring in the Fall Season
Guests will enjoy a cozy fireside wine tasting with the Ram's Gate Veranda Experience, an exclusive experience hosted by a wine expert at Ram's Gate's private outdoor fireplace. The tasting includes a tour of the winery, a tasting of five wines, locally sourced cheese and charcuterie as well as a complimentary Ram's Gate blanket for each guest. This experience is available Thursdays, Fridays, Sundays and Mondays. Pricing is $165 per person.
Read more HERE
-----------------------------------
16 October
Pernod's Wine Unit Looks To Accelerate Growth
Check out the exclusive interview with James Slack, senior vice president of Wine, Champagne, and Prestige at Pernod Ricard USA, to hear about what's ahead for the wine portfolio.
Read more HERE
-----------------------------------
16 October
BC Wine, Cider, Spirits & Beer Subscription Box Launches Today Only 100 Available
The BC Wine, Cider & Spirits Festival has taken a new direction to support their members this fall as Covid-19 has affected all fall tasting event plans across British Columbia.
Today the festival's monthly subscription box launches and will feature 6 bottles made up of 1 red wine, 1 white wine, 1 rose/sparkling, 1 beer, 1 cider & 1 liquor from their members.
The first box (which will be shipped on November 16th) will feature members Taynton Bay Spirits, Nighthawk Vineyards, The BX Press and more.
Read more HERE
-----------------------------------
16 October
Australia's largest wine company, Treasury Wine Estates (TWE) is enhancing its parental support offering as it works toward achieving 50 percent female representation in leadership roles by 2025.
Read more HERE
-----------------------------------
16 October
Bars in New Orleans Can Open for Outdoor Seating This Weekend
In a press conference Thursday the Mayor LaToya Cantrell confirmed New Orleans would move into phase 3.2 on Saturday, in line with the plan laid out by the city earlier this month. It's two weeks after the city entered phase 3.1, which allowed bars to offer curbside service for the first time since being shut down entirely in July. Starting Saturday, businesses licensed as bars without food permits can offer outdoor seating at 25 percent capacity for a maximum of 50 people. On-site consumption and alcohol sales are permitted from 8 a.m. to 11 p.m., customers must be seated, and bar games are not allowed.
Read more HERE
-----------------------------------
16 October
14 of San Francisco's Best Doughnut Shops
Here, you'll discover the 14 most decadent and delicious of all of San Francisco's doughnut shops, all with sugary and dough-y treats that will get you going in the morning, afternoon, or any other time the doughnut mood strikes.
Read more HERE
-----------------------------------
14 October
Ferrari-Carano Winery Welcomes Guests with New Tasting Experiences
–Ferrari-Carano Winery and Vineyards has reopened its doors just in time for fall, unveiling a slate of new tasting experiences that showcase its stunning gardens, vineyards and outdoor enclaves. Now part of the Foley family of wineries, Ferrari-Carano's enhanced tastings build upon its long standing reputation for hospitality excellence and invite guests to embrace the winery's "Bella Vita" lifestyle.
Following a soft re-opening in mid-September, the winery is now open for appointment-only tastings Thursday through Monday from 11:00 to 4:00 p.m., with the first reservation time at 10:30 a.m. and the last at 2:30 p.m.
Read more HERE
-----------------------------------
14 October
Preparing for Rain After Wildfires
The City of Santa Rosa and the County of Sonoma are working together collaboratively with state and federal agencies and with local environmental nonprofit groups, to assess and reduce the risk of flooding and to prevent fire-related debris, pollutants and sediment from being carried into storm drains, creeks and the Russian River. In high risk areas, the City and County are installing post-fire hazard signs to alert residents and visitors to these potential hazards.
Read more HERE
-----------------------------------
14 October
Clif Family Winery, Capo, and Ride Napa Valley Come Together to Launch the California Love Cycling Kit
Designed specifically to raise funds for first responders and the work done by a local nonprofit, First Responders Resiliency, Inc., (FRRI) out of Sonoma County, CA, this is the second fire focused cycling kit venture by these three organizations.
"In 2018 we launched our #NapaStrong kit and raised nearly $13,000 for local nonprofits here in Napa County. Cycling and activism go hand-in-hand, and after the 2019 fires we were again ready to support our community, this time focused on mental health and our first responders. When you see that your entire state is burning up, you know that just about every firefighter or police team is actively involved in managing these disasters, and that's as just as much mental energy as it is physically energy," said Rebecca Kotch, owner of Ride Napa Valley.
Read more HERE
-----------------------------------
14 October
Pandemic Planning -- Wineries Cut Costs, Some Change Benefits
In a survey looking at how 100 wineries—including some large wineries—were responding to the Covid-19 crisis, 93 percent said more of their employees have been working at home since physical distancing measures began.
While 81 percent of these wineries said no employees have become infected with the coronavirus, 7 percent said they don't know if any have been infected and 7 percent said some number of employees have been infected.
Read more HERE
-----------------------------------
14 October
14 Phoenix Restaurants for Special Occasions at Home
Even though the novel coronavirus has disrupted in-person dining, restaurants adapted to the moment by pivoting to takeout and catering menus that can feed anywhere from two to 500 people. Those who want to socially distance and celebrate should consider supporting these 15 restaurants that offer takeout for special occasions.
Read more HERE
-----------------------------------
14 October
Yet Another Nashville Hot Chicken Restaurant Debuts Next Week in East Dallas
Palmer's Hot Chicken, the latest entrant into Dallas's rapidly growing spicy fried chicken scene, will officially make its debut next week.
The restaurant is set to arrive at 6455 East Mockingbird Lane, inside the Hillside Village shopping center, on October 19. According to a press release, the restaurant will occupy a 1,400 square foot space, complete with a large outdoor patio and curbside pickup service for diners who are still wary about eating indoors.
Read more HERE
-----------------------------------
13 October
Newsom's office says to keep masks on between bites when eating out
Various people reacted to the tweet with confusion and rage, calling this statement "stupid" and "contradictory," as Californians have also been advised to minimize the amount of times they touch their masks.
To be clear, California does not require people dining at restaurants to put their masks back on in between each bite. Instead, customers are merely asked to wear a mask while not eating and drinking.
Read more HERE
-----------------------------------
13 October
The Best Way To Help Napa During The Wildfires—Drink Their Wines
While winemakers struggle to make something out of the 2020 harvest, there's an easy way to show support—drink their wines. If you need one more excuse to live for the moment and pour a fabulous wine—this is it.
Read more HERE
-----------------------------------
13 October
18 Places to Get Wings and Watch the Lakers Win the Championship
Los Angeles has it all when it comes to fried chicken wings, and with the city's best sports teams going deep in their respective playoffs right now, it's the perfect time to dive in. From traditional Buffalo to spicy Korean and even Nashville hot, here now are 18 standout renditions to savor in Los Angeles.
Read more HERE
-----------------------------------
13 October
Grammy-Winning Band Ranky Tanky Joins Chef Sallie Ann Robinson for a Virtual Cooking Experience
Getting tired of planning what to cook? Well, later this month dinner could be an event instead of a chore as you cook along with a celebrated chef and listen to Grammy-winning music, all from home. On October 26, Ranky Tanky will join forces with chef and cookbook author Sallie Ann Robinson and chef Shaun Garcia of Soby's in Greenville for a virtual concert dinner streamed live from Haig Point on Daufuskie Island. It's the third Mill Village Farm Culinary Concert, and it promises to be the best yet.
Read more HERE
-----------------------------------
12 October
Lodi Winegrowers Call for Action with Old Vine Preservation Campaign
The Lodi Winegrape Commission unveiled Monday its "Save the Old Vines" integrated marketing campaign. Focused on preservation, the campaign aims to raise general awareness and education surrounding historical, old vine plantings in Lodi and to foster recognition of the quality of wine produced from these vines amongst both consumer and industry audiences.
Read more HERE
-----------------------------------
12 October
A Vintage Lost?
Winemakers are assessing damage to grapes and making difficult decisions about whether to produce wines in 2020
The Glass fire, which erupted Sept. 27 in the hills above St. Helena, burned wineries and vineyards. It also halted harvest and may prove to be the knockout punch for the 2020 vintage in both Napa and Sonoma.
The preceding LNU Complex fires in August had already impacted the vintage, as smoke lingered over the region for weeks when much of the year's crop was going through veraison and thus acutely susceptible to smoke taint. The Glass fire only further jeopardized the vintage, and very few wines will be made this year as a result.
Read more HERE
-----------------------------------
12 October
Far Niente Family Of Wineries & Vineyards Expands With Launch of Post & Beam Winery
"We are excited to be able to bring Post & Beam wines to those looking for an indelible Napa Valley wine drinking experience," said Steve Spadarotto, CEO of the Far Niente Family. "With this new brand, our portfolio will have the potential to engage both current and new consumers at various price points, from everyday luxury to special occasion wines. Post & Beam continues our tradition of building wineries from the ground up with a focus on quality and authenticity."
Read more HERE
-----------------------------------
12 October
High-end retailers, posh eateries rebounding after COVID setback
Manhattan's fanciest retailers and restaurants are back — just in time for a really rough winter.
There's been a surge in recent weeks of high-end fashion boutiques and restaurant reopenings in central Manhattan, despite record unemployment, rising crime, municipal revenue shortfalls, schools chaos — and a COVID-19 infection uptick that's fueled fears of a second virus wave.
Read more HERE
-----------------------------------
12 October
23 Philly Patios Made for Dining and Drinking Outside
Hidden courtyards, spacious patios, elaborate "streeteries," and more outdoor dining options at Philly restaurants
Read more HERE
-----------------------------------
12 October
22 Metro Phoenix Restaurants Still Doing Takeout Right Now
Though the state reopened for business more than two months ago, many restaurants have stayed closed, or have reopened and then decided to close. It's a brutal time for restaurants. Those with the means and the appetite can consider supporting any of these 23 stellar takeout options.
Read more HERE
-----------------------------------
8 October
Small- and Medium-Sized Wineries Have a New Partner in Alignment Wine Marketing
Seasoned wine industry professional Peter Alig has launched Alignment Wine Marketing, Napa Valley's newest firm devoted to helping small- and medium-sized wineries refine and amplify their marketing strategies in these rapidly evolving times.
"I've seen so many producers of great wine stumble because they don't have the bandwidth or resources to tackle marketing problems effectively," says Alig. "They might desire marketing guidance but don't want to pay high agency fees or sign a retainer. I established Alignment Wine Marketing to offer small- to medium-sized wineries a thorough audit of their marketing strategies and a roadmap for improvement at prices that align with their more modest budgets."
Read more HERE
-----------------------------------
8 October
Landmark Community Grants Announce Additional Relief Funds to the Sonoma County
The Wonderful Company, which is dedicated to harvesting health around the world, announced today that it has extended its previously announced $1 million COVID-19 relief fund in California's Central Valley to create a $500,000 additional fund specific to the San Luis Obispo and Sonoma Counties.
The JUSTIN and Landmark COVID-19 relief funds will each receive $250,000 in additional funding for local organizations and schools affected by COVID-19 and the recent catastrophic California wildfires.
Read more HERE
-----------------------------------
8 October
Celebrate Sonoma County Wine Month This October
For a sixth consecutive year, wineries are offering consumers creative specials for those that can celebrate in-person or at home virtually.
Special offerings include direct shipping promotions, virtual cooking and wine pairing classes, two-for-one tastings, virtual happy hours, and winemaker meet and greets.
Read more HERE
-----------------------------------
8 October
Containment of Glass Fire at 50%; Napa releases interactive map of destruction
Residents of Angwin and Pope Valley got the news mid-afternoon that evacuation orders had been lifted and they could return to their homes. Many road closures still remained in the area, including Silverado Trail between Deer Park Road and Picket Road and Highway 29 from Tubbs Lane to the Lake County line.
Tuesday morning's report revealed more property damage. Cal Fire now says 290 Napa County houses and 321 commercial structures were destroyed.
Read more HERE
-----------------------------------
8 October
10 Top Myrtle Beach Restaurants to Visit
Contrary to popular belief, many tourists actually enjoy being "trapped," even if they claim they don't. Myrtle Beach is proof, feeding these visitors (14 million a year), with its own brand of kitsch.
Get past the stench of SPF-50 sunscreen, and the ocean breeze carries the aroma of everything from halal chicken shawarma, cotton candy-flavored saltwater taffy, calamari tempura, churro sundaes, whenever you're not sipping frozen Mai Tais on a pool float shaped like a giant lobster.
Read more HERE
-----------------------------------
8 October
Where to Grab Lunch on a Patio in Nashville Right Now
For those who choose to dine out, Eater Nashville has rounded up a curated list of spots doing it right. These places are following social distancing measures, with tables spaced at least 6-feet apart, and following all CDC recommended policies for the current phase of opening (now Phase Three).
Some also have dining rooms open and also offer takeout or delivery options, but for purposes of this list, all restaurants have ample patios for dining al fresco, while that's still tolerable temperature-wise in Nashville.
Read more HERE
-----------------------------------
7 October
An Estimated 80% of Napa's Cabernet May Be Lost to Fire and Smoke
"2020 is my new four-letter swear word," emailed Tor Kenward, who owns Tor Wines. "I've lived through 43 harvests with earthquakes and fires, and this has been the most difficult of them all." He won't be making three of his usual single-vineyard cabernets. He hopes some good cabs will be made somewhere in the Valley, but says there won't be many.
Read more HERE
-----------------------------------
7 October
Here's where the 65,000-acre Glass Fire remains a concern
Heading into its second week since first sparking on Sept. 27, the fire is now 30% contained. Crews expanded containment lines Sunday as a red flag warning for critical fire weather expired. More progress is expected this week as temperatures are forecast to gradually cool with the return of the fog and a chance of rain on Friday.
Read more HERE
-----------------------------------
7 October
Kuhlman Cellars Offering In-Person & Virtual Events to Celebrate the Holidays & More
The Texas hill country vineyard has fun, interactive ways for families and companies to connect from private dinners to sommelier-led virtual wine tastings and new holiday gift packages.
"We've been getting a lot of calls this fall about corporate gift packages," says Kuhlman Cellars co-founder Chris Cobb. "This year, instead of gathering for holiday parties, many companies are wanting special virtual events and Christmas gifts. We're excited to be part of so many companies' holiday celebrations this year."
Read more HERE
-----------------------------------
7 October
Ventura County Reopens for Indoor Dining as Los Angeles Looks Towards End of Month
California officials today made a number of adjustments to the state's color-coded tiered business reopening plan. The new announcements most directly affect neighboring Ventura County, which has just moved from the most restrictive purple tier into the lower red tier, thus allowing restaurants there to immediately reintroduce limited-capacity indoor dining.
Read more HERE
-----------------------------------
7 October
Black Restaurant Week Kicks Off in New Orleans With More Than 30 Restaurants
The 10-day campaign, which is in New Orleans for the third year, features local restaurants and caterers offering meal specials, prix fixe brunches and dinners, and new dishes. Due to the ongoing health crisis, takeout and delivery options have expanded.
With participation from top chefs and restaurants like Dooky Chase's, Queen Trini Lisa, and Vegan Wit' a Twist, the campaign runs October 2 - 11.
Read more HERE
-----------------------------------
5 October
October Merlot Month Engages Millions of Wine Drinkers
#MerlotMe unites passionate wine lovers to celebrate this lavishly textured, dazzling versatile noble red grape varietal. Wine producers and consumers worldwide will celebrate Merlot during October with the hashtag #MerlotMe, sharing wines on social channels, at virtual events, in winery tasting rooms, restaurants, and wine shops, and at home.
Read more HERE
-----------------------------------
5 October
Watch CA Firefighters Save Winery's Flag from Wildfire
"Even though we weren't able to save the building, we never gave up. We were able to save the flag and stay in the fight," the Fremont Fire Department about saving a U.S. flag threatened by the Glass Fire.
Read more HERE
-----------------------------------
5 October
Iconic Houston Burger Chain Prince's Is Making a Comeback
Prince's, the iconic Houston hamburger chain that closed its last location after Hurricane Harvey, is back.
The restaurant, which served Houstonians for more than 80 years before shuttering, has opened a new location inside the clubhouse at the Sharpstown Park Golf Course, ABC13 reports. The location is being run by Prince's longtime owner John Broussard.
Read more HERE
-----------------------------------
30 September
Glass fire in Sonoma, Napa counties tops 36,000 acres, destroys 113 structures as thousands evacuated
Less than 24 hours after the fast-growing blaze began on Howell Mountain east of Napa Valley, fire officials believe it threw embers across to the valley's western side Sunday night, igniting two new branches of wind-driven fire that would need just six hours to travel about four miles into Santa Rosa, Cal Fire Division Chief Ben Nicholls said.
Merged into the Glass fire, they collectively had consumed 36,236 acres as of 5 p.m. Monday and remained wholly uncontained. Cal Fire said 113 structures were destroyed in Napa and Sonoma counties, and 8,543 structures threatened Monday night. It was not clear how many of the structures were homes.
Read more HERE
-----------------------------------
30 September
New TTB Ruling on Nutrition Labeling and Advertising
"Wine is not a recipe product. It varies from vintage to vintage and can even vary from barrel to barrel in a given year," said Bobby Koch, Wine Institute President and CEO. "Today's ruling removes a major hurdle for providing nutrition information in labeling and advertising. We appreciate TTB's response to the concerns we raised."
Read more HERE
-----------------------------------
30 September
Florida Governor Lifts All Restrictions on State Restaurants and Bars, But Miami Imposes Its Own Set of Rules
In a surprise announcement Friday afternoon, Florida's Governor Ron DeSantis released a new executive order saying that the state will be immediately moving into Phase Three of its reopening plans, which allows restaurants and bars to operate at full capacity, along with virtually every other business. But Miami-Dade County, the hardest-hit county in the state for COVID-19 infections, is still enforcing its own set of protocols.
Nightclubs and bars can reopen in Miami-Dade County, but there will be limits.
Read more HERE
-----------------------------------
30 September
Where to Find the Best Hot Matcha Tea Around the Twin Cities
From froth lattes, to traditional tea, to fresh-milled powder, Matcha tea is available in all its green glory in many coffee shops around town, and span a wide spectrum of flavor, from the ultra-sweet varieties found at chains to the perhaps acquired taste of grassy, earthy flavor profiles. Let's find out the best Matcha Tea spots in Twin Cities.
Read more HERE
-----------------------------------
29 September
Glass Incident explodes to 36,000 acres in the North Bay, mandatory evacuations underway
Overnight, new evacuation orders and warnings were issued for an area straddling the Napa-Sonoma County border northeast of Santa Rosa as two new fires, the Shady Fire and the Boysen Fire, started near the Glass Fire. By Monday afternoon, more than 53,000 residents had been ordered to evacuate.
Read more HERE
-----------------------------------
29 September
Yakima Valley winemakers say smaller harvest could mean better 2020 vintage
"We're all about the flavor," said David O'Reilly, founder and winemaker at Owen Roe in Parker. "A big, watery berry is not going to give you the flavor. Having these smaller clusters is going to give us a better product in the barrel."
Read more HERE
-----------------------------------
29 September
Bruce Cohn's Trestle Glen Vineyards Releases 2018 Cabernet
Bruce Cohn and Tom Montgomery, his longtime winemaker have decided to make one single Cabernet that combines the best of his historic vineyards. They hit the jackpot.
The result, by blending the Creekside's smooth mouthfeel and soft tannins with the bouquet and long finish of the Hillside cabernet results in one greet offering. The wine will be released on October 1. The new release can be sourced at fine wine establishments and directly from www.trestleglenvineyards.com. The wine retail price $50.
Read more HERE
-----------------------------------
29 September
How NYC's Food Journalists Feel About the Return of Indoor Dining
Reporters, editors, food writers, and critics share their plans for the city's return to reduced-capacity indoor dining on September 30
Anna Hezel, senior editor, Taste:
I haven't eaten indoors at all during COVID and am a long ways away from doing it. I'm pretty mentally prepared to hole up for the fall and winter, supporting my favorite restaurants with lots of takeout, and tipping as if it were a big fun meal out with lots of friends and lots of drinks.
Read more HERE
-----------------------------------
29 September
15 Standout Takeout and Delivery Options Currently Available in Denver
In the two months that the Denver dining scene was at a standstill, local restaurateurs pivoted to the takeout and delivery model with extraordinary courage and ingenuity, keeping their livelihoods intact as best they could while offering frazzled home cooks a breather.
Many have now reopened their doors according to the state's strict protocols. But no one expects business as usual, which means that to-go service will continue in the weeks and even months to come — including at these 15 favorites.
Read more HERE
-----------------------------------
28 September
This year's wildfires are likely 'the single worst disaster the wine-grape growing community has ever faced' says John Aguirre, president of the California Association of Winegrape Growers
Smoke from the West Coast wildfires has tainted grapes in some of the nation's most celebrated wine regions with an ashy flavor that could spell disaster for the 2020 vintage.
No one knows the extent of the smoke damage to the crop, and growers are trying to assess the severity. If tainted grapes are made into wine without steps to minimize the harm or weed out the damaged fruit, the result could be wine so bad that it cannot be marketed.
Read more HERE
-----------------------------------
28 September
A group of bar owners and general managers from more than 50 bars have sent a letter to Mayor Lori Lightfoot demanding help
Reps from places like Carol's Pub, Cubby Bear, and Haymarket Pub & Brewery want the mayor to increase the maximum number of customers allowed inside bars from 25 percent; businesses are barely breaking even if they're lucky under current policies.
Indoor service is only allowed if bars sell food or partner with a restaurant or food truck to offer food. Currently, patio service is permitted without food service. Those who signed the letter also want to stay open until 1:30 a.m. During the pandemic, the city has mandated an 11 p.m. last call.
Read more HERE
-----------------------------------
28 September
Montreal's Chinatown Seeking $1 Million in Relief to Overcome Disproportionate COVID-19 Downturn
Anti-Asian racism spurred by misinformation linking Chinese communities to the the spread of the coronavirus is also to blame, the community leaders say.
"Our community has been disproportionately affected by the pandemic on all fronts. Our people are scared," said Sherry Ao, president of the Montreal Chinatown Development Council.
In addition to relief fund, the leaders are seeking a one-year commercial tax reduction and help to establish Montreal's Chinatown as a commercial development corporation (SDC).
Read more HERE
-----------------------------------
28 September
Wine Enthusiasts Nationwide Can Enjoy a Curated Coastal California Experience in the Intimacy of Their Own Homes with "Tolosa Tonight"
In celebration of California Wine Month, Tolosa Winery has launched Tolosa Tonight, a curated gastronomical experience available to culinary and wine enthusiasts in the intimacy of their own homes.
Wine and food devotees across the country can order an event kit and prepare excellent three-course meals paired with select Tolosa wines, all included in the kit. The winemakers will provide the guidance needed to host a true wine country dinner.
Read more HERE
-----------------------------------
28 September
Candy Mountain Becomes Washington's 16th American Viticultural Area
The Alcohol and Tobacco Tax and Trade Bureau (TTB) published the final rule for the Candy Mountain American Viticultural Area (AVA) on September 25, 2020, making it the 16th AVA in Washington.
"Candy Mountain is small but mighty," said Steve Warner, president of the Washington State Wine Commission. "The region has been growing highly regarded grapes for years, so it will be great to finally see the AVA-designated wines out in the world."
Read more HERE
-----------------------------------
25 September
Napa County Farm Bureau Celebrates National Farm Safety and Health Week 2020
National Farm Safety and Health Week is led by the National Education Center for Agricultural Safety (NECAS), the agricultural partner of the National Safety Council. The theme for National Farm Safety and Health Week 2020 is "Every Farmer Counts". This theme is one that reminds us that it is in everyone's best interest to prioritize the health and safety of those who work so hard in our agricultural sector.
Read more HERE
-----------------------------------
25 September
Head Winemaker at Israel's Barkan Winery Receives Prestigious Master of Wine Designation, a Title Held by Fewer Than 100 Fellow Master Wine Makers
Read more HERE
-----------------------------------
25 September
Hess CEO talks Smoke, Pandemic Strategy
Q: How has the pandemic affected brand development or how you manage your overall portfolio?
Timothy Persson: I think the interesting thing that the pandemic has done for us it to reinforce the sales rates of established items and, conversely, it's made it harder for us with items that we were establishing. Either because we would've traditionally established them in the on-premise arena, or simply because the awareness of that item on the shelf is not as developed with a consumer.
It's an interesting thing in the sense that where we were either incubating items or planning to introduce new items, the effect of the pandemic is probably to slow down the progression or the development cycle of those items, or it's causing us to offset or delay the introduction of those items just because it's not a healthy enough environment in which to do so. And we're also learning, like a lot of other people, about which changes in consumer behaviors are likely to be more temporary in nature and which are likely to stick longer term.
Read more HERE
-----------------------------------
25 September
How to Celebrate Oktoberfest at Home With Boston-Area Takeout and Delivery
2020 doesn't lend itself to gathering in groups for festive Oktoberfest celebrations, but that doesn't mean you can't enjoy the season at home. Here are several Boston-area breweries, restaurants, and businesses from which you can order takeout and/or delivery of beer, sausages, pretzels, and more.
Read more HERE
-----------------------------------
25 September
These Atlanta Restaurants Are Now Permanently Closed Due to the Pandemic
For some Atlanta restaurant and bar owners, the devastating loss of revenue over the last few months, lack of real rent relief or support from landlords, and inability to secure substantial emergency funding have left them no choice but to close their businesses permanently.
Read more HERE
-----------------------------------
23 September
2020 Sonoma County Wine Auction Raises $1.17 Million for Sonoma County Nonprofits
Sonoma County Vintners Foundation and Honorary Chairs – Clay Mauritson of Mauritson Wines, Jake Bilbro of Limerick Lane Cellars and Mark McWilliams of Arista Winery announce the results for the 2020 Sonoma County Wine Auction with over $1.17 million raised for the community. Over $37 million has been raised since the auction's inception, making a direct local impact on education, health and human services, the environment, and arts and culture.
Read more HERE
-----------------------------------
23 September
American Steakhouse Chain Sizzler Declares Bankruptcy Because of Coronavirus
One of Los Angeles's most storied restaurant franchises, Sizzler, has declared bankruptcy as a result of the ongoing coronavirus pandemic. The company said in a public statement today that the legal filing is "a direct result of the financial impact the COVID-19 pandemic has had on the casual dining sector."
Read more HERE
-----------------------------------
23 September
Riverside County restaurants cautiously approach reopening their dining rooms
Riverside County restaurants will be able to open dining rooms to customers at 25% capacity was met with cautious optimism.
"I guess this step forward is a move in the right direction, but people still need to be diligent in bring back our economy," said Janae Solis, owner of Dorry's Diner in the City of Riverside. "There's still a mile."
Read more HERE
-----------------------------------
22 September
WWC20 – the shortlist
We are thrilled to publish details of our 18 shortlisted entries in this year's wine writing competition, whose theme was sustainability- Jancis Robinson.
Read more HERE
-----------------------------------
22 September
'Wet ashtray' wine grapes left to birds as fires choke West Coast vineyards
Many tasting rooms remain shuttered due to fire and smoke risks, while grapes awaiting harvest in storied wine regions like Willamette Valley or California's Napa and Sonoma Valleys may be damaged or ruined entirely.
Oregon, Washington state and California together produce about 90% of all U.S. wine. The true impact on the $70 billion industry will not be known for months as the typical wildfire season is only just beginning, and crop damage can vary greatly from field to field.
Read more HERE
-----------------------------------
21 September
Restrictions on gatherings continue to sting Napa Valley's events industry
In March, California's Department of Public Health (CDPH) in tandem with the state's shelter-at-home order issued guidance prohibiting gatherings: concerts, conferences, sporting events and similar events were now off the table. Last week, CPDH issued updated guidance for the state's event industry: any and all events – except those protected by the First Amendment, including religious ceremonies and protests – are still not permitted.
Read more HERE
-----------------------------------
21 September
Rosé and Sauvignon Blanc Lead Growth for Off-Premise Wine as per Nielsen
Read more HERE
-----------------------------------
21 September
California winery comes to Kansas
A traveling winery made its stop in Topeka Thursday. Faced with challenges presented by COVID-19 and wildfires in California, the owners of Dakota Shy wine decided to bring their product to the communities that support them.
Read more HERE
-----------------------------------
21 September
Dream Big Darling to Host Virtual Leadership Retreat on October 22-23
Dream Big Darling is a nonprofit dedicated to fostering the success of women in the wine and spirits industry through mentorship, education, life enhancement and professional retreats.
the 2020 Dream Big Darling Leadership Retreat on October 22-23 will be a multi-day virtual experience featuring notable speakers, workshops, networking and more—all with the goal of fostering professional development and career opportunities across the industry. The retreat will feature an all-star cast of speakers touching on a range of personal and professional development topics.
Read more HERE
-----------------------------------
21 September
USDA to Provide Additional Direct Assistance to Farmers and Ranchers Impacted by the Coronavirus
President Donald J. Trump and U.S. Secretary of Agriculture Sonny Perdue today announced up to an additional $14 billion dollars for agricultural producers who continue to face market disruptions and associated costs because of COVID-19.
Read more HERE
-----------------------------------
17 September
Pine Ridge Vineyards Announces Release of Inaugural Sparkling Wine
Pine Ridge Vineyards, a producer of world-famous Cabernet Sauvignon from Napa Valley's renowned Stags Leap District, announced the release of its inaugural sparkling wine, an extension of the winery's genre-defining still Chenin Blanc + Viognier. The release marks Pine Ridge Vineyards' first new label in 25 years and begins an exciting new chapter for the popular blend. The inaugural vintage will be available for $18 (SRP) online and in retail beginning October 1, 2020.
Read more HERE
-----------------------------------
17 September
Wine Sales Up 17.9% off-premise for the week ending 9/05/20 - Nielsen
Read more HERE
-----------------------------------
15 September
Registration Now Available for Virtual Ag Expo & International Sustainable Winegrowing Summit
Since 2003, the Sustainable Ag Expo has been a leader in providing world-class educational content for farmers, researchers, and consultants. Every year the Ag Expo & International Sustainable Winegrowing Summit features the latest viticulture research and technology from the world's top experts to help professionals be competitive in the ever-changing business landscape.
This year's virtual format provides access to a greater diversity of topics and speakers accessible from November 9 through December 4, 2020 featuring over 25 hours of live and recorded content. Registrants will have convenient access to all content during those four weeks; a silver lining to the pandemic that will allow students and professionals valuable flexibility during an already busy time of year.
Read more HERE
-----------------------------------
15 September
Updated: West Coast Wildfires Threaten Oregon and Washington Wine Harvests
Oregon and Washington are battling a wave of wildfires this week, joining still-smoldering California as much of the West Coast has been blanketed with smoke from multiple blazes, blotting out the sun.
One Rogue Valley winery, however, has not been spared. Wine Spectator has learned that Simple Machine winery was destroyed by the Alameda fire in the southern part of the state. "Simple Machine winery has completely burned to the ground, with loss of all facilities, equipment, inventory, and tasting room. There is literally not a single bottle left," said co-owner Brian Denner, who moved to Oregon ten years ago after making wine in California's Paso Robles.
Read more HERE
-----------------------------------
14 September
500,000 people in Oregon forced to flee wildfires
Authorities in Oregon now say more than 500,000 people statewide have been forced to evacuate because of wildfires. At a news conference Thursday, Gov. Kate Brown said there have been fatalities but the exact number is not yet known. There have been at least three reported fire deaths in the state.
Read more HERE
-----------------------------------
14 September
California Heatwave Leaves Grape Growers Sweating
Only one lab in California right now, ETS, tests grapes and nascent wines for smoke taint. With every part of the state worrying about smoke, ETS is receiving hundreds of samples a day and has fallen weeks behind. Its website said Monday that, for current clients, "Grape berry samples received early today are projected to be reportable by 17 October, and wine samples received early today are projected to be reportable by 28 September." Anyone who isn't already a client of ETS is told: "We anticipate that we will be able to start processing these samples not sooner than November." November!
With lab results unavailable, grapes either stay on the vine, slowly becoming raisins in a record heatwave, or they are picked and processed before lab results come in, and hopefully turn out to be untainted.
Read more HERE
-----------------------------------
8 September
Wineries Get Creative to Share Harvest with Consumers – Experience Harvest Up Close at Center of Effort
Every Friday & Saturday, September 18th – October 17th, Visit Center of Effort for a private tour of Harvest Up Close. Taste the ice cold grapes straight from the vineyard after a chilly morning pick; watch the fruit sorting process, ensuring only the highest quality fruit continues; or learn the art of punch downs to enhance flavor and color. There are so many interesting activities to take part in.
Read more HERE
-----------------------------------
8 September
Celebrate California Wine Month in Livermore Valley
In honor of California Wine Month, Livermore Valley Wine Country is highlighting "perfect pairings" within the valley. A sampling of September winery events such as: International Bacon & Cabernet Pairing Experience, Harvest Special Zoom, BYOB etc.
Read more HERE
-----------------------------------
3 September
Royal Slope Is Washington's Newest American Viticultural Area
The Alcohol and Tobacco Tax and Trade Bureau (TTB) published the final rule for Royal Slope today, September 2, 2020, to officially define it as a designated wine grape-growing region.
"Many of our wineries and grape growers have been championing the terroir of Royal Slope for a long time, so it's thrilling for them to be able to put an official AVA name on the bottle," said Steve Warner, president of the Washington State Wine Commission.
Read more HERE
-----------------------------------
3 September
WSET Annual Candidate Figures Hit by COVID but Buoyed by Growth of Online Learning
WSET, the largest global provider of wine, spirits and sake qualifications, has reported that in the last academic year (2019/20) a total of 96,845 candidates took a WSET qualification. This represents an 11% decrease versus last year's record-breaking figure of 108,557 candidates reported in the organisation's 50th year – with this decline completely attributable to the impact of COVID-19.
Over the same period, however, WSET saw strong growth in online candidate registrations, with numbers almost trebling compared to the previous year. Although candidate numbers fell for wine and sake qualifications at all levels, candidate numbers for WSET's spirits courses bucked the trend with Levels 1 and 2 Award in Spirits growing +17% and +19% respectively versus the previous year.
Read more HERE
-----------------------------------
1 September
California Wine Month Launches with Virtual Events and Offers
September is California Wine Month, the state's annual harvest celebration. Each year, wineries, grape growers, and regional associations across the state host special events and tastings, and 2020 will be no exception.
However, due to COVID-19 concerns, this year's festivities will take the form of virtual wine tastings and tours, live-streamed auctions, digital cooking demonstrations, special wine discounts and the first-ever virtual grape stomp. California Wines has also created a Harvest 2020 Playlist on Spotify to help put wine lovers in a harvest state of mind, wherever they happen to live.
Read more HERE
-----------------------------------
1 September
Brad Pitt Launches Champagne Fleur De Miraval, "Exclusivement Rosé"
On October 15 FLEUR DE MIRAVAL will launch a truly exceptional Rosé Champagne. Brad Pitt has been totally committed to creating this Champagne house, which is not some new "celebrity wine," but an authentic project of wine growers combining their expertise, skills and passion. This new, family-run adventure is, now, more than ever, focused on excellence and inspired by the legend of Countess Fleur de Miraval*.
Read more HERE
-----------------------------------
31 August
Tolosa Winery Announces New Futures Program for 2019 Single Vineyard Wines
Private seated tastings, available by appointment, are currently offered on the winery's expansive outdoor patio, allowing guests the rare opportunity to explore these exclusive small-lot wines prior to release.
The 2019 Single Vineyard wines will be released November 1, accompanied by the 2019 Primera, also scheduled to be released on November 1, 2020. Futures of the Primera and the Single Vineyard series wines are now available for purchase. Given the prestige of these limited-production bottlings, with under 250 cases of each produced, many of these wines are expected to sell-out prior to release.
Read more HERE
-----------------------------------
31 August
Sojourn Cellars Announces Alliance with Harrow Cellars
The founders [Craig Haserot and Erich Bradley] and winemaking team all live in Sonoma, and the tasting room will remain in Sonoma," said Erich Bradley, Sojourn Cellars founder and director of winemaking, "so this feels a lot like a homecoming, both physically and spiritually. We work with an incredible set of 16 different vineyards and now we can look forward to a winemaking facility in which we can take quality control to the next level.
Read more HERE
-----------------------------------
31 August
Sixteen new Masters of Wine
The Institute of Masters of Wine has announced 16 new Masters of Wine, taking the total number of MWs in the world today to over 400.
There are now 409 MWs based in 30 countries.
Read more HERE
-----------------------------------
31 August
Barefoot Is Introducing A New Buttery Chardonnay Boxed Wine In September
The new varietal is perfect for sipping on while cozied up under a blanket this fall, and you can get your hands on it starting in September.
The Barefoot Buttery Chardonnay On Tap has pineapple aromas and is "filled with layers of toasty oak to complement the smooth vanilla finish," according to a press email.
It comes in a box that resembles an ombré stick of butter (if that was a thing). The box is equal to four 750-milliliter bottles of wine and features a tap for easy wine removal. Better yet, the boxed wine stays fresh 30 days after you open it.
Read more HERE
-----------------------------------
28 August
Revelshine Launches as an all-new Sustainable Wine Brand in Unbreakable, Infinitely Recyclable Bottles
Revelshine, created to put premium wine in sustainable aluminum bottles, releases with a variety collection of three wines that are designed to be taken off the beaten path.
With an offering of a Revelshine Rose, Revelshine White and Revelshine Red, anyone can enjoy wine at their fingertips no matter where their compass takes them. Take a tasting room to the peak of a mountain, down a lazy river or off the coast in the bow of a boat.
Read more HERE
-----------------------------------
28 August
LNU Lightning Complex: Break In Harvest Lessens Consequences For Wine Country Grape Crop
Hard as it might be to believe, Sonoma County's wine industry caught a bit of a break.
Harvest started roughly two weeks early this year, and the Walbridge Fire erupted after the bulk of the sparkling wine grapes had been picked and before it was time to pick the great majority of still wine grapes.
Read more HERE
-----------------------------------
27 August
Alisos Canyon in Santa Barbara Approved as AVA

The Alisos Canyon area has long been revered for its high-quality fruit with its unique affinity towards Rhone-style varietals, and now the TTB has formally recognized Alisos Canyon as the region's newest American Viticultural Area (AVA). Nestled between the Santa Ynez Valley and Santa Maria Valley, Alisos Canyon is a tightly defined, stand-alone AVA that covers 5,774 acres distinguished by its unique geology, soil structure, and climate pattern.
Read more HERE
-----------------------------------
27 August
11 scenic Midwest wineries worth a getaway
It's not California or Oregon, but the Midwest region is home to some surprisingly excellent pours—whether you prefer sparkling rosé, pinot noir or chardonnay. As an added bonus, all of the vineyards on this list boast remarkable outdoor spaces so that guests can sip and swirl.
Whether you're a wino in training or you know your gamay from your grenache, these Midwest wineries are ready to fill your glass.
Read more HERE
-----------------------------------
26 August
Terlato Wine Group Promotes Gaspar Roby Vice President, Winemaking & Viticulture
Established in 1947, fourth-generation family-owned and operated Terlato Wine Group today announced the promotion of Gaspar Roby to the critical role of Vice President, Winemaking and Viticulture. Prior to the appointment, Roby was Terlato's Director of Viticulture, responsible for all technical, operational and financial aspects of more than 350 acres of family-owned vineyards in Napa Valley and Red Mountain, Washington.
Read more HERE
-----------------------------------
26 August
Vinduino Announces 5th Generation Wireless Irrigation Controller
Vinduino today announces their 5th generation wireless irrigation controller, which controls a pump, multiple irrigation valves, and keeps track of flow rate per irrigation block. The system works with eVineyard and eOrchard software for daily optimized variable rate irrigation to optimize crop results and save resources.
Read more HERE
-----------------------------------
25 August
Lodi wine grape growers worry about harvest as smoke impacts region
"Smoke exposure, it's still being studied and what exactly it could do, you know," Amy Blagg, executive director of the Lodi District Grape Growers Association.
Blagg says there is concern the prolonged smoke exposure could affect the wine flavor or quality. But for now, local growers are only seeing secondary effects from the smoke.
Read more HERE
-----------------------------------
25 August
Walla Walla Valley named America's Best Wine Region in USA Today readers poll
"I can think of no better way to honor wines from Washington state in general, and Walla Walla Valley wines specifically, than being recognized as America's Best Wine Region by a vote of the public," said Robert Hansen, executive director of the Walla Walla Valley Wine Alliance, in a prepared statement.
Read more HERE
-----------------------------------
25 August
Paso Robles mayor asks governor to allow indoor dining as smoke chokes city
"We are in the midst of a crushing heat wave," Paso Robles Mayor Steve Martin wrote. "There are also over 370 fires throughout the state, creating untold tons of smoke and ash. Together, these are putting the health of millions of Californians at risk. Finding ways to work through this pandemic has been challenging enough; the added challenges from the fires are making it untenable for many."
Read more HERE
-----------------------------------
24 August
Wineries Harvest while Wine Country Burns
The fires are still blazing, but most vineyards have avoided damage or smoke pollution. Westside Road in Sonoma County – dotted with good wineries – was evacuated, and the city of Healdsburg is under an evacuation warning
Read more HERE
-----------------------------------
New Napa and Sonoma Winery Visitor Centers Offering Outdoor Tastings
Local tourism has been a lifeline for wineries during the pandemic. For Bay Area travelers looking for an easy day trip up to wine country, here are a few of the newer and recently updated wine estate visitor centers in Napa and Sonoma to consider visiting.
These wineries have stepped up their virtual games to bring consumers into that immersive experience from home as much as possible.
Read more HERE
-----------------------------------
Usual Wines Launches Guava Spritz - Not your usual canned wine
From the makers of the beloved DTC single-serve wine brand, Usual is introducing a modern take on a wine spritzer - in its first-ever can. Made with clean and simple ingredients, the Usual Spritz is composed of sparkling wine mixed with [a splash] real, 100% natural guava juice, and nothing else.
The Usual Spritz canned wine is a bright and crisp, low ABV, [low calorie] option to take to the park, the beach, or your living room. With 8.5% ABV. 250ML per can. Only 3g of natural sugar, 83 calories per serving (132 calories per can), available while supplies last.
Read more HERE
-----------------------------------
Outdoor Dining Is a Hit, but Restaurants Face 'Apocalyptic' Times
Nearly 10,000 restaurants have set up outdoor seating in New York City. They are struggling to stay alive until indoor dining returns.
Though outdoor dining has been a hit with patrons, restaurant owners said they were operating at a fraction of regular seating capacity. Many are staying open only because of the federal paycheck protection program, which supports payroll, and because they have not paid their full rent in months.
Read more HERE
-----------------------------------
Giving Black Wine Professionals a Voice: A Live Chat with Julia Coney
"I was noticing that I was one of the few Black wine professionals on media trips," said Coney. "And what I noticed is a lot of the people I followed and looked at as a part of my community didn't have access to those trips. They never got invited. But I didn't think I would start Black Wine Professionals. It took what I call the 'New Civil Rights Movement' with the George Floyd murder and Breonna Taylor to make me think that I need to create a place where people can find these professionals. Because if I didn't create it, no one would."
Currently, the Black professionals listed on the website include buyers, educators, bloggers, journalists and sommeliers.
Read more HERE
-----------------------------------
19 August
Humidity shields grapes from the worst of Bay Area heatwave
Dry, prolonged heat can be harmful to grapevines, according to Mike Wolf, owner of an eponymous vineyard management company working with a number of growers in the Napa Valley. But this heatwave is different, according to Wolf: it's been less intense because it brought with it remarkable humidity.
Humidity and relative timing have shielded Napa Valley's grape crop from the worst of the North Bay's ongoing heatwave, growers say.
Read more HERE
-----------------------------------
19 August
Walmart's Winemakers Selection gets a refresh
The retailer has relaunched its private label wine in about 2,600 stores, featuring a new label, a pared-down assortment and a $5 price point
Read more HERE
-----------------------------------
19 August
Muscardini Cellars Announces Out of the Ordinary Tasting Experiences
Muscardini is open, ready to serve, and excited to see everyone. The team could not be more thrilled to host these unique wine tasting experiences in the beauty of Sonoma Valley and sharing the amazing limited-production wines in the serene backyard.
The new "Explore Your Senses" tasting experience ($30) is now available by appointment daily both at the tasting room and at home virtually. And should one be joining in virtually, gather colleagues, friends, or family wherever they may be and enjoy this interactive virtual tasting experience right from home.
Read more HERE
-----------------------------------
18 August
Auction of Washington Wines Raises Over $1.74 Million During First-Ever Virtual Event Series
"Despite the challenges, change in format and experience, we are heartened that our supporters came to the 'virtual' table and donated so generously this year," said AWW executive director Jamie Peha. "It is rewarding to see longtime auction patrons, as well as newcomers, enjoy the Auction in a new and digital way.
Read more HERE
-----------------------------------
18 August
Bonterra Organic Vineyards Brings Climate-Friendly Practices to Life with "Tastes Like Saving the Planet" Advertising Campaign
"Research indicates that consumers are more receptive when branded communications about sustainability- and climate-focused topics incorporate humor, and this inspired us to develop something unique," said Rodrigo Maturana, vice president of marketing for Bonterra, of the campaign spots that gently poke fun at clichés associated with tasting wine.
"The new campaign allows us to make meaningful connections with the many wine fans who care about the environment and also appreciate a lighthearted approach."
Read more HERE
-----------------------------------
17 August
Colorado wine seeks to survive 2020
A challenging year for Colorado winemakers might be marked by crop freezes, a new recession and a devastating global pandemic.
We could lose 10-12% of our income because of Wine-fest alone. We rely on the other festivals, too, and they've all been canceled," said Hamilton, co-owner of Red Fox Cellars.
Read more HERE
-----------------------------------
Monterey County Kicks off 2020 Grape Harvest
Monterey County Vintners & Growers Association is excited to announce the start of the 2020 wine grape harvest, the 101st year of harvesting grapes for commercial winegrowing in the region, with the harvest of Scheid Family Wines' Isabelle's Vineyard located along the River Road Wine Trail.
Spring rains and moderate, cool temperatures throughout the summer have given Monterey County winegrowers a very positive outlook.
Read more HERE
-----------------------------------
Scott Harvey Wines Focuses on Its Future with Mobile DTC Innovation
To thrive in the new normal and beyond, Scott Harvey Wines needed to upend traditional sales channels and adopt a mobile e-commerce strategy. With PairAnything, the winery gains an essential dimension for business success.
Their customers, ranging from 21 to 83 years old, now connect with the winery directly on their phones to receive new releases, events, discounts and more. Like in a Virtual Tasting Room, they can request food and wine pairings recommendations and conveniently shop for wines – in a safe, contactless environment.
Read more HERE
-----------------------------------
Sonoma-Cutrer Sponsors SommFoundation Scholarships for Aspiring Sommeliers
Sonoma-Cutrer Vineyards has forged a relationship with SommFoundation, with a goal of helping those in the wine industry.
It is targeted to beverage professionals who are passionate about the industry but also in need of financial assistance as they expand their wine knowledge and earn industry certifications.
Ultimately the scholarships create more opportunities for professionals at all levels; sommeliers, winemakers, journalists, bartenders, wine directors, restaurateurs and many others associated with the beverage industry.
Read more HERE
-----------------------------------
Trump Administration Keeps Tariffs on European Wines in Place
The 25 percent tariffs imposed on most French, German, Spanish and U.K. wines nearly ten months ago will remain in place for the foreseeable future, forcing wine lovers to pay more and inflicting economic distress on importers, retailers and restaurateurs just as the hospitality industry grapples with the economic downturn triggered by COVID-19.
Read more HERE
-----------------------------------
10 August
J. Lohr Vineyards & Wines Opens for Virtual Tastings
Hosted by educators from J. Lohr's hospitality team, these private, curated virtual tastings will deliver a high-touch sensory experience for consumers to explore J. Lohr's diverse portfolio from the comfort of home. The virtual tastings program complements the family winery's successful 'At Home with J. Lohr' online initiative, which provides wine enthusiasts with fun, engaging DIY activities and games to help them discover new J. Lohr wines and also share moments with family and friends.
Read more HERE
-----------------------------------
COVID-19 Harvest Protocols Webinar FAQ's Available for Download
Wine Institute, California Association of Winegrape Growers and California Sustainable Winegrowing Alliance co-developed a COVID-19 Harvest Protocols Workbook released during a July 7 webinar featuring important updates.
Read more HERE
-----------------------------------
Harvest Begins in Napa Valley
The 2020 Napa Valley harvest is underway throughout the region according to the Napa Valley Grapegrowers (NVG), with sparkling wine varieties leading the way to the presses.
Read more HERE
-----------------------------------
2020 Sonoma County Winegrape Harvest Kicks Off
The earliest grapes harvested were picked on Monday night in Dry Creek Valley, when Dutcher Crossing Winery's team picked 4.4 tons of Chardonnay to be used in their estate sparkling wine, a tradition started in 2016. "The team was super excited to get the 2020 vintage started, and what better way to celebrate the harvest season than with Chardonnay for our sparkling wine," said Nick Briggs, Dutcher Crossing's Winemaker.
Read more HERE
-----------------------------------
4 August
Washington Wine Launches Statewide Rallying Cry to Support Local Businesses this August for Washington State Wine Month
Washington Wine will run a large advertising campaign throughout the month of August and into September to generate roughly 12 million impressions. Safeway, Fred Meyer, PCC and many other retailers have signed on as partners to run campaigns for Washington State Wine Month, and more than 1,000 Washington wineries will have access to toolkits and assets to elevate their marketing efforts.
Read more HERE
-----------------------------------
4 August
Stella Rosa Wines Launches First-Ever Wine App
The app will have unique features like augmented reality screen filters, an in-app game, chances to win discounts and merch, cocktail recipes, a store locator, and more.
The in-app game Stella Poppin' will allow users to play and compete for a top spot on the leaderboard. Win points and share your high score with friends via social media. The game will be updated regularly with additional and bonus levels.
The app will also notify users every Wednesday to open up the app and shake. By doing so, users win prizes and discount codes to use on Stella Rosa merch.
Read more HERE
-----------------------------------
31 July
Sparkling Wine Growth Accelerate as Consumers Settled into New Normal
Wine dollar sales in Nielsen measured off-premise channels grew +19.7% in the most recent week vs year ago, up from last week's +16.8%.
Read more HERE
-----------------------------------
31 July
Wines of South Africa USA Calls for Support of South African Wine Industry in Crisis
Wines of South Africa (WOSA) USA, the industry association that promotes the exports of South African wine, is calling on members of the wine trade, media and consumers to support the South African wine industry by buying and drinking South African wine. The ban on alcohol, currently back in place in South Africa, could be potentially devastating to the wine industry.
Read more HERE
-----------------------------------
30 July
Ponzi Vineyards Releases Together Pinot Noir – 100% of Profits to Support Women of Minority
Winery owners and sisters Anna Maria and Luisa Ponzi believe strongly in the power of celebrating and supporting women of all races and backgrounds to inspire unity and affect positive change.
The winery has collaborated with Washington DC Artist Sheree Brand to create the label of this limited-edition 2017 Pinot Noir. Brand is inspired by the female spirit and creates art that elevates women of color and female friendships.
Read more HERE
-----------------------------------
30 July
Specialist wine retailer Majestic has revealed plans to re-engage customers lost in recent years, which include opening two new stores, overhauling its website, and refreshing its offering
Like many retailers with an online presence, Majestic faced unprecedented levels of demand in late March, causing its website to crash. The business temporarily closed its stores, and later restored its click and collect service in May, and reopened stores in June.
The disruption, however, did not dampen online sales, which grew by over 300% during April, May and June.
Read more HERE
-----------------------------------
30 July
Dirty and Rowdy Family Winery Donates to California Farmworker COVID-19 Relief Funds
"Collective action is critical now more than ever when it comes to supporting Farmworkers in the midst of a global pandemic," said Hardy Wallace, co-owner and winemaker at Dirty and Rowdy Family Winery. "Donating funds is one immediate step to address pressing needs, and we hope the name of the wine will serve as a staunch reminder to wear a mask and help curb the spread of the virus."
Read more HERE
-----------------------------------
29 July
Paper Beer, Wine and Spirits Bottles are Becoming a Reality
There is no shortage of waste in the beverage industry. As companies continue to look for ways to reduce their carbon footprint and deliver on green technologies, a number of producers have started to use paper or compostable bottles.
Read more HERE
-----------------------------------
29 July
Siduri Winery Serves Up Holographic Augmented Reality Experience
Critically-acclaimed Pinot Noir specialist, Siduri, today announces a first-of-its-kind photorealistic holographic Web AR (Augmented Reality) experience that brings compelling visual storytelling to the consumer goods industry. In collaboration with Rock Paper Reality, an augmented reality design firm, this disruptive technology allows Siduri to easily engage and educate consumers in a new way, bringing to life the winery's ethos – that serious wine and serious fun aren't mutually exclusive.
Read more HERE
-----------------------------------
28 July
Napa County Farm Bureau Hosts Key Industry-Wide Webinars Addressing COVID-19 During Harvest
The Farm Bureau's latest educational webinar included an update on COVID-19 in Napa County, step-by-step instructions for Napa Valley's ag employers on how to handle a COVID-19 outbreak in the workplace, best safety practices during harvest, employment law issues related to COVID-19, ag night work guidelines, the Governor's most recently issued regulations and guidelines, as well as other workplace concerns related to Napa Valley's ag industry and COVID-19.
Read more HERE
-----------------------------------
28 July
Bill and Cheryl Swanson Donate $1 Million to the Justin and J. Lohr Center for Wine and Viticulture at Cal Poly
Construction of the JUSTIN and J. LOHR Center for Wine and Viticulture, which includes a 15,600-square-foot winery and a 12,000-square-foot grange hall, is nearing completion, with the winery schedule to be completed in September 2020 and the grange hall in March 2021.
Read more HERE
-----------------------------------
27 July
US Off-Premise Wine Sales Up By 27.6% During COVID-19
WineAmerica has said the rise in off-premise and direct-to-consumer sales is "more than making up for the loss of restaurant sales"
Read more HERE
-----------------------------------
27 July
Washington Wine Launches Sommlight Conversation Series
The Washington State Wine Commission launched an innovative new digital conversation series that aims to disrupt the average perception of sommeliers and "somms." Hosted by Washington Wine's Marketing Director David Flaherty, Sommlight unveils the other side of sommeliers and wine professionals, showcasing their humor, humanity, and depth. When they're working on the floor, it's clockwork. But when they're off the floor, what makes them tick?
Read more HERE
-----------------------------------
27 July
Symington Family Estates Launches "School of Port"
An online educational platform developed by Symington Family Estates, producers of some of the finest Ports in the world for five generations which is in response to the coronavirus lockdown and current limits of in-person meetings. The new initiative will consist of a series of free digital workshops and online video courses, designed for wine trade professionals working with Port.
Read more HERE
-----------------------------------
27 July
Explore the Napa Valley with the New and Improved Second Edition of 100 Things to Do in Napa Valley Before You Die
The second edition of the popular guidebook, 100 Things to Do in Napa Valley Before You Die, by Marcus Marque is a revised list will be consisting of all comprehensive, fun, and quirky ways to connect with the city and nearby surroundings.
Read more HERE
-----------------------------------
27 July
Sonoma Wineries Reopen and Welcoming Visitors
Per guidelines outlined by the State of California on July 13, all tastings are permitted OUTDOORS only. Indoor tastings are suspended until further notice.here are the Sonoma wineries now open.
Read more HERE
-----------------------------------
27 July
Reopening Status for All California Counties
View each county's tasting room reopening status and industry-specific guidelines
Read more HERE
-----------------------------------
16 July
ONX Wines Takes Lead in the Virtual World of Winetasting
ONX created virtual tasting kits and packaged 'At Home' presentations and had a strong response from the first introduction. Since launching, they've sold close to 2,000 kits, virtual Zoom experiences, and are developing additional in-home experiences for their consumers in the future.
Read more HERE
-----------------------------------
16 July
Mira Winery Makes History with Chardonnay for First Harvest with Ovum
The Napa Valley's Mira Winery will make history this fall when they put Chardonnay into the Western Hemisphere's only wooden egg wine fermentation tank at their new winery in Yountville, CA. This unique vessel called "Ovum"
"We are constantly on the lookout for new and innovative tools that help us in our pursuit of the purest expression of each vineyard block," says Mira Winemaker Gustavo A. Gonzalez. "Ovum is not only an exciting winemaking opportunity, it's also an incredible aesthetic addition to the winery. It's gorgeous."
Read more HERE
-----------------------------------
16 July
Cool Down This Summer with New Wine Cocktails from CK Mondavi and Family
Bright and bursting with the flavors of summer, wine cocktails from CK Mondavi and Family are the perfect pairing for backyard family BBQs, warm evenings by the pool and al fresco dining. Lower in alcohol than traditional mixed drinks, they maximize wine's natural crisp acidity and bright aromas, for a lively and refreshing summer beverage.
Read more HERE
-----------------------------------
15 July
Job Board Created for Napa Valley Wineries Hiring This Harvest Season
The Napa Valley Vintners has launched a matchmaking webpage that connects job seekers with Napa Valley winemaking teams looking to hire this harvest season.
More than 25 Napa Valley wineries are currently seeking interns, and hope to attract workers who want to deepen their wine knowledge or wish to explore a career in winemaking.
Read more HERE
-----------------------------------
15 July
The Hess Collection Winery Partners with National Forest Foundation for Pour One, Plant One Program
As founder Donald Hess said, "Nurture the land, return what you take." In keeping with their time-honored philosophy, this National Forest Week (July 13-19, 2020), The Hess Collection announces the Pour One, Plant One program, in partnership with The National Forest Foundation.
Through Pour One, Plant One, Hess has committed to supporting long-term environmental efforts, with each bottle of its Hess Select range of wines sold over the next year contributing towards the planting of 25,000 trees in National Forests around the United States.
Read more HERE
-----------------------------------
14 July
SmartBarrel Solves Major Headache for Winemakers
The SmartBarrel product from GOfermentor solves a perennial problem for aging wines in oak – the necessity to maintain topped vessels.
A 60-gallon oak barrel will evaporate between 2 and 10 liters of wine per year. Additional losses are from sampling, leakage, and racking off lees. When wine is removed, headspace forms, necessitating transfer to carboys. These are inconvenient – they take up space and are prone to contamination.
Read more HERE
-----------------------------------
14 July
The Revival of Ram's Gate Winery: New Packaging, Website and Logo Unveiled
Ram's Gate Winery, a small-lot, fine-wine producer located in Sonoma's Carneros AVA, today unveiled a new website, logo and packaging as part of an extensive rebranding initiative to refresh the brand's identity. This is the first label and logo change since the winery's founding in 2011.
Read more HERE
-----------------------------------
13 July
Alma Rosa Welcomes Visitors to Santa Barbara Wine Country at New Outdoor Weingarten
Alma Rosa, a leading producer of Chardonnay and Pinot Noir wines pleased to open it tasting room to the public for tastings at its new outdoor "Weingarten." Beginning this week, the winery has reconfigured its tasting room patio, creating an optimized setting for guests to safely sample wines in an open setting with social distancing measures in place.
Read more HERE
-----------------------------------
Acme Fine Wines Announces New Private Tastings for Summer and Fall
ACME Fine Wines, announced that the boutique wine retailer will be open for private tastings. Proprietor Karen Williams and her sommelier team are looking forward to welcoming visitors and locals. the new in-person tastings are a terrific way for guests to expand their palate and wine knowledge, experience debut wines from superstar winemakers and learn first-hand the types of wines that ACME's wine clubs offer.
Read more HERE
-----------------------------------
Hollywood actress Cameron Diaz is the latest celebrity to enter the wine game, launching a 'clean' wine brand in collaboration with entrepreneur Katherine Power
Read more HERE
-----------------------------------
Napa County rolls back reopening of indoor wineries, tasting rooms, other venues due to spike in COVID-19 cases
COVID-19 regulations have changed again in Napa now that the county has seen a 44% increase in cases in the past two weeks. Indoor dining at restaurant & Indoor wineries and tasting rooms will be closed till July 30.
Read more HERE
-----------------------------------
9 July
A guide to chilling out this summer at Green Bay area wineries, where green spaces, music and cold beverages are plentiful
With the benefit of scenic settings, wide open green spaces to be social but still socially distant, outdoor concert series and no shortage of cold beverages, wineries are the perfect place to chill out during a stressful summer
Read more HERE
-----------------------------------
9 July
Alma Rosa Welcomes Visitors to Santa Barbara Wine Country at New Outdoor Weingarten
Beginning this week, the winery has reconfigured its tasting room patio, creating an optimized setting for guests to safely sample wines in an open setting with social distancing measures in place
Read more HERE
-----------------------------------
9 July
Willamette Valley Vineyards raises funds for a sparkling wine oasis in the Dundee Hills
Willamette Valley Vineyards (WVV) is currently building a $13.5 million sparkling wine facility in the Dundee Hills. Beginning July 8, WVV is offering $9.3 million worth of preferred stock to help finance the new Bernau Estate Vineyard project.
Read more HERE
-----------------------------------
7 July
California Congressional Delegation Asks USDA to Make Winegrape Growers Eligible for Direct Relief
Read more HERE
-----------------------------------
7 July
Reddy Vineyards Launches Socially-Distant, Virtual Tasting Series
in an effort to continue to deliver its award-winning Texas wines to wine lovers in a socially-distant way, the winery announced today they will resume its Virtual Tasting Series via Zoom. This Virtual Tasting Series will use the award-wining wines of Reddy Vineyards to highlight unique characteristics of wine and the winemaking process to give consumers some practical, behind the scenes knowledge in a delicious way.
Read more HERE
-----------------------------------
6 July
Napa Green organization has Launched Premier Tasting Passport This Summer with Experiences at 16 Certified Sustainable Wineries
With this Passport, guests can savor the wines, take in the views, stand among the grapevines, and know they are supporting businesses that are doing well by doing good. This will give a chance to meet the winemaker or other team leaders.
Read more HERE
-----------------------------------
6 July
Calif Governor Gavin Newsom ordered certain businesses across 19 counties to scale down their indoor operations
Each of those businesses is allowed to stay open and seat people outside, but people are not allowed to do business inside the establishments.
There were 5,289 confirmed cases reported in Fresno Co. as of July 1, 2020, compared to 344 confirmed cases in Napa Co. as of July 1, 2020
Read more HERE
-----------------------------------
6 July
Constellation Brands a leading beverage alcohol company acquires Empathy Wines direct-to-consumer (DTC) platform co-founded by entrepreneur and media personality Gary Vaynerchuk
Read more HERE
-----------------------------------
6 July
Boxed Wine Sales Increasing During Pandemic
Boxed wine sales jumped 36% till June 13 compared with the same period last year, outpacing the 29% increase in overall retail wine sales during the same period, according to Nielsen research.
Read more HERE
-----------------------------------
3 July
'Don't tell my wine snob friends': Why Americans are buying more boxed wine during COVID-19
Boxed wine sales jumped 36% for the 15-week period ending June 13 compared with the same period last year, outpacing the 29% increase in overall retail wine sales during the same period, according to Nielsen research. Some stores temporarily have sold out.
Read the complete news HERE
-----------------------------------
3 July
COVID-19 Impact on Sweet White Wine Market
The Sweet White Wine market has been garnering remarkable momentum in the recent years. The steadily escalating demand due to improving purchasing power is projected to bode well for the market.
Read the complete news HERE
-----------------------------------
3 July
Are you missing vineyard visits during quarantine? Try a virtual wine tasting
Vintners aren't letting the wine tasting experience fall by the wayside. Instead, many wineries are offering virtual tastings.
Some ship wine to your door, then schedule a video call to walk you through a tasting, much the same as you'd find at a vineyard. Others are creating video series that wine drinkers can watch on-demand. All are trying to adapt to the challenges of living and doing business amid the coronavirus crisis.
Read the complete news HERE
-----------------------------------
3 July
Miami's 305 Wines Celebrates Its First Anniversary with a Sparkling Promotion
305 Wines, the digital wine shop that has become a South Florida staple for providing high-quality, curated wines delivered to their client's doorstep celebrates its first anniversary on July 8. To celebrate the anniversary in style, the company is launching a month-long promotion of 10% off all sparkling wines using promo code "CHEERS."
Read the complete news HERE
-----------------------------------
11 May
Napa Valley wineries plan for tasting room reopenings
Anticipating the day when winery tasting rooms can reopen, the Napa Valley Vintners (NVV) this week submitted its proposed guidelines for tasting room operations in a COVID-19 world.
"Every winery is going to be different, but these measures were designed to be feasible for everyone. NVV is waiting for feedback from the county on its proposed post-lockdown guidelines" said Michelle Novi, associate director of Industry Relations.
Read the complete news HERE
-----------------------------------
11 May
Chicagoland Winery Raises $8K for Neighboring Businesses During Pandemic
"Within the first week of shelter in place orders we started thinking of ways to help our local businesses" says Lynfred's marketing director, Christina Anderson-Heller. The winery regularly raises money for charity, donating every month to a local 'Charity of the Month'. The 'Relief for Roselle' package is for sale on the winery's website.
Read the complete news HERE
-----------------------------------
11 May
Pre-COVID Business Like 'HALCYON DAYS' Says Leading Spanish Wine Player
"At the start of 2020 I never imagined we were embarking on a year that would make 2019 seem like halcyon days. Our UK customer base has faced the biggest and fastest changes I have ever seen. The on-trade channel switched off overnight leaving 5,000 of our customers in this channel in a very difficult position. By contrast, our key off-trade customers have seen a short term sales spike as people stocked up for lockdown and spending patterns started to change" Richard Cochrane, MD of Félix Solís
Read the complete news HERE
-----------------------------------
5 May
Rombauer Vineyards Supports Community
At this time, with the country heavily impacted by COVID-19 related illness and economic disruptions, Rombauer Vineyards is pleased to assist local and national charities with contributions in excess of $100,000 including donations to; Restaurant Workers' Community Foundation, Meals on Wheels, The United Sommeliers Foundation, Sierra Health Foundation, Community Action of Napa Valley, Food Bank of El Dorado County, Redwood Empire Food Bank, and Interfaith Council of Amador County food bank.
Read the complete news HERE
-----------------------------------
5 May
US Lockdown Alcohol Sales: The Latest Trends
Bringing you the latest trends in alcoholic drinks sales in the US since the coronavirus lockdowns began, including the performance of wines, beers and spirits in both offline and online retail.
Read the complete news HERE
-----------------------------------
5 May
Chateau Chantal Provides Community Aid During Pandemic
Chantal Winery and Inn on Old Mission Peninsula just completed a month of contributions to local organizations providing COVID-19 related relief via a donation of 15% of their online sales during April. The company provided $6,567 worth of contributions to the following organizations:
The Good Bowl Hospitality Worker Relief Fund
Northwest Michigan Health Services
NMCAA Meals on Wheels
The Crosshatch Artist Emergency Fund
Read the complete news HERE
-----------------------------------
4 May 2020
Oregon aims to include brewpubs, wineries in reopening
Oregon is planning to allow its famed microbreweries and wine tasting rooms to reopen when it starts loosening stay-home orders, rejecting a federal recommendation that bars remain closed
Read the complete news HERE
-----------------------------------
4 May
US wine sales in stores up 14% in 5th week of coronavirus lockdown but tripled via e-commerce
For the seven weeks of noticeable impact from COVID-19 — since March 7 — wine off-premises sales were up 29.4% in dollar sales overall from a year before. Hot wine package-size and price categories in the pandemic have been 1.5- and 3-liter boxes, as well as standard 750-milliliter bottled wine retailing for $20-$25 and $11-$15.
Read the complete news HERE
-----------------------------------
1 May
US wine industry could lose $6 billion as a result of the coronavirus
The revenue losses, for the 12-month period starting in March, are expected for a sector with more than 10,000 wineries and 8,000 wine grape growers as a result of COVID-19, said Jon Moramarco, managing partner of bw166, a wine consulting firm.
Roughly 97% of all U.S. wineries produce less than 50,000  cases a year and they are estimated to experience annual revenue losses between 36% and 66%, Moramarco said. Smaller wineries will be most affected as projected losses will increase as winery production decreases. Wineries producing 1,000 to 5,000 cases could experience revenue loss of 47.5% and wineries producing fewer than 1,000 cases may lose 66% of their revenue.
Read the complete news HERE
-----------------------------------
1 May
Wines of South Africa Announces South African Wine Exports Allowed
The South African wine industry is elated to announce that the South African Government decided yesterday to lift transport restrictions on movement, from tomorrow, Friday, May 1, as part of the country's move from level 5 to level 4 restrictions regarding the Covid-19 lockdown.
This means that transport and export of wine, manufacturing and related services will be able to resume and the industry will be able to fulfill its obligations with regard to wine exports. The industry has expressed its gratitude to the government for this decision.
Read the complete mews HERE
-----------------------------------
1 May
Online Course: How To Sell Your Wines to Restaurants Effectively
How many times has it happened that you realized you could've done something different during the sales call, that would've led to a big sale? Or something that you shouldn't have done, that could have hampered your prospect?⠀
⠀
Wineries and winemakers, Learn how to improve your sales numbers from your restaurant clients in this latest BTN online course.⠀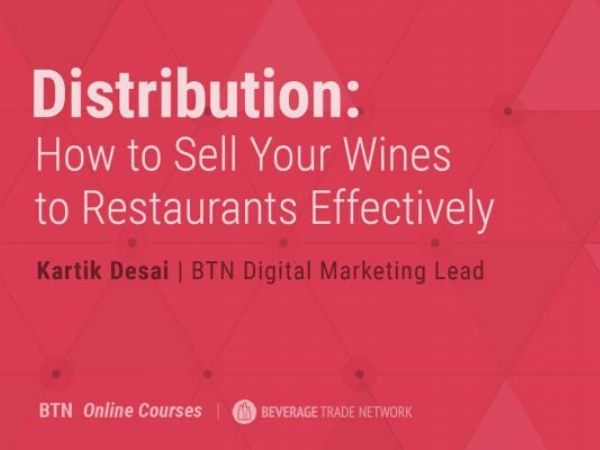 Register your webinar HERE
-----------------------------------
1 May
Drinking More Wine During the Lockdown? You're Not Alone
Data from Nielsen shows that wine sales for off-premise consumption during the period from March 1 to April 18 were 29 percent higher than in the same period one year earlier.
Total alcoholic beverage sales for off-premise consumption were up 24 percent. Of course, on-premise sales — sales at restaurants and bars — have fallen off a cliff. But the rise in off-premise sales is exceeding the 20 percent benchmark Nielsen estimates is necessary to offset the on-premise losses.
That suggests alcohol consumption is up slightly in the crisis, a remarkably robust trend since most kinds of consumer activity are way down.
Read the complete news HERE
-----------------------------------
1 May
Auction of Washington Wines Moving to Virtual-Only Events in 2020
AWW's 33rd annual wine weekend of events in August will shift to a virtual auction for participants to enjoy in the comfort of their homes on Saturday, Aug. 15, 2020. AWW leaders made the decision with consideration for the safety and wellbeing of all patrons, donors, sponsors, winemakers and staff.
"We must find new ways to come together and are thrilled for the opportunity to re-imagine what this year's programming will look like in a virtual environment," said Jamie Peha, AWW's Executive Director.
Read the complete news HERE
-----------------------------------
1 May
Make your delivery services visible with Get Drinks Delivered
You might be delivering, but not everyone might know about it - so how are you going to make customers see that you're delivering? This is exactly why Beverage Trade Network is launching Get Drinks Delivered.
GetDrinksDelivered.com platform is now available for registration to all wineries, distilleries, breweries, bottle shops and restaurants that are making deliveries to customers or have curbside pick-up options. List your business for FREE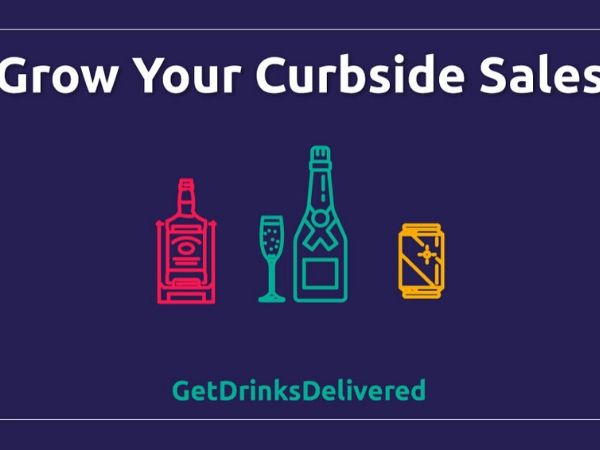 -----------------------------------
30 April
Palate Club Helps Wine Lovers Overcome the COVID Crisis by Launching Personalized Wine Shipping Nationally
San Francisco-based wine club startup Palate Club announces nationwide shipping today to ensure safe home deliveries during the COVID-19 pandemic.
This was important timing, according to French founder & CEO Nicolas Mendiharat. "More people are stuck at home from COVID-19 shutdowns and want to connect through wine. For us, wine is about humanity and savoring life," he expresses. "Now more than ever, this message is what drives us.
Read the complete news HERE
-----------------------------------
30 April
Michigan alcohol industry makes donations during COVID-19 pandemic
Donations include cash, personal protection equipment (PPE), food and meals. These donations come by way of producers, distributors, retailers, distillers and wineries.
"So many people are facing great challenges right now that the alcohol beverage industry is rallying to help during this dire situation," MLCC Chair Pat Gagliardi said in a statement. "These are businesses that are also negatively impacted by the pandemic, but have stepped up so generously to help others."
Read the complete news HERE
-----------------------------------
30 April
Covid-19 Impact on Wine Tourism in the United States
"Wineries and tourism have a symbiotic relationship," said WineAmerica President Jim Trezise. "The romance of 'wine country' attracts millions of tourists, who are the lifeblood of the industry, especially for the smaller wineries. Marketing innovations have mitigated the losses due to closed tasting rooms, but not entirely, and the situation will get worse as more time goes by.
As more states start to reopen, WineAmerica is working to develop 'best practices' for tasting rooms that will protect the safety of winery employees and customers while allowing for a pleasant and enjoyable wine country experience."
Read the complete news HERE
-----------------------------------
30 April
From Prosecco To Chianti: Italy's Wine Industry Takes A Hit From COVID-19
With Italy's restaurants and bars closed for another month and global trade snuffed out by the coronavirus, the world's top wine-producing country is experiencing an existential crisis.
Some of Italy's most prestigious wines are suffering from the worldwide lockdown.
Producers have not only sales to worry about, but logistics too. Since wine in cellars has not been sold, there will be no more room for the new wine usually taking its place that will be made after harvest this autumn.
Read the complete news HERE
-----------------------------------
29 April
Napa Valley Grapegrowers Providing Protective Masks, Safety Posters and Vineyard Signs
The NVG and the Napa Valley Farmworker Foundation (FWF) have developed a full toolkit of resources in English and Spanish for vineyard crews and winery workers. These resources include:
• Enhanced Safety Protocols – English / Spanish
• Addendum IIPP Template for COVID – English / Spanish
• Social Distancing Vineyard Sign
• Safety In the Workplace Poster – English / Spanish
Read the complete news HERE
-----------------------------------
29 April
CA ABC and TTB Provide Guidance to Wineries on Virtual Tastings
ABC's latest Notice of Regulatory Relief on Virtual Wine Tastings, issued on Friday April 24, provided certain guidelines for wineries conducting such virtual tastings while their licensed wine premises or tasting rooms are closed:
• Samples or tastes for wine tastings cannot be given for free to consumers. Such samples or tastes must either be sold to the consumer or included as part of a sale of wine or other products to the consumer.
•Any wine shipped to consumers, including small tasting samples, must be sent in a manufacturer sealed container.
Read the complete news HERE
-----------------------------------
28 April
As If COVID-19 Weren't Bad Enough: Government Regulations Cripple The South African Wine Industry
Currently, South Africa is the only country in the world whose lockdown regulations include a ban on all liquor sales.
New indications point toward an easing of those regulations to take effect this Friday, May 1st, when Level Five status is expected to shift to Level Four where wine as a sector will be permitted to function again
For a country that exports up to half of its wine production, Level Five causes a weekly financial impact of approximately R-200 million in lost wine exports alone.
Read the complete news HERE
-----------------------------------
28 April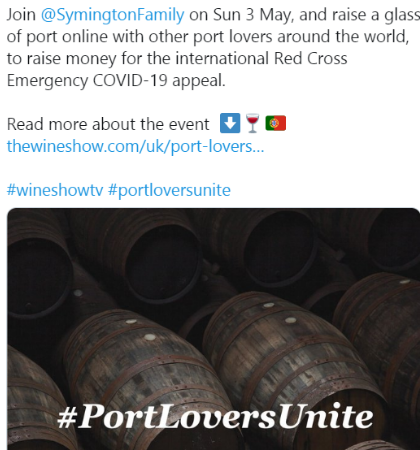 Read the complete news HERE
-----------------------------------
28 April
Major European wine-producing nations are facing a crisis before the 2020 harvest season even looms into view
Winegrowers are left with a growing stock of unsold products. Lorenzo Cesconi, vice president of the Italian Independent Winegrowers Federation, explained that sales to bars, restaurants, hotels, and cafes account for more than 50 percent of all wine sold by Italian wine producers – a figure he says can't be made up by retail sales alone.
"At the moment, the main issue is that the on-trade channel is basically non-existent, and so are direct sales at the winery", says Cesconi, adding that members have to cover all the production costs associated with wine production but aren't able to benefit from revenue streams.
Read the complete news HERE
-----------------------------------
28 April
Finger Lakes Wineries Create Engaging Marketing Programs During Coronavirus Pandemic
"I am in awe of our Finger Lakes wineries. They have completely redesigned their 2020 marketing activities since New York went into PAUSE mode mid-March" states Carmela Barbagallo, Executive Director of the Finger Lakes Wine Alliance.
"Many of the Finger Lakes wineries are family-run operations. We have seen them embrace this new operating environment with agility and grace whether or not they have a dedicated marketing department. Finger Lakes wineries are finding innovative ways to connect with their customers and provide hope, entertainment and some good old-fashioned fun" states Barbagallo.
Read the complete news HERE
-----------------------------------
28 April
Boisset Collection Releases Victory Day Wine to Benefit Veterans, Offers Sommelier Select Cabernet to Consumers & Retailers to Help Wine Professionals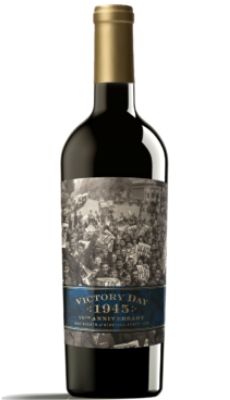 To commemorate the 75th anniversary of the end of World War II on May 8, 1945, Boisset Collection has released a new wine and is donating a portion of the proceeds to support veterans' causes. Victory Day, a blend of Sonoma County fruit, is named after the historic day that marked the conclusion to the world's deadliest conflict. Boisset Collection is proudly donating $1 for every bottle sold to veterans' charities.
Read the complete news HERE
-----------------------------------
27 April
An online wine tasting may sound like a joke. But in the lockdown world it has become a way to do business.
Cue a plethora of online wine-tasting events from top wineries all around South Africa, as well as their global counterparts. No, neither Zoom nor Houseparty are sufficiently advanced to enable you to lick your screen and get the 100% wine-tasting experience. But at least you can engage with the winemaker.
Angelica Valenzuela, sales manager at Wines of Chile, says: "It challenges us to sell our brands with different methods, to be more creative, to use technology. In the end, when things return to normal, we'll have our regular channels and the new ones developed during the coronavirus crisis."
Read the complete news HERE
-----------------------------------
27 April
Many Hungarian wineries significantly affected and facing export uncertainty as well as a halt on sales to local restaurants
Read the complete news HERE
-----------------------------------
27 April
Sake (Japanese Rice Wine) Market Overview
The complete lockdown situation in several countries, has directly or indirectly impacted many industries causing a shift in activities like supply chain operations, vendor operations, product commercialization, etc.
In the latest report on Sake (Japanese Rice Wine) Market, published by Market Research Intellect, numerous aspects of the current market scenario have been taken into consideration and a concise analysis has been put together to bring you with a study that has Pre- and Post-COVID market analysis.
Read the complete news HERE
-----------------------------------
24 April
How 'very socially disruptive' Measures Will Effect The Wine Trade
There are major concerns for all parts of the supply chain that come with a re-opening of businesses with social distancing guidelines still in place.
In terms of the hospitality sector, it is hard to see how such measures could be adhered to while running a fully functioning business, both in terms of the practicalities – how can you serve a customer and keep a 2m distance? – but also the bigger issue that a part-filled bar, pub or restaurant won't be profitable.
Read the complete news HERE
-----------------------------------
24 April
12 Wine Experts Suggest What To Drink During Quarantine
We can't dispute that a glass of great wine delivers a dose of comfort, but instead of reaching for your usual red, use this time to discover something new. To help you find a quarantine quaff, here are the wine experts spanning from Aspen to Tokyo with their recommendations. They shared a complex pour from Portugal, a lush pinot noir from Oregon and much more.
Read the complete news HERE
-----------------------------------
24 April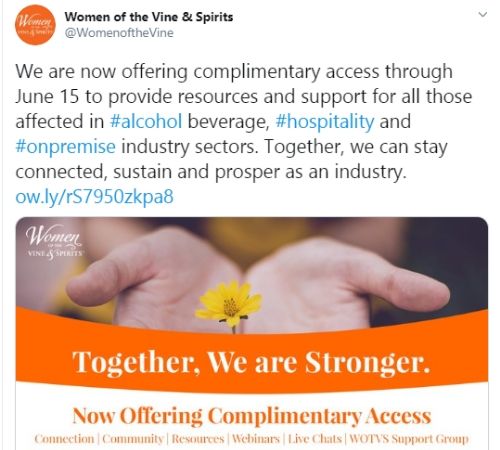 "Our goal during these unprecedented times is to be a beacon of assistance, service and hope to our members and our on-premise colleagues who need our support more than ever," said Deborah Brenner, Founder & CEO of Women of the Vine & Spirits.
Read the complete news HERE
-----------------------------------
24 April
Coronavirus May Cut Wine Sales in Europe by Half: OIV
"In Europe, the shutdown of this important channel of distribution might bring a reduction of 35% in volume and a reduction of almost 50% in sales," International Organisation of Vine and Wine (OIV) Director General Pau Roca told a webcast news conference, without giving a timeframe.
Mediterranean countries would be most affected as they rely heavily on bars, restaurants and terraces and tourism will remain limited even after lockdown measures are lifted.
Read the complete news HERE
-----------------------------------
23 April
Nakedwines.com launches $5M support fund for winemakers disrupted by COVID-19
The temporary closure of bars and restaurants, as well as winery tasting rooms and events for the foreseeable future, is being keenly felt by winemakers everywhere.
To help this community of winemakers, nakedwines.com is making $5M immediately available to buy their wine, and give them access to its 500,000 Angel customers in the US, UK and Australia, and the chance of a permanent listing.
Read the complete news HERE
-----------------------------------
23 April
How The Wine Market Is Holding Up In The Times Of Coronavirus
There is a tremendous amount of channel shifting: from on-premise to off premise, tasting rooms to direct-to-consumer (DTC) shipping, more frequent shopping to less frequent shopping with larger basket sizes and combinations of these shifts.
On the last point, for the four weeks ending March 28, 2020—compared to the same four-week period in 2019—there were 12 percent more households purchasing wine off-premise, and dollar spend of wine per buyer was +15 percent.
Read the complete news HERE
-----------------------------------
22 April
Having "sold out" in European retailers, but lost all its restaurant wine business due to Covid-19 lockdowns, leading Slovenian producer Puklavec views the current drinks market "with a smile and a tear".
Tatjana Puklavec from Puklavec Family Wines said that she had "sold out" in The Netherlands' biggest supermarket chain, Albert Heijn, and was experiencing surges in demand in the UK and Poland, while commenting that overall sales for the Slovenian producer were 50% higher than had originally been budgeted for in export markets.
However, commenting on the "big channel switch" from restaurants to retail sales of wine since the lockdowns in Europe shuttered the on-premise, she said, "We have lost all of our on-trade business, therefore we need the raise in the off-trade."
Continuing she said, "In our home country Slovenia and also in Croatia we depend 20% on the on-trade: we lost 75% in March, and in April we have sold zero bottles, so we are really happy about better sales in the off-trade."
Read the complete news HERE
-----------------------------------
22 April
Heidi Scheid on Coping with Oversupply and a Pandemic
One of the largest vertically integrated wine and grape growing operations in California has changed operations to keep its business running while also keeping its employees safe.
When asked Heidi said "we took a proactive approach for all of our people that could work at home. Even before we really had to, all of our marketing people picked up their laptops and got set up in their home offices. Salespeople, of course, are not getting out on the road anymore, but they're used to using technology to stay in contact with people.
On the production side, that's obviously where it gets a little more difficult."
Read the complete news HERE
-----------------------------------
22 April
Questions wineries need to answer before talking with lenders about coronavirus-caused financial woes
With coronavirus-linked dips in cash flow leading to loan-repayment problems, and the sudden drop in sales and operating earnings resulting in breaches of financial covenants, many wineries are facing looming loan defaults.
Lenders are confronting a situation where many of their borrowers and potential buyers of winery assets are uncertain and under financial stress, making it unproductive to reflexively declare defaults and exercise remedies. With both wineries and lenders subject to the downturn and uncertainty from the pandemic, we anticipate that many well positioned wine businesses to be in serious workout discussions with their lenders in the near future.
Read the complete news HERE
-----------------------------------
21 April
The South African Wine Industry Responds to the Effects of the Ban on Exports
Despite an initial exemption made by the government on the 7th of April to allow the transport of finished goods to harbors and airports for the purpose of export, this exemption was revoked in a government briefing on the 16th of April, once again bringing all exports to a halt – an industry which, on average, exports wine to the value of more than $9.3 million.
The effect of this, compounded with the fact that all local sales and distribution of wine and all other alcohol products is strictly prohibited, could see an industry which has been struggling financially for years, finally brought to its knees.
Read the complete news HERE
-----------------------------------
21 April
One Billion Litres of wine at risk in Europe, says MEP Eric Andrieu
Andrieu has called on the European Commission to intervene, stating that the situation could have "serious repercussions" on employment, particularly among smaller businesses.
The Comité Européen des Entreprises Vins (CEEV) has released a statement in which it notes that wine producers in many European countries have reported logistical challenges and a fall in sales. Due to the additional health and safety measures required, production facilities are operating at slower speeds and some have "closed down altogether".
Jean-Marie Barillère, President of CEEV, said: "With the HoReCa (Hotels, Restaurants, Cafés) channel closed almost everywhere, we estimate that a 30% in volume and 50% in value of the EU wine market is locked.
Read the complete news HERE
-----------------------------------
20 April
Actors and married couple Ashton Kutcher and Mila Kunis have launched a 'quarantine' Pinot Noir from Oregon and will donate 100% of the profits to charities providing Covid-19 relief.
The acting duo took to social media to announce the launch of the wine, which they said was inspired by having virtual drinks and meals with their friends during lockdown.
Kunis came up with the original idea, and Kutcher was able to contact his friend Harding to put it into practice.
The Quarantine Pinot Noir 2018 is made from grapes sourced from the Willamette Valley in Oregon and was made by winemaker Sarah Cabot of Battle Creek Vineyards.
The wine is priced at US$50 for two bottles, or $40 for members of Nocking Point's wine club. It is available to buy now and will be shipped in early May.
Read the complete news HERE
-----------------------------------
20 April
Beverage Trade Network Launches Platform To Help Businesses Make Delivery Services Visible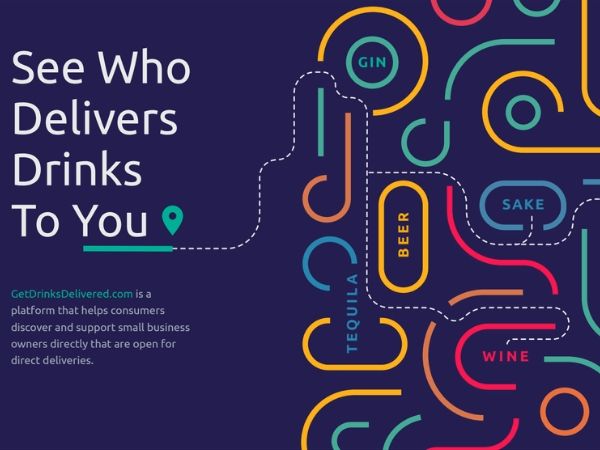 Read the complete news HERE
-----------------------------------
20 April
To serve guests in a world of social distancing, sommeliers are turning to technology to host virtual tastings
Sommeliers live for interactions with guests, the chance to share both wine knowledge and hospitable service. But with their dining rooms closed due to the coronavirus crisis, somms and restaurateurs across the United States are looking for new ways to connect with customers.
Through social media platforms and video-conferencing tools like Zoom, restaurants are hosting wine tastings to engage with guests and fulfill a yearning for community connection—the very basis of the hospitality industry.
Read the complete news HERE
-----------------------------------
17 April
Tasting Samples for Virtual Winery Experiences Approved by TTB
TTB and California ABC both confirmed today that they will permit small containers of wine to be sent to consumers for virtual tasting under existing regulations, subject to meeting specific federal and state requirements. New York, Florida, Oklahoma and South Carolina will also permit shipping of tastings samples subject to their current DTC regulations and Wine Institute is working on getting approvals from other states that currently allow DTC shipping.
Read the complete news HERE
-----------------------------------
17 April
US Wine Losses from COVID-19 Could Reach $5.94 Billion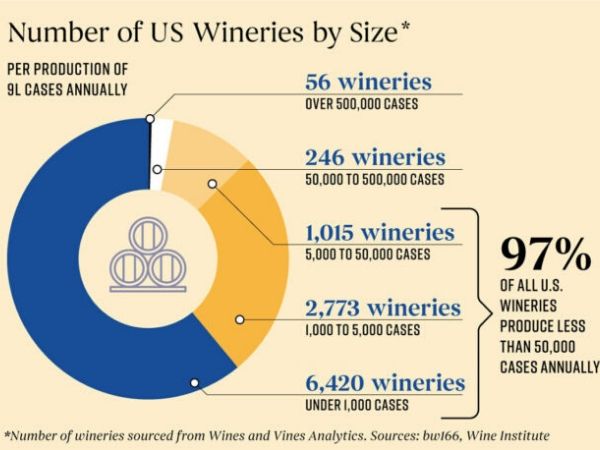 Read the complete news HERE
-----------------------------------
16 April
Wine exports positive but pandemic impacts yet to come
Wine Australia has reported that positive figures of the past year do not mean that the pandemic has not affected exports, but it is too early to tell just what this impact will be.
Wine Australia's CEO Andreas Clark said the nature of the export industry, and the fact that the pandemic was evolving daily in major markets like the UK and USA, meant that it was too early to get an accurate picture of how COVID-19 will affect Australia's wine exports.
However, he did note that the first quarter of 2020 had a significantly steeper slowdown than that of previous years, thanks largely to declines in China during their peak battle with the virus.
Read the complete news HERE
-----------------------------------
16 April
Italian wine group Santa Margherita, together with its parent company Zignago Holding, has donated €1 million to a hospital in Veneto to aid the Covid-19 relief effort
President of Zignago Holding, Stefano Marzotto, said: "Our group owes everything to our local area, ever since my grandfather founded the company back in 1935. We have always strived to combine our business objectives with social and ethical responsibility.
"This recovery room project is important to our local community because it represents an immediate and concrete promise of help to handling this crisis now. In the future, when this crisis finishes, it will give Portogruaro Hospital the ability to handle other emergency situations more effectively, allowing them to treat post-operative patients separately from other ICU patients."
Read the complete news HERE
-----------------------------------
15 April
Sommeliers Looking For Jobs Help Page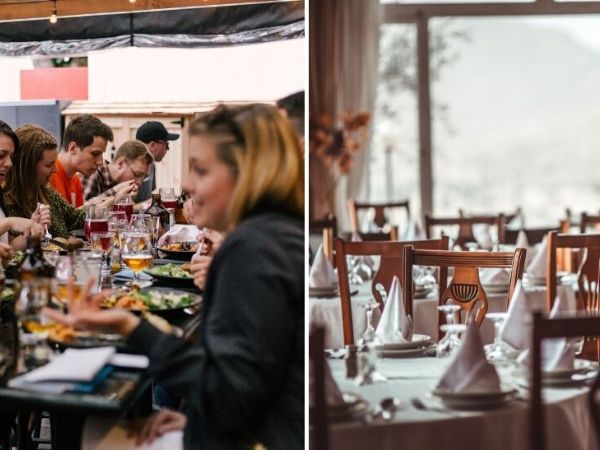 Beverage Trade Network and Sommeliers Choice Awards have taken this initiative to help sommeliers and wine directors and other on-premise front-line professionals whose jobs are at risk due to the ongoing COVID-19 pandemic and who have been laid off due to the restaurant industry suffering.
Read the complete news HERE
-----------------------------------
15 April
Covid Infects Logistics, Especially Independent Wineries
It seems that coronavirus has infected many aspects of the wine business, from the supply chain that wineries depend on for everything from bottles to labels, to the successful sales system that many of the world's celebrated small-scale brands have established in recent years.
For many small-scale winemakers with robust cult followings, this pandemic has exposed their relative lack of power. Sure, they may sell out their allotment every year, but only if they can get bottles to put their juice in, the boxes to ship the bottles in and, hell, the bottling line to actually make time for them.
Read the complete news HERE
-----------------------------------
14 April
Quarantine isn't going to deter wine tours. Wineries offer virtual tastings amid shutdown
In stark contrast to the normal hustle and bustle of tourists and oenophiles, the grounds sit empty at California's oldest commercial winery – the historic Buena Vista.
Tasting rooms statewide shut down last month after the governor ordered businesses to close to slow the spread of the new coronavirus. Buena Vista and other wineries that want to stay viable and connected to their customers during the pandemic harness technology and platforms such as Facebook Live to offer virtual wine experiences.
Read the complete news HERE
-----------------------------------
14 April
How California North Coast wineries are surviving during shelter orders that shutter big sources of sales
It' the social-distance or no-contact nouveau statut of wine marketing during the global coronavirus pandemic, as vintners quickly have had to get creative to reach consumers who early evidence shows are eager to stock up on beverage alcohol.
But "high-touch" marketing methods that the Mondavi families made California Wine Country status quo over 7 decades for producers of premium wines morphed overnight in mid-March by public health necessity to video conference tastings, curbside pickup of wine orders, increased direct-to-consumer sales by phone and website, and a surge in sales at brick-and-mortar stores.
Read the complete news HERE
-----------------------------------
10 April
Ningxia is one of the renowned winemaking regions in China and, despite the Covid-19 pandemic, the development of the local industry has not stopped.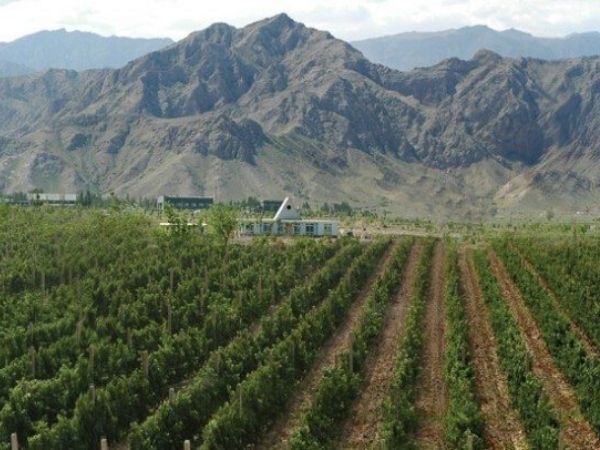 Read the complete news HERE
-----------------------------------
10 April
How Wineries Are Keeping The Juices Flowing During The Pandemic
Wineries are finding ways to cope up with the economic impact of the COVID-19 pandemic- discounting product and shipping rates and tying in charitable-giving incentives. And even in uncertain times, wine-industry leaders large and small are stepping up relief efforts—from cash and in-kind donations to employee and peer support. Here's a roundup of who's doing what to keep the juices flowing.
Read the complete news HERE
-----------------------------------
10 April
Serbia's wine producers hit hard by coronavirus lockdown
In the Kovacevic winery in the town of Irig, on the sloping hills of northern Serbia's Fruska Gora region, workers have been busy this week bottling wine that will not be sold until after the coronavirus outbreak ends.
"We are still working, preparing wines, bottling them as if all this will end tomorrow," Miroslav Kovacevic.
With 20% annual growth in exports, Serbia's wines had been identified by the government as a way to boost a national economy which, before the pandemic, was set to grow by 4%.
But the lockdown brought wine sales and exports to a near halt, Kovacevic said. "This is a big blow. We will book a loss of around 1 million euros."
Read the complete news HERE
-----------------------------------
9 April
People move online for wine as coronavirus shuts pubs: Naked Wines
Britons and Americans stuck in coronavirus lockdowns may not be drinking in bars and pubs but they are ordering more wine for delivery, online seller Naked Wines
"In the short term, the introduction of social distancing has accelerated the shift in consumer buying behaviour towards online," Chief Executive Officer Nick Devlin said.
"In the US, especially, I believe the current period could serve as an inflection point for the growth rate of the online category, and as the largest direct to consumer player in the US market we are well positioned as customers move online."
Read the complete news HERE
-----------------------------------
9 April
How to get alcoholic beverages delivered to your door
It's the weekend, and you may find yourself running low on wine, beer, and spirits. Maybe it was all of the virtual happy hours over Zoom. Or maybe you want to unwind from the stress of the coronavirus outbreak with a Netflix Party and an adult beverage, but you can't summon the energy to head to the store while wearing a homemade face mask. Alcohol delivery is looking pretty good.
You're not alone in this decision. Online alcohol sales skyrocketed by 243% over one week in the middle of March in the US, according to research from Nielsen.
Here's how to find a service you can use in your area.
Read the complete news HERE
-----------------------------------
8 April 2020
Expert Guidelines To Virtual Wine Tastings
If you're a wine loving consumer, chances are very good that you've experienced a virtual wine tasting these past few weeks, or at least you've been given the opportunity to try one out.
Virtual wine tastings have been thrust into the spotlight recently, as the impact of SARS-CoV-2 is inspiring wineries to shift attention to engaging more directly with consumers online. Here are five signs of virtual wine tastings done well.
Read the complete news HERE
-----------------------------------
8 April 2020
Champagne sales have suffered a "huge decrease" since the coronavirus lockdowns began, but it's also believed that this great marker of celebratory times could resume "normal business at the end of the year".
Co-president of the Comité Champagne, Jean-Marie Barillère, said there had been "a huge decrease" in sales of the great and famous fizz.
Commenting specifically about the French market, which represents almost 50% of Champagne sales by volume, he recorded "no activity in restaurants, bars and hotels", which are closed during the lockdown in his home nation, and represent around one-third of the market for Champagne. "We have a 70% decrease in sales [of Champagne] in supermarkets and hypermarkets in the last two weeks in France, so there has been a huge decrease," he said.
Read the complete news HERE
-----------------------------------
7 April 2020
Delivery by dog: A new way to get wine in the age of social distancing
Read the complete news HERE
-----------------------------------
7 April 2020
How will coronavirus affect wine consumption? 'We may have seen the end of the premiumization trend for now'
Wine Intelligence looks at how consumer trends are likely to shift: from a dramatic move towards off-premise sales, to a new awareness and emphasis on local origin products.
Read the complete news HERE
-----------------------------------
6 April 2020
US drinks group Constellation Brands reported a 6.4% net sales decline for its wine and spirits business in fiscal 2020.
"My goal in doing this is to reiterate that our strategy remains unchanged and to provide the confidence we have in the growth prospects for our core business as I continue to feel very optimistic about our long-term opportunities," Bill Newlands, president and CEO of Constellation Brands, said during a conference call for the results.
"When we look at the beverage alcohol category, we are generally a recession-resistant industry. In previous recessions and downturns the industry has generally been non-cyclical and only minimally effective."
Read the complete news HERE
-----------------------------------
6 April 2020
A Small Winery's Cellar and Vineyard Adjusts During COVID 19
Paul and Maggie Bush, grape growers and owners of Madroña Vineyards and Rucksack Cellars, in the Camino Fruitridge region of El Dorado wine country, are trying to ease the learning curve during the coronavirus outbreak.
When asked what they are doing differently to keep the vineyards and winemaking on schedule with COVID 19 restrictions placed on them, Paul and Maggie say they are learning to punt and using sweat equity to its fullest potential. "Well, first thing that comes to mind is that I'm playing the music in the winery louder!" says Paul. "But seriously, Maggie and I sat down very quickly to pencil out new budgets with assumptions of little or no revenue coming in." As a result, Maggie and Paul are working even harder than before and have adjusted the hours of cellar staff.
Read the complete news HERE
-----------------------------------
6 April 2020
Pernod Ricard, one of the leading global producers of wines and spirits, is donating large quantities of pure alcohol for hand sanitizer's production worldwide.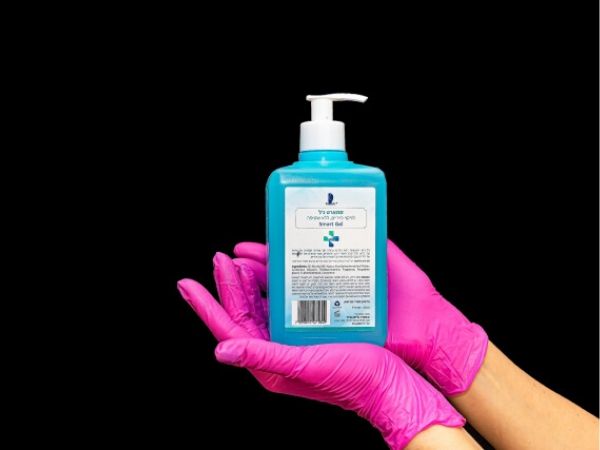 Read the complete news HERE
-----------------------------------
2 April 2020
The Wine Society reveals plans to reopen during lockdown
The Wine Society, which announced last week that it was temporarily closing for the first time in its 146-year history, is planning a phased reopening in the coming weeks.
In a letter to the Society's members, chairman Sarah Evans, said: "Not even during the World Wars did we have to pause operations. But so serious is the current threat to the health of our staff, their families, our members and by extension the NHS that we were clear that this was the responsible step to take.
Read the complete news HERE
-----------------------------------
2 April 2020
There's Never Been a Better Time to Join a Wine Club
A well-chosen selection of wines delivered right to your door every week or month? Sounds pretty good these days.
Fortunately, there are a number of excellent wine clubs out there, and many of them are embracing the American drinking public's expanding palate. From clubs that are run by respected online retailers to selections curated by boldface names in the wine industry, this is a good time to reconsider what wine clubs have to offer.
Here are nine of the best, all worth serious consideration, listed alphabetically.
Read the complete news HERE
-----------------------------------
1 April 2020
Creative Wine Tasting: Building Community, Virtually
In this time of social distancing, quarantining and sheltering in place, wine-lovers' plans are getting a bit thin. We're cooking at home, we're dipping into our cellars for special bottles, and we're grateful for clear ways to stay safe and healthy. And for those of us who find joy in the wine community — visiting tasting rooms, chatting with winemakers, touring vineyards and wineries — a number of wineries and wine purveyors, large and small, are pivoting quickly and gracefully to creative ways of giving us access to all those things. Here are four experiences to consider when planning your next wine tasting.
Read the complete news HERE
-----------------------------------
1 April 2020
World's Largest 2-Day Online Wine Sale Featuring Over 700 Wines - Marathon Madness!
Napa-based Last Bottle Wines the online retailer known for its daily deals of up to 30-70% off retail on fine wines will hold its largest-ever online "Marathon Madness" wine sale Thursday, April 2nd, 9AM PDT, and will donate $1 per order to Napa Food Bank and Napa Valley Community Foundation
They believe the world needs wildly well-priced wine now more than ever. The2-day Marathon Madness wine sale, typically held 2-3 times per year, has become an obsession for wine drinkers since its founding in 2011.
Read the complete news HERE
-----------------------------------
30 March 2020
How to Support Your Favorite Wineries During the Pandemic
The wine business is a social industry. It's always been built on relationships between wineries, wine lovers, and all the places where people can buy and enjoy wine. That solid foundation is now in jeopardy in the wake of the coronavirus pandemic.
Here is an extensive list of virtual tastings, promotions, and other ways you can help the wineries you love during this difficult time.
Read the complete news HERE
-----------------------------------
30 March 2020
South African wineries will be allowed to finish the 2020 harvest and work in their cellars after winemaking processes were deemed "essential" right before a lockdown came into effect in the country.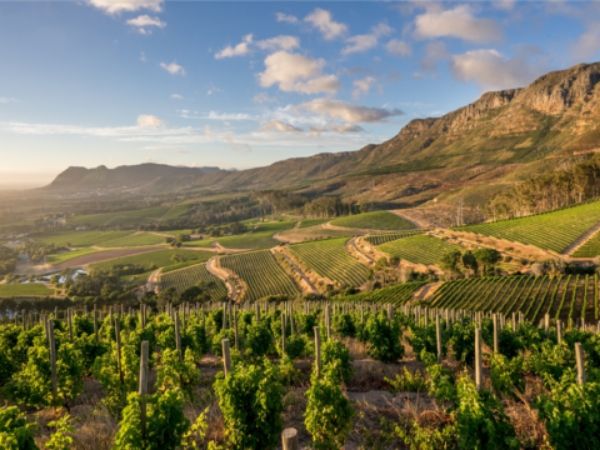 Read the complete news HERE
-----------------------------------
30 March 2020
It's Go Time — How to Choose A Winery E-Commerce Vendor
With the world upside down and all traffic to winery tasting rooms on pause, many wineries are quickly moving towards e-commerce. However, with so many vendors in the industry, it can make finding the right one daunting. Here are a few tips when choosing a wine industry e-com partner.
Read the complete news HERE
-----------------------------------
30 March 2020
Wine Suffers as New York Restaurants Close
In the Big Apple, the silence of the glassware is deafening.
With restaurants and wine bars forced to close their doors across New York, the future of the city's food and beverage industry rests in uncertainty. Here's what local business owners are doing to spread awareness, build team morale, and above all, stay positive and work towards recovery in this trying global pandemic.
Read the complete news HERE
---

---
27 March 2020
Despite lockdown in France, Gabriel Meffre launched Rosé Primed For Summer
Rhône Valley winery Gabriel Meffre has launched a range of brightly-coloured rosé bottles in time for summer sales. Called "Inspiration by Gabriel Meffre", the series offers rosé in a bottle available in six colours,"forming a case with a very collectable style." A range of brightly-coloured, tactile wine bottles which are "inspired by Provencal patterns creates an incomparable bottle with an ultra-chic appearance.
Read the complete news HERE
-----------------------------------
27 March 2020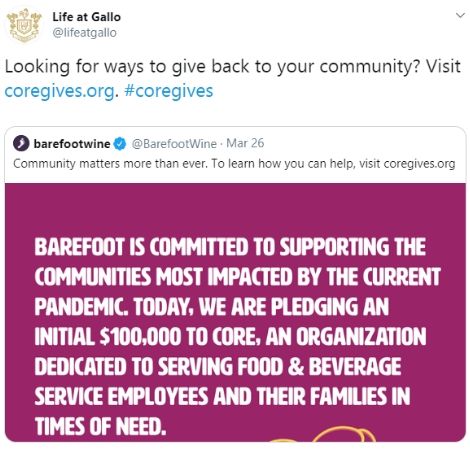 E. & J. Gallo's Barefoot Wine Donates $100,000 to Help Children of Restaurant Employees
Read the complete news HERE.
-----------------------------------
26 March 2020
Due to the Covid-19 pandemic, the Institute of Masters of Wine has had to cancel the 2020 exam, which normally takes place in June.
While some may have hoped that it would be possible to postpone the exam until later in the year, due to the uncertainty of the efficacy of attempts to control the spread of Covid-19, and the challenge of marking student papers by the end of the year, the IMW has opted to cancel the 2020 exam altogether.
Read the complete news HERE
-----------------------------------
26 March 2020
Top 10 wine-related shows to stream while in self-isolation
If you're looking for some escapist viewing to whisk you into the picturesque wine heartlands around the world we've compiled a list of great wine television series and films to see you through.
There's an almost endless source of educational and entertaining programmes out there but when it comes to wine the following list, comprising acclaimed documentaries and Hollywood hits,
Get the list HERE
-----------------------------------
26 March 2020
What Wineries and Distilleries Can Do In Next 60 Days.
Webinar by Sid Patel, CEO of Beverage Trade Network.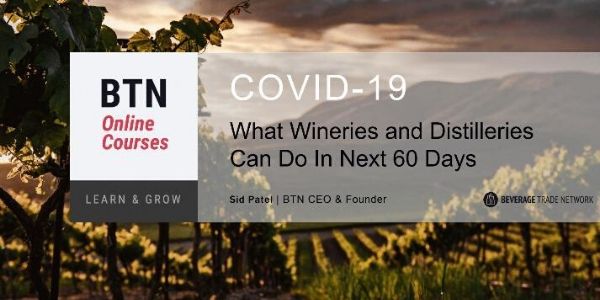 Sid will be listing out ways how wineries and distilleries can face the current scenario and come on the winning side once hashtag#Covid19 subsides. In the webinar, you will get 15 takeaways you can start working on today to navigate this time. You will also be shown the current risks, so you can prepare your winery or distillery for that.
Webinar Date and Time: 1 pm EST, 10 April
-----------------------------------
24 March 2020
How has the Coronavirus affected wine stores and wine buying?
"Sales have been good, stronger than normal for this season," Jim Nejaime, owner of Spirited Wines in Lenox, said last week. "Of course due to folks stocking in, since many more are spending much more time at home, not able to go out to dine, etc."
But Nejaime noted that the Coronavirus has resulted in "lost social opportunities for folks getting together however, means less consumption than if they could gather. So reduced sales there."
Read the complete news HERE
-----------------------------------
24 March 2020
PLCB: Wine, liquor sales set record day before state stores closed
The PLCB reported about $29.9 million in sales on March 16, the day the state announced it would close its 598 commercial locations and 13 licensee service centers. Online sales stopped at 5 p.m. March 16.
More than $20.3 million in sales were recorded the following day, St. Patrick's Day. The stores have been closed since 9 p.m. March 17.
Prior to the coronavirus-related sales surge, the highest sales day in the past year was Nov. 27, 2019, the day before Thanksgiving, when sales totaled $19.6 million
Read the complete news HERE
-----------------------------------
24 March 2020
A New Way To Buy Wine: The 'Digital Shelf Is Different'
Jackson Family Wines, based in Sonoma, California has entered a partnership with digital planning service eMeals.
With an eMeals subscription, users access a range recipes created and curated by a professional food team and registered dietitians. subscribers can also find a suggested wine pairing from Jackson Family Wines and other alcohol brands including AB InBev, Bacardi, Constellation Wines and Francis Ford Coppola Winery.
Together, the eMeals and Jackson Family Wines team worked together to select wines with flavor profiles that match the range of meals and ingredients that are presented.
Read the complete news HERE
---

---
23 March 2020
8 wine delivery services to use during lockdown
Buying from independent merchants gives you access to wines that you simply can't find anywhere else. They champion small, artisan producers who often make wine in such tiny quantities that they're not viable for supermarkets or restaurant chains to bother with. You can find quirky, fascinating bottles that taste amazing and have a story to tell. And even in these dark days there is someone on the phone or email – working remotely – who can chat to you and advise you on what to buy.
They will deliver to your door or to a nominated safe place and won't require you to sign anything if you're in isolation. All they require is that you enjoy the wines.
Read the complete news HERE
-----------------------------------
23 March 2020
NZ will move into lockdown during wine industry's 'most crucial' time
As Prime Minister Jacinda Ardern takes New Zealand into Alert Level 3, the wine industry may be halted at its "most crucial" time of the year.
Ardern has announced all non-essential businesses must close within the next 48 hours, as well as schools. After that, it will increase to Alert Level 4, due to Covid-19.
Read the complete news HERE
---

---
20 March 2020
7 places to buy wine online
Hosting large gatherings may be out of the question right now, but sometimes having a quiet night in is enough of an occasion to break out a bottle of wine — and even better if you don't have to leave the house to get it. Online options require minimal energy but deliver on all the perks. Check out the list below of the places that will deliver wine straight to your door.
Read the complete news HERE
-----------------------------------
20 March 2020
Technology Connects Wineries And Consumers Through Virtual Wine Tastings
Virtual wine tastings aren't exactly new, but they are expanding. They've been a touchstone for wine geeks for quite some time.
An article published in the French newspaper LeMonde calls this concept "Skypéro," blending the word apéro—an early evening moment in French culture set aside to share a drink with friends and family—with the tech connector Skype. It's catchy, but the idea also has teeth for wineries and wine regions that don't want to drain their relationships with customers and guests in this time of separation.
Read the complete news HERE
---

---
19 March 2020
The coronavirus pandemic has forced restaurants to shutter and lay off employees. But chefs and sommeliers are getting creative to serve customers and rally the industry
At Valette, a popular restaurant in Healdsburg, chef-owner Dustin Valette and his brother and business partner Aaron Garzini have reduced their number of tables by half. They have also reorganized the dining room to create at least six feet of space between tables.
The restaurant is taking additional measures such as requiring staff to wear latex gloves and clean surfaces and tables regularly in line with recommended protocols. They are also providing additional hand sanitizer by the door.
Read the complete news HERE
-----------------------------------
19 March 2020
For when you'd like a bottle of wine, but you also don't want to leave your house.Here are the the 10 best alcohol delivery services
Thanks to the wonders of modern technology, you can now have an entire liquor store accessible at your finger tips. So, make like Olivia Pope and sit on your couch with a glass (or bottle) of wine.
Read the complete news HERE
-----------------------------------
19 March 2020
Northern California wineries pivot, offering deep discounts, virtual tastings, free deliveries. Tasting rooms are closed, but here's how to keep sipping and swirling from home
As a sixth-generation winemaker, Livermore's Steven Mirassou has had to wear many hats in his small business. Delivery man hasn't been one of them. But in the coming days, you might spot Mirassou loading up his Toyota truck and delivering bottles of Steven Kent cabernet sauvignon to doorsteps around the Tri-Valley.
"My main goal as a person is to take care of others," Mirassou says. "We are fundamentally a hospitality business and we want to do that in a safe and responsible way and hopefully add a little bit of joy to people's lives through wine."
Read the complete news HERE
-----------------------------------
19 March 2020
Italian Wine Producers - How They Are Dealing With Coronavirus
While all this is happening, vintners must attend to the springtime labors in their vineyards; this is necessary work that has the advantage of giving the producers something to take their minds off the crisis. "We are lucky, we live in the countryside," remarks Daniela Rocca of the Albino Rocca winery in Barbaresco in the Piedmont region. "Spring is approaching and our vines need our care and work in the vineyards. This is allowing us to stay outside and to enjoy the beauty of our region, trying not to think at the nightmare we are living."
While these wine producers, along with their colleagues throughout the country face an incredibly difficult time at present - as well as the near future - they have managed to find a positive light at the end of the tunnel.
Read the complete news HERE
---

---
Get Feedback From On-Premise Buyers, Wine Directors, and Master Sommeliers. Enter Your Wines Before January 31, 2024, To Save.