How best wines for restaurants are selected

13/10/2021 The main two questions that sommeliers will be attempting to answer as they judge wines are: '"Would we stock this?" and "Will the consumer pour the 2nd glass" and then rate each wine by these 5 very specific criteria.
The goal of the Sommeliers Choice Awards is to provide on-premise buyers and sommeliers a valuable benchmark for understanding which wines would make a compelling addition to a wine list and wine by the glass and here's how the competition selects the best wines for restaurants.
The final score is calculated based on this formula.
F (Food Parability Score) + T (Typicity Score) + Q (Quality Score) + Value Score (V) + Package Score (P) = Sommeliers Choice Awards Final Score.
A separate weighted score will be given for each of the parts of the judging process. The scores will be added up to give a final score from which individual prizes will be awarded.
Here are the definitions for each criteria:
Food parability: Food Parability of a wine is measured based on the variety of dishes that wine can be paired with instead of just one or two.
Typicity: Typicity is a term in wine tasting used to describe the degree to which a wine reflects its varietal origins and thus demonstrates the signature characteristics of the grape from which it was produced, e.g., how much a Merlot wine "tastes like a Merlot". It is an important component in judging wine competition when wines of the same variety are judged against each other.
Quality: Quality will be assessed based on how agreeable the wine is for its target customer and chemical analysis. SCA will measure quality by Appearance, Aroma, Body, Taste and Aftertaste.
Value: Value in this context means how well the wine is priced based on its quality. Judges will blind taste and write what they think should be the cost on which they will buy the wines and is fair. If they think it offers excellent value, the score should be close to 100 and if they think it should be priced lower, then the score should be low. The metric to be used here is the on-premise price vs quality.
Packaging: Packaging will be measured by how well judges think the wine will be perceived by the consumer. The package will be judged for the On-Premise market considering factors like label design and information, closure, and overall look. This does not involve boxes, cartons, and bags. It is how they think the product will be perceived when placed on a wine shelf amongst thousands of other wines.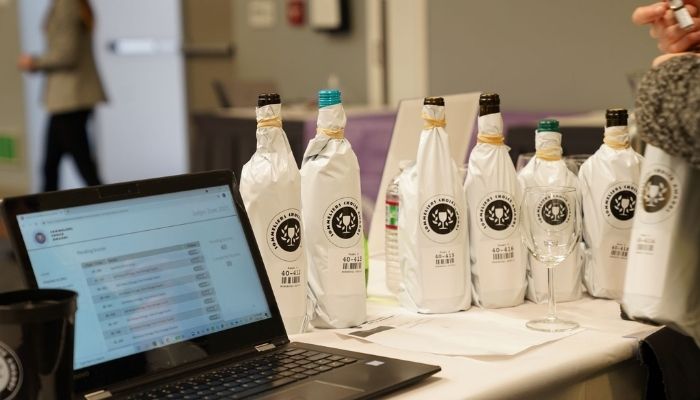 Judges entering scores in SCA online system
Final scores are then given medals as per the below:
Double Gold – 96 points and above
Gold – 90-95 points
Silver – 80-89 points
Bronze – 70-79 points
Judging procedure:
The wines will initially be tasted blind to determine their quality, food parability, and typicity. Judges will write down the price based on their assessment to later evaluate the value score.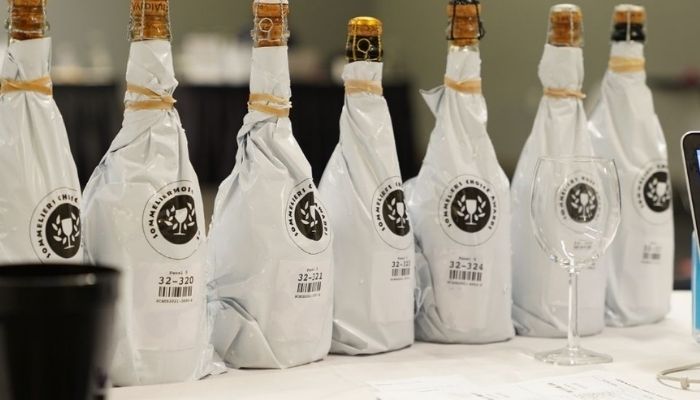 Wines being tasted blind
Judges will then determine the package and value score of the wine once they are revealed with the actual price and shown the package. The package will be judged for the on-premise considering factors like label design and information, closure, and overall look.
Judges will also mark 'By The Glass if they think the wine is a good fit for By The Glass.
2019 Poet's Leap Riesling Wins Best Wine By Glass at previous Sommeliers Choice Awards. The wine that got the highest score in wine by glass gets this award.
The judging panel of the Sommeliers Choice Awards consists entirely of top sommeliers, master sommeliers, wine directors, and on-premise buyers at U.S. restaurants, bars, pubs, and clubs. Each panel includes a minimum of one Master Sommelier. The competition aims to have the best in class on-premise judging panel which other sommeliers can trust as a reference.
Sommeliers Choice Awards is now in its 4th year and is becoming a valuable benchmark for sommeliers looking for the best wines for their restaurants.
Submission entries are now open and brands who are really looking to position themselves in the restaurants and bars of the USA can now enter before November 30, 2021, to get super early bird pricing. Here's all the information on how to enter.
Other articles that you might find interesting
Get Feedback From On-Premise Buyers, Wine Directors, and Master Sommeliers. Enter Your Wines Before January 31, 2024, To Save.