Pairing Essentials: What to Know When Pairing Wine With Your Favorite Fish

27/09/2018 To Decide a Wine's Pairing Ability With Fish, Several Things Such as Cooking Techniques, Texture and Richness of Flavours Must be Considered
Fish has an amazing ability to carry exotic and aromatic flavours from across the world. Today, our culinary landscape is more multicultural than ever. For wine lovers, I think it's exciting. Diversity in cuisine carries with it, a fusion of not only flavour but also cooking technique including grilled, curried or smoked fish. Cooking technique, texture and richness of flavour should all be considered when deciding a wine's pairing ability.
Our wine lists are oftentimes filled with a wider range of imports than domestic producers. With a wide range of white and red varietals, comes inherent differences in fruitiness, sweetness level, minerality "oakiness" and acidity. It's simply no longer practical to suggest such a clear-cut notion of "something white with fish and red wines with meat" because our food and wine offering is far more dynamic than that.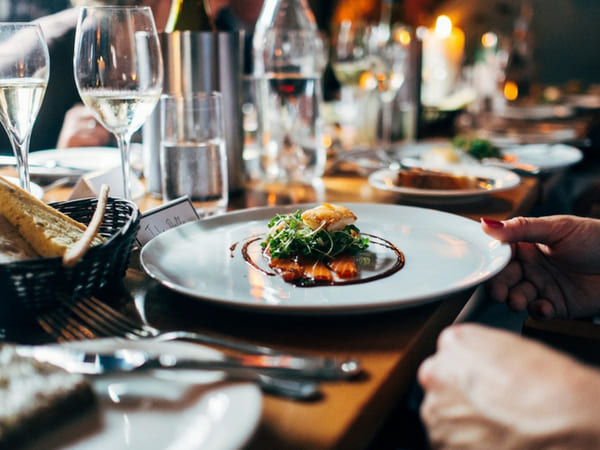 Likewise, there are thousands of species of fish across the world. Varying texture, fat content (oiliness), density and richness of natural and added flavour, will also influence a wine's pairing potential. Below we have a look at 5 different preparations and style of fish.
Naked
Raw, unflavored Japanese sashimi or simply seasoned fish with salt, pepper and wedge of lemon can only be served justice with a light, zesty, acid or mineral-driven white wine. Dry Champagne, Chablis or Vouvray (Chenin Blanc) are sensational pairings with this type of fish preparation. Sushi and sashimi (with salmon, ahi tuna and kingfish) are great examples of this. Lightly seasoned, pan seared delicate fish such as barramundi, orange roughy, snapper, sea bass and perch are also great with these wines.
Medium textured fish including mahi-mahi, grouper, halibut, sole or trout can typically be enjoyed easily with a denser bodied wine without being overshadowed. For example Chardonnay, Pinot Gris, Viognier, Australian Semillon or dry Riesling, Italian Vermentino and Soave or Spanish white Rioja
Robust Flavoured
This is an encompassing category for rich expressions of fish included smoked fish (salmon, trout, mackerel or bonito), grilled (medium textured white or redfish) or umami dressed, say in a tomato or mushroom sauce. These are dishes that could most certainly pair well with a light to medium bodied, low tannin red wine such as Pinot Noir, Beaujolais, Italian Barbera, Valpolicella and Dolcetto or German Dornfelder. Rich fish such as sardines, herring or anchovies also fall into this group due to their inherent strong flavour. One example is the rustic southern Italian comfort food Sarde a beccafico (or Sicilian stuffed sardines)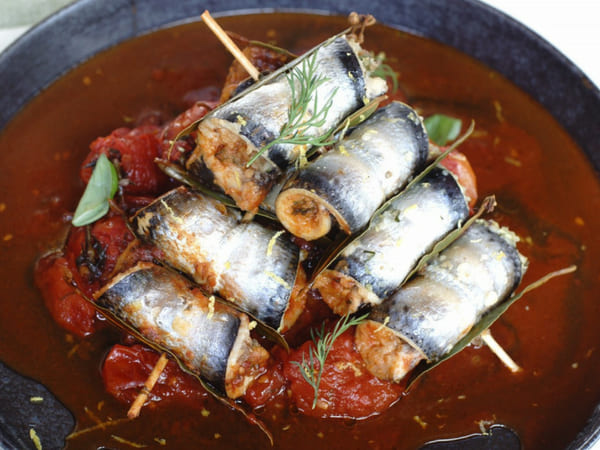 Fatty
Fish served with decadent oil or fat based sauce such as beurre blanc or velouté sauce or tempura fried are also complemented by crisp, palette-cleansing acidic white or dry rosé wines. Avoid rich, oaky whites as they can present linear and flabby alongside this style of food. Fat often needs acid to cut through the richness.
Some fish contain natural fatty oils even if served on their own including salmon, mackerel and sardines. Some might say these can be served delightfully with a delicate red wine. The red should ideally be high in acidity and moderate in both tannin and alcohol such Pinot Noir (Burgundy, Washington state, Yarra Valley or any other cool climate), Beaujolais Nouveau or Rhone Valley Syrah.
Spicy (or Aromatic)
Fish is commonly found in many aromatic, spicy cuisines including that of Indian, Thai, Malaysian, African or Jamaican. Wines that perfectly suit spicy fish include off-dry Riesling, Gewurztraminer, Grüner Ventliner, Moscato, Californian or New Zealand Sauvignon Blanc. These wines are sometimes produced with a slightly higher residual sugar providing a mild sweetness that cools the hum of spice. Pleasant melon, candied tropical fruit and dried stone fruit aromas offer a contrast to the warm spices found in this style of dish.
Sweet
With sweet accompaniments or sauces such as hoisin, teriyaki, romesco (or peperonata), a l'orange, mango (for instance a Peruvian inspired lime-based ceviche with sweet mango salsa) or Chinese sweet and sour. Here fish simply becomes the carrier, and the sauce becomes the dominant flavour. It is here you break the rules and consider uncorking your favourite red. My suggestion would be something preferably light similar to the above-mentioned cool climate Pinot Noir, a rosé, or something slightly sweet such as Lambrusco.
Salmon & Chili and Garlic Mussels with Truffle Cauliflower
Serves 2 | 30 min |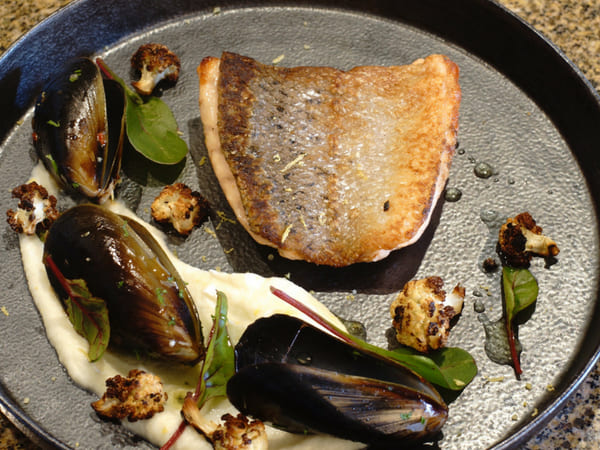 Ingredients
Salmon
2 x 1/3 lb. fresh Alaskan salmon tails or filets
1 tsp olive oil
¼ tsp kosher salt
pinch white pepper
Mussels
6 - 8 freshwater mussels
2 tsp olive oil
1 tbsp white or brown onion
1 clove garlic
½ tsp fresh red chilli (finely chopped)
2 tbsp dry, aged white wine (chardonnay)
1 tbsp fresh flat leaf parsley
Cauliflower Purée
2 cup cauliflower florets (½ small cauliflower)
2 tbsp milk (or cream)
½ tsp truffle oil (or finely grated fresh truffle)
¼ tsp fine kosher salt
Cauliflower Popcorn
1 cup cauliflower florets
½ tsp Garam masala spice (optional)
To Serve
½ tsp olive oil (plain, lemon or truffle oil)
½ lemon (zest)
½ handful of baby sorrel or micro herbs
Steps
- Pre-heat oven to 375º (180ºC) gas mark 4 and boil a medium saucepan of water.
- For efficiency, have all of your ingredient preparation done (measured and/ or diced) before proceeding.
- For the cauliflower "popcorn", separate and portion one cup of florets from a head of cauliflower and lightly coat in a drop of olive oil and Garam masala (optional). Bake for 10-15 minutes until golden and just crunchy. Reserve for garnishing.
- Prepare cauliflower puree by separating the stem of the cauliflower from the florets. The stems are tough and will take slightly longer to soften. Place stems in boiling water for 2-3 minutes followed by the florets. These are done when you are able to insert a fork with zero resistance. Drain and return cauliflower to the pot. With an immersion blender, puree the cauliflower with milk, truffle oil and salt. Reserve. This can be made ahead of time and reheated. You'll have dinner ready in minutes.
Tip: for a silky, restaurant texture, pass the purée through a fine sieve or tami strainer.
- Marinate salmon fillets in olive oil, salt and pepper. Heat a non-stick frying pan over a medium-high temperature and place the marinated salmon skin side down for 1-2 minutes until golden. Flip and simply colour the underside for 20 seconds (if cooking a middle filet of salmon, then repeat on each side for even colour). For super crunchy salmon skin, flip once more skin side down. Place pan in the oven for 6 minutes. (provided you have an oven proof pan otherwise transfer to a lined baking tray).
- Provided all ingredients are prepared, your mussels should only take minutes! In another medium saucepan, heat oil and fry onion, garlic and chilli. When oil begins to develop an orange/ red hue from the chilli, add mussels. Shake the pot to encourage the opening of the mussels and coat them with flavour. After 1 minute, add the dry white wine (obviously top up your glass while you're there). Cover the pot with a tight-fitting lid and steam for 2 minutes or until mussels have opened. Set aside
- Remove salmon from the oven (CAUTION: use a kitchen towel to handle the pan).
- While salmon rests for a minute, return cauliflower puree to a saucepan to reheat. Taste for correct seasoning, add a dash extra truffle oil or salt to your liking.
- Plate all components and garnishes as seen in the above image or as you wish.
Author: Timothy Neumann
- USA Wine Ratings Multicultural Food and Wine Ambassador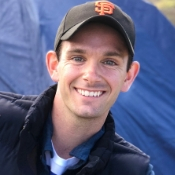 Tim is an Australian food and wine writer and accredited nutritionist. When cooking, Tim loves using healthy, local ingredients accented with bold multicultural flavors. Discover Tim's endless recipes and multicultural food ideas on Instagram @tc_neumann or through Beverage Trade Network articles.
More Articles From the Author:
- 8 Tips for a Flawless Food and Wine Dinner
- Discover Basque Country, the Wine and Gastronomic Hinterland